22 Apr

Toward a Queer Crip Feminist Politics of Food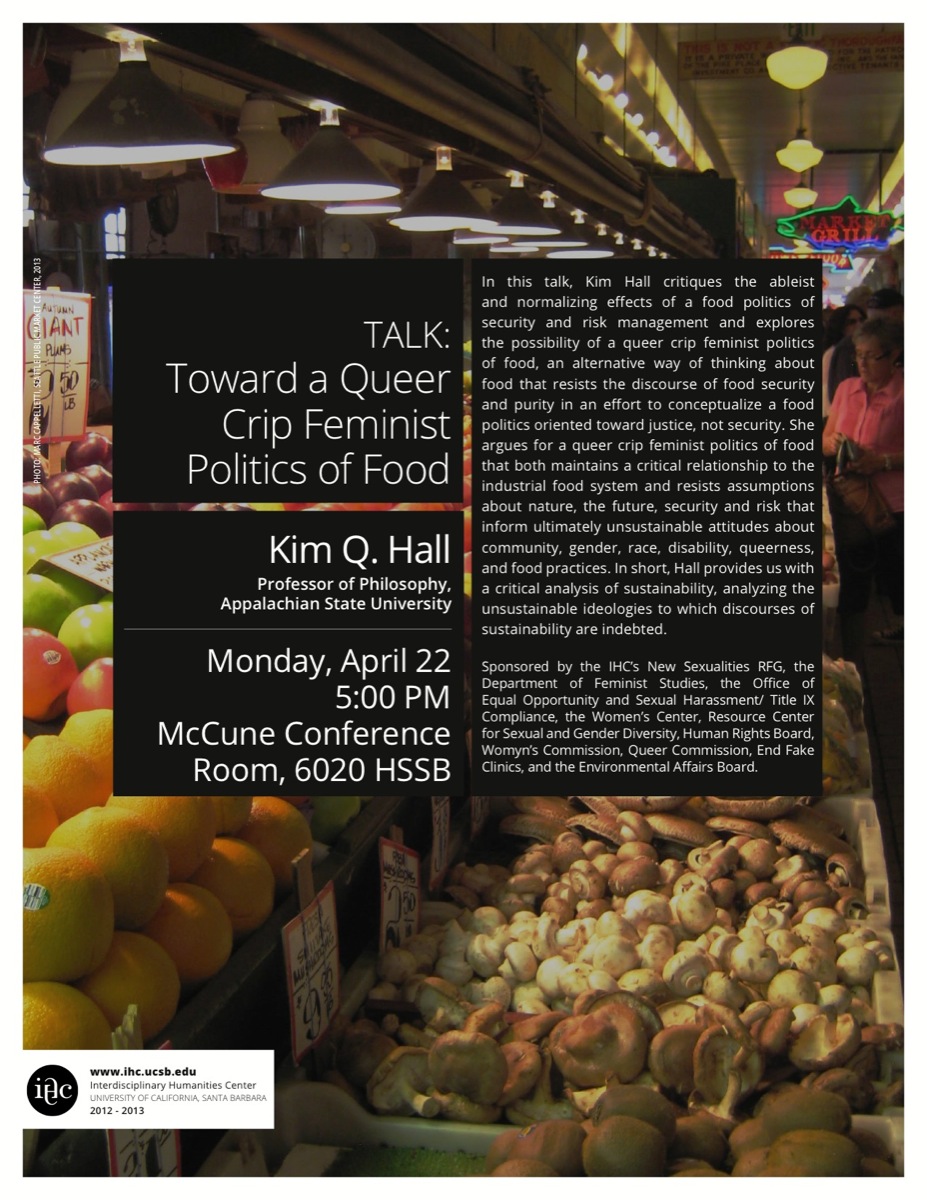 Kim Q. Hall (Professor of Philosophy, Appalachian State University)
Monday, April 22 / 5:00 PM
McCune Conference Room, 6020 HSSB
At its most fundamental level, food is, as Michael Pollan asserts in his book In Defense of Food, a relationship rather than a collection of nutrients.  The food we eat locates us in particular relationships with plants, animals, soil, water, air, local and global economies, and the people who grow, harvest, package, transport, sell, and prepare our food.  Food is about community.  Environmentalist literature about food is replete with expressions of concern about security, risk, the future, and the unnatural. Typically, the argument is that we need to enhance food security, eliminate and guard against contamination, avoid unnatural foods, and adopt a food practice that is consistent with the realization of a stable food future.  Certainly, we all have an interest in foods that nourish our bodies and sustain good relationships with communities, agricultural workers, soil, water, animals, and plants.  Nonetheless, the environmentalist literature on food tends to problematical
ly rely on assumptions about nature, risk, security, and the future that have been critiqued in queer, feminist, and disability studies.
In this talk, Hall critiques the ableist and normalizing effects of a food politics of security and risk management and explores the possibility of a queer crip feminist politics of food, an alternative way of thinking about food that resists the discourse of food security and purity in an effort to conceptualize a food politics oriented toward justice, not security. She argues for a queer crip feminist politics of food that both maintains a critical relationship to the industrial food system and resists assumptions about nature, the future, security and risk that inform ultimately unsustainable attitudes about community, gender, race, disability, queerness, and food practices. In short, Hall provides us with a critical analysis of sustainability, analyzing the unsustainable ideologies to which discourses of sustainability are indebted.
Sponsored by the IHC's New Sexualities RFG, the Department of Feminist Studies, the Office of Equal Opportunity and Sexual Harassment/ Title IX Compliance, the Women's Center, Resource Center for Sexual and Gender Diversity, Human Rights Board, Womyn's Commission, Queer Commission, End Fake Clinics, and the Environmental Affairs Board.