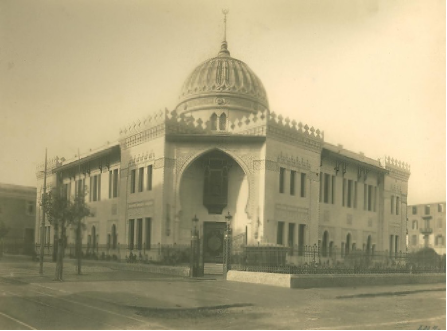 28 Apr

Creating a Modern Musical Capital in Egypt, 1930s

The Arab Music Institute, Cairo, Egypt.

April 28, 2023
By Kira Weiss

The idea of Egyptian culture typically evokes images of the iconic pyramids and the architectural feats of ancient Egypt, which continue to have lasting cultural influence. However, the pyramids cast a shadow over other periods of Egyptian history.

The twentieth century saw an influential cultural movement in arts and entertainment in Egypt, resulting in a musical revolution that strengthened its cultural influence domestically and abroad. New technological, institutional, and political developments in this century led to unparalleled regional influence in the realm of arts and culture— especially music.

In the 1930s, there were deliberate efforts to elevate Cairo's status as a musical-culture capital. Reformers in the music sphere argued that Egypt was in urgent need of a revival paralleling that of the literary renaissance Egypt experienced in the century prior.

In a magazine article published in 1934, Egyptian musicologist Mahmoud al-Hefny argued that reforms in music were essential for Egypt "to become, as it was in the past, a center for the East and a destination for all its kingdoms in all cultural forms, especially Arab music."

Al-Hefny held that music has the same unifying potential as the Arabic language, which cultivates a shared cultural and linguistic identity. A new, modern music emerging from Egypt would re-establish Cairo as a national and regional cultural center.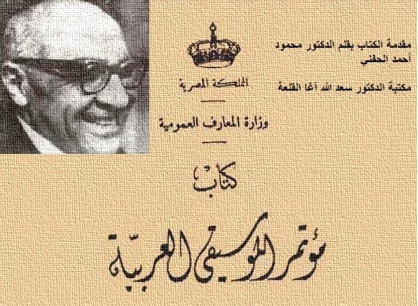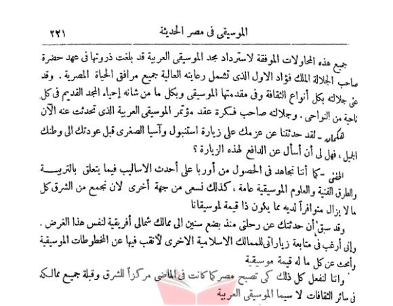 Musicologist and Music Critic Mahmoud Al Hefny's publications, 1930s
The Early Music Industry: Radio and Sound Films
New technologies such as radio and cinema were pivotal in achieving this cultural dominance. Egypt was one of the first countries to establish a large, modern music industry in the Middle East and North Africa (MENA) region. From the 1930s, the Egyptian government and influential figures in Cairo's entertainment industry made concerted efforts to develop the city into an international capital of the music industry. The establishment of radio broadcasting and the emergence of sound films in the 1930s laid the groundwork for Cairo's dominance over the regional music industry.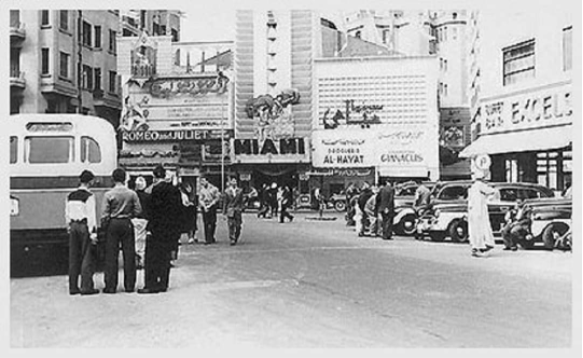 Miami Cinema, established 1939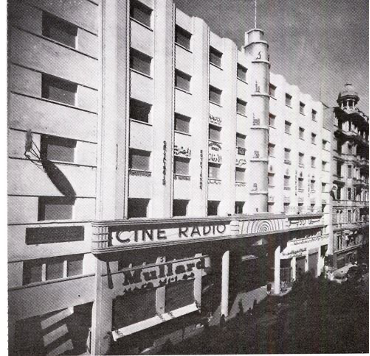 Cinema Radio, established 1932
The first "talkie" in Egypt was produced in 1932. Until this point, there were two centers of film production in Egypt—one in Cairo and one in Alexandria. However, the establishment of the first national film studio in 1934 shifted most film production to Cairo.
Musical cinema blossomed during the 1930s, and the success of these musical films depended on established music and theater stars in Cairo. Film theorist Viola Shafik notes that in the first 30 years of Egyptian sound film production, song-films or musicals accounted for approximately a third of feature films.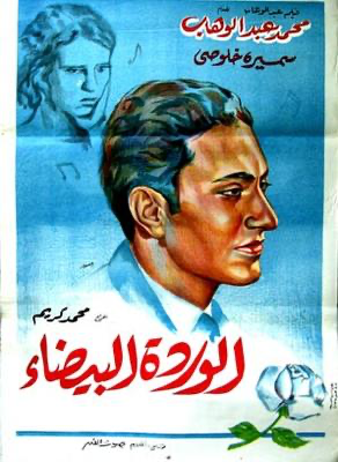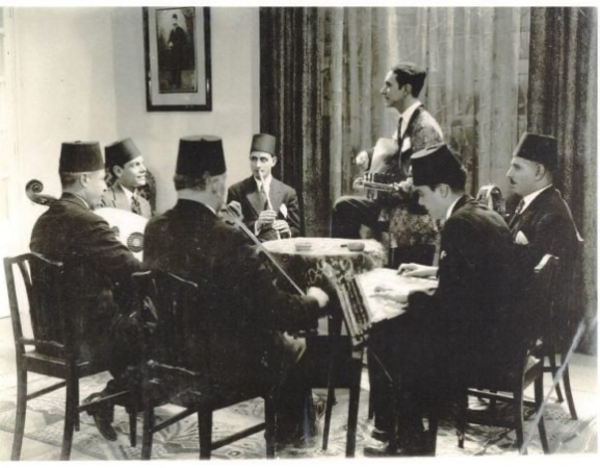 Poster and still from the musical film "The White Rose" (1933)
One of the first musical films produced in Egypt, The White Rose (1933), was closely connected to cultural politics and agendas of the time. This film was critically acclaimed by prominent political figures as a "nationalist and futurist project," competing with foreign films at foreign-owned theaters in Cairo. The White Rose was exported to neighboring countries and had a powerful regional cultural impact in addition to its national success.
Radio also helped establish Cairo as a musical-cultural capital within Egypt. Radio burgeoned throughout the country in the 1930s, connecting the capital city to other areas. Radios were the most popular import among electric appliances in the 1930s and quickly spread to rural areas. During this period, music occupied most English and Arabic broadcasts on The Egyptian State Broadcast Station (founded in 1934). Radio helped strengthen Cairo's role as the top producer of musical content, and an arbiter of musical style.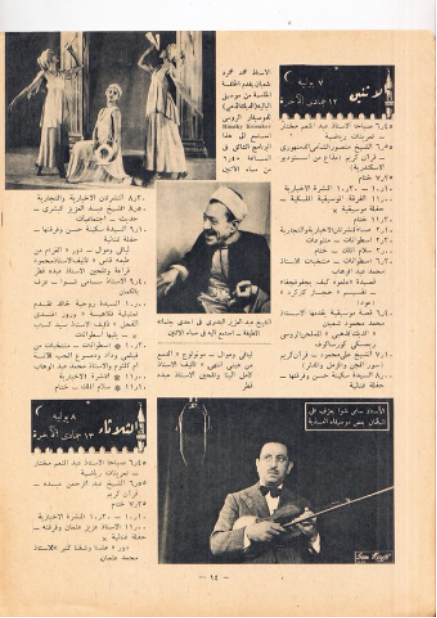 Radio Schedules (The Egyptian Radio Magazine [ca. 1935], Al Ahram Newspaper [1934])
The First International Congress for Arab Music
One of the most significant efforts to promote Cairo's position as a musical capital was the hosting of the First International Congress for Arab Music in Cairo in 1932. The aim of this congress was to preserve and reform Arab music. Congress members created official recommendations for establishing a national curriculum for Arab music pedagogy, standardizing the tuning system, preserving historical musical treatises, and limiting the use of nontraditional instruments in Arab music. They also made 360 recordings of musical performances to materially preserve music that had been passed down orally.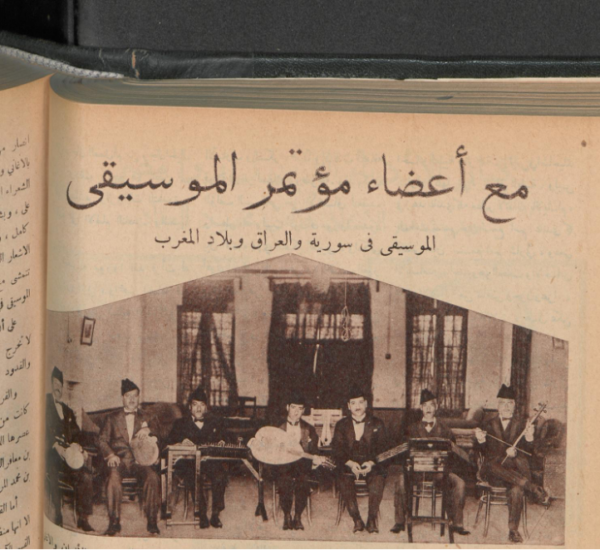 Performers at the 1932 International Arabic Music Conference in Cairo
Egyptian musicologist Samha El Kholy argues that this conference "marked a new era for Egyptian, Syrian, Lebanese, Iraqi, Tunisian, Algerian, and Moroccan heritage, signaling a real cultural revival, and an aspiration for modernity after centuries of withdrawal to the past."
At the conference, the term "Eastern Music" was replaced with "Arab Music." This terminological shift was marked a significant and deliberate shift in identity and regional affiliation. "Eastern music" had referred to a pan-Eastern regional identity, whereas "Arab Music" referred to an ethno-linguistic identification.
Ethnomusicologists have argued that this congress was part of Egypt's withdrawal from Ottoman cultural domination, and a means of laying claim to control of a supranational cultural and political sphere. Popularizing the term "Arab music" helped establish powerful cultural influence in the Arab and Arabic-speaking spheres. At this congress, "Arab music" was established as the umbrella category for many pre-existing genres of music reconceived as "Arab."
In my research, I have found that the term "Arab music" was institutionalized in the 1930s. For example, the Eastern Music Institute which was founded in 1929 was renamed The Royal Institute for Arab Music in 1933. Beginning in 1931, Arab and Western music education was mandated in public schools, and Cairo set a precedent for establishing Arab music schools in the region. Evidence of this shift is also apparent in the popular press, where the term "Eastern music" was gradually replaced with "Arab music" beginning in the 1930s.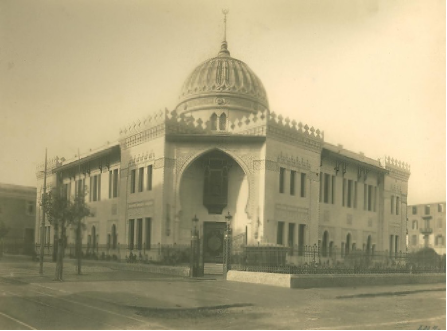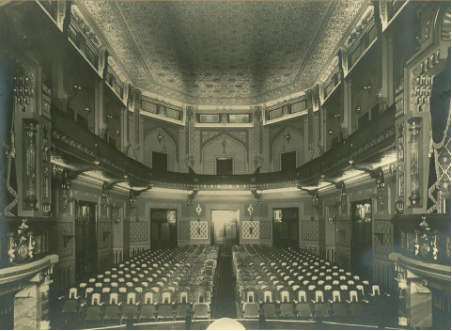 The Arab Music Institute (formerly The Eastern Music Institute, established 1929)
A Modern Musical Capital
Many consider the "Golden Age" of modern Arab music to be the 1950s and 1960s and associate it with Egyptian President Gamal Abdel Nasser's pan-Arab project. It was in the 1930s, however, that the foundations were laid for Cairo's ascendance as a musical-cultural capital through new technology, new governmental funding and policies, and the shift toward the term "Arab music" itself.
Developments in the music sphere during the 1930s catalyzed Cairo's ascendance to being an international hub of the modern music industry. Music was an element, reflection, and vehicle of modernization in Egypt and played a critical role in developing Cairo's regional cultural influence.
Kira Weiss is an IHC Public Humanities Graduate Fellow and a Ph.D. candidate in ethnomusicology with an emphasis in Global Studies. Her research focuses on the adoption of the violin family in traditional Egyptian Arab music ensembles in the context of national discourses regarding identity and heritage, postcolonialism, affect, and modernity.