03 Mar

Black Bodies, Wrong Places: Spatial and Morality Politics of Rolezinho Racialized Youth "Invasions" and Police Repression in the Public Spaces of Today's Brazil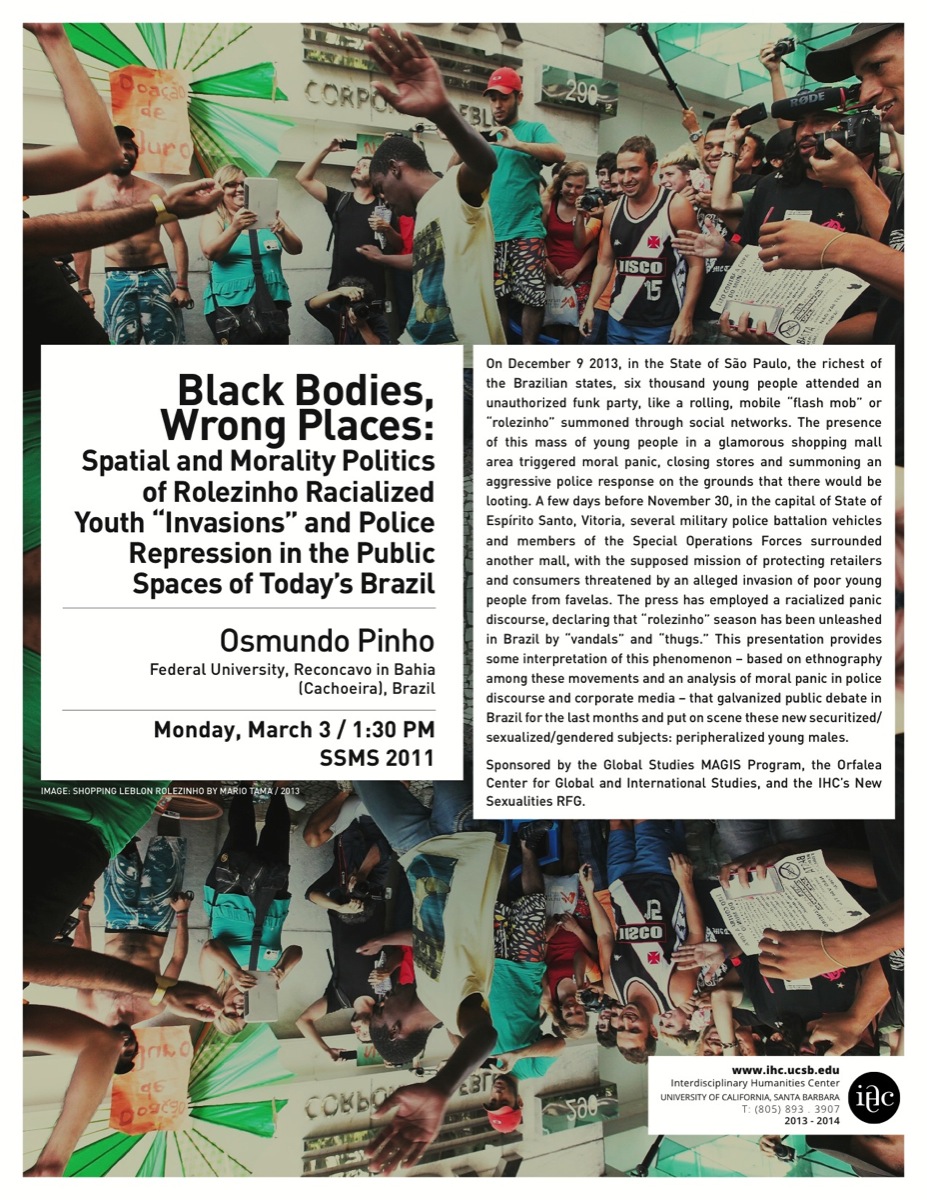 Osmundo Pinho (Federal University, Reconcavo in Bahia, Brazil)
Monday, March 3 / 1:30 PM
SSMS 2011
On December 9 2013, in the State of São Paulo, the richest of the Brazilian states, six thousand young people attended an unauthorized funk party, like a rolling, mobile "flash mob" or "rolezinho" summoned through social networks. The presence of this mass of young people in a glamorous shopping mall area triggered moral panic, closing stores and summoning an aggressive police response on the grounds that there would be looting. A few days before November 30, in the capital of State of Espírito Santo, Vitoria, several military police battalion vehicles and members of the Special Operations Forces surrounded another mall, with the supposed mission of protecting retailers and consumers threatened by an alleged invasion of poor young people from favelas. The press has employed a racialized panic discourse, declaring that "rolezinho" season has been unleashed in Brazil by "vandals" and "thugs." This presentation provides some interpretation of this phenomenon – based on ethnography among these movements and an analysis of moral panic in police discourse and corporate media – that galvanized public debate in Brazil for the last months and put on scene these new securitized/sexualized/gendered subjects: peripheralized young males.
Osmundo Pinho serves as Professor at the Federal University, Reconcavo in Bahia (Cachoeira), Brazil. Currently, he is in residence as Visiting Scholar at African and African Diaspora Studies Department at the University of Texas, Austin and Fellow of CAPES (the Brazilian Government's "Fulbright" Equivalent).
Sponsored by the Global Studies MAGIS Program, the Orfalea Center for Global and International Studies, and the IHC's New Sexualities RFG.