25 Feb

Your Brain, My Mind: Memory, Language and Perception in Artists' Video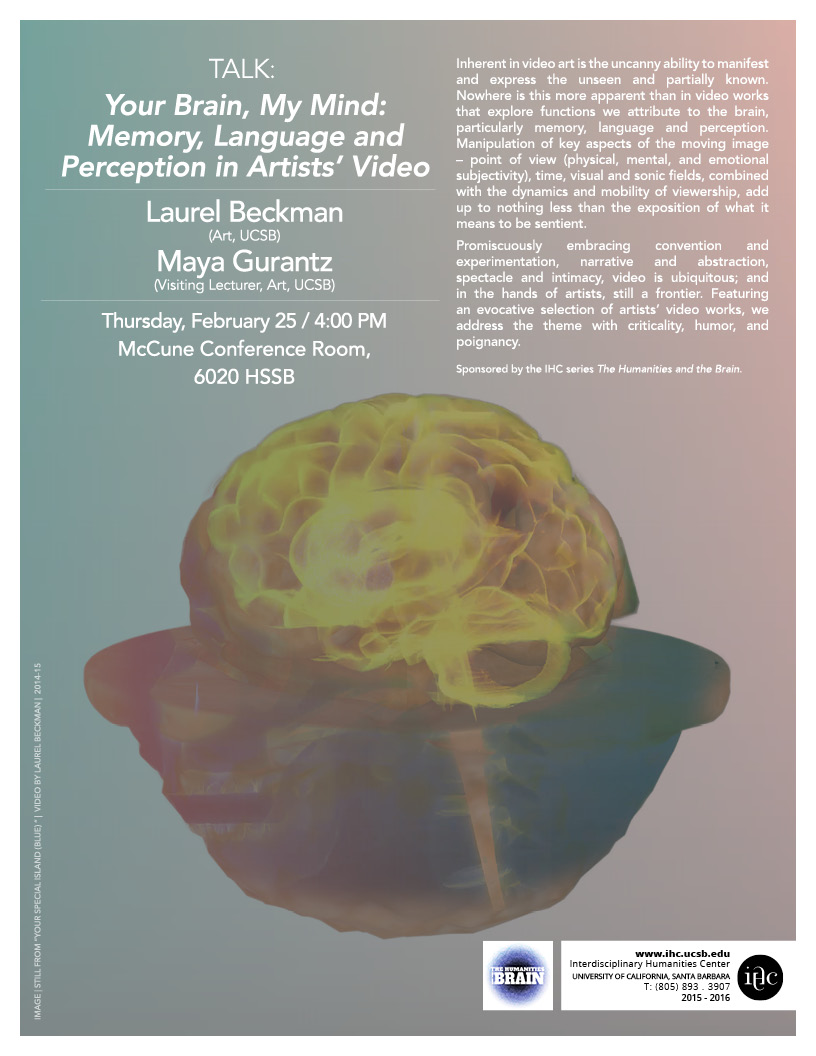 Laurel Beckman (Art, UCSB)
Maya Gurantz (Visiting Lecturer, Art, UCSB)
Thursday, February 25, 2016 / 4:00 PM
McCune Conference Room, 6020 HSSB
Inherent in video art is the uncanny ability to manifest and express the unseen and partially known. Nowhere is this more apparent than in video works that explore functions we attribute to the brain, particularly memory, language and perception. Manipulation of key aspects of the moving image – point of view (physical, mental, and emotional subjectivity), time, visual and sonic fields, combined with the dynamics and mobility of viewership, add up to nothing less than the exposition of what it means to be sentient.
Promiscuously embracing convention and experimentation, narrative and abstraction, spectacle and intimacy, video is ubiquitous; and in the hands of artists, still a frontier. Featuring an evocative selection of artists' video works, this screening & talk address the theme with criticality, humor, and poignancy.
 Laurel Beckman's practice involves working primarily with digital media in public spaces and in experimental video-animations. Her projects, thematically at the nexus of consciousness + social conditions, meta-physics + science; highlight perception, public display, stage/screen space, the built and imagined environment, and affect. Beckman's commissioned and un-commissioned public art projects are often situated in commercial and unusual environments. Her video-animation work is frequently created for and exhibited on public screens, such as public transit, billboards, and recently at gas stations. A short list of her exhibitions, public projects and notable screenings include those in Turkey, Switzerland, Toronto, Los Angeles, New York, New Orleans, India, Berlin, Pittsburgh, Macau, San Francisco, Palestine, Louisiana, and Virginia.
 Maya Gurantz uses video, performance, and installation to interrogate how constructions of gender, race, class and progress operate in American communities, shared myths, public rituals and private desires; in so doing, she dissects the contradictions embedded in performances of power.  Formally, Gurantz draws on her extensive background in movement-based theater and dance, as well as historical vernacular forms of manipulating sensation.  Most recently, her work has been shown by the Museum of Contemporary Art Denver, High Desert Test Sites, Autonomie Gallery,  Gurantz is artist working in video, movement and performance, installation and community-generated projects. She has created new works in New York, rural Mississippi, San Diego, the SF Bay Area, and most recently, LA. Her company, Temescal Labs, has been recognized as one of most original performance companies in the Bay Area and has received grants and awards from the NEA, CCI, Zellerbach Family Foundation, Theater Bay Area, the Puffin Foundation, and the Bay Area Critics Circle. Gurantz has a B.A. from Yale and an M.F.A. in Studio Art from UC Irvine.
Click here to download the URL list from Laurel Beckman and Maya Gurantz's talk.
Sponsored by the IHC series The Humanities and the Brain.

Click here to listen to a recording of Laurel and Maya's talk for the IHC series The Humanities and the Brain.