21 Apr

Writers on Place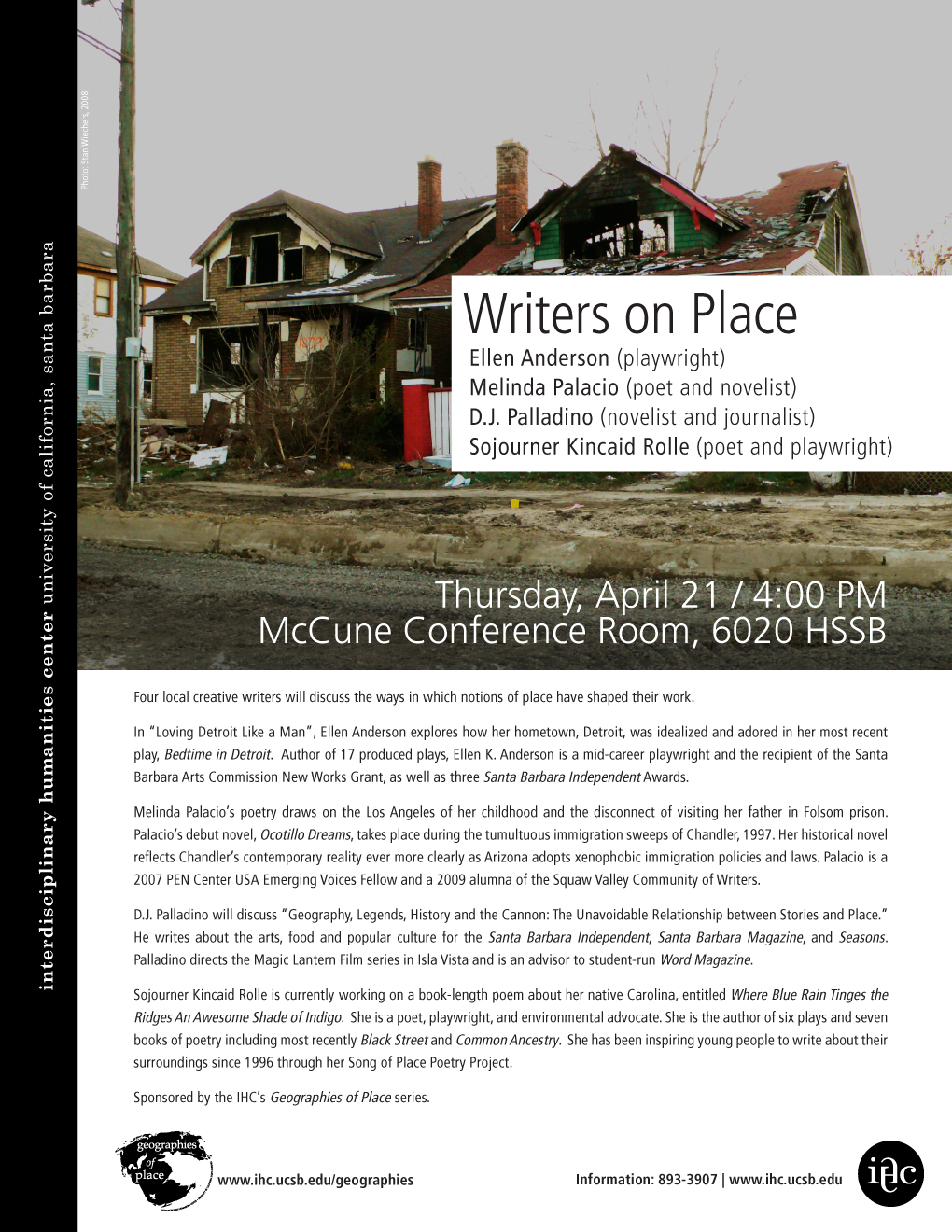 Ellen Anderson (playwright)
Melinda Palacio (poet and novelist)
D.J. Palladino (novelist and journalist)
Sojourner Kincaid Rolle (poet and playwright)
Thursday, April 21, 2011 / 4:00 PM
McCune Conference Room, 6020 HSSB
Four local creative writers will discuss the ways in which notions of place have shaped their work.
In "Loving Detroit Like a Man", Ellen Anderson explores how her hometown, Detroit, was idealized and adored in her most recent play, Bedtime in Detroit. Author of 17 produced plays, Anderson is the recipient of the Santa Barbara Arts Commission New Works Grant as well as three Santa Barbara Independent Awards. Her plays have been produced in New York City, Santa Barbara, Washington, D.C. and Portland, OR. She received a B.S. and M.A. from Wayne State University in Detroit and although she has lived in Santa Barbara for 35 years, her heart remains in Detroit.
Currently, Ellen is the director of I.V. ARTS (islavista-arts.org) at UCSB and the artistic director of Dramatic Women (dramaticwomen.org). She was a founding board member of Access Theatre, a theatre that broke new ground in accessibility in the arts. Her plays include: Bedtime in Detroit; New Amsterdames; Sleeping with Squirrels; Shirtwaist; Liz Estrada; Why Mud Flaps?; Barbed Wire Under Your Armpits; and Three Tits.
Melinda Palacio's poetry draws on the Los Angeles of her childhood and the disconnect of visiting her father in Folsom prison. Palacio's debut novel, Ocotillo Dreams, takes place during the tumultuous immigration sweeps of Chandler, 1997. Her historical novel reflects Chandler's contemporary reality ever more clearly as Arizona adopts xenophobic immigration policies and laws.
Melinda Palacio grew up in South-Central Los Angeles and now lives in Santa Barbara. She holds two degrees in Comparative Literature: a B.A. from UC Berkeley and a Master's from UC Santa Cruz. She is a 2007 PEN Center USA Emerging Voices Fellow and a 2009 alumna of the Squaw Valley Community of Writers. Her work has appeared in a variety of publications, including Askew Poetry Journal, BorderSenses, Black Renaissance Noire, Buffalo Carp, Palabra: A Magazine of Chicano and Latino Literary Art, the San Pedro River Review, Maple Leaf Rag III and IV: An Anthology of Poems, the Naugatuck River Review, Pilgrimage Magazine, Quercus Review, Latinos in Lotusland: An Anthology of Contemporary Southern California Literature, and New Poets of the American West: An Anthology of Eleven Western States. Folsom Lockdown, the 2009 winner of Kulupi Press' Sense of Place' contest, is her first chapbook of poems. Her first novel, Ocotillo Dreams, will be published by Arizona State University's Bilingual Press, Spring 2011. She regularly writes for La Bloga.com.
D.J. Palladino will discuss "Geography, Legends, History and the Cannon: The Unavoidable Relationship between Stories and Place." He writes about the arts, food and popular culture for the Santa Barbara Independent, Santa Barbara Magazine, and Seasons. Palladino also directs the UCSB-funded Magic Lantern Film series in Isla Vista and is an advisor to student-run Word Magazine.
Sojourner Kincaid Rolle writes, "Much of my writing is autobiographical and it all takes place somewhere. That somewhere could be any of the places I have lived – from the mountains of North Carolina, the streets of New York, the byways of the California Bay Area or the Central Coast – or the places I have visited. I believe "place" is the backdrop for every poem or story and informs both the exposition and the narrative. Currently, I am working on a book-length poem about my native Carolina entitled, Where Blue Rain Tinges the Ridges An Awesome Shade of Indigo."
Sojourner Kincaid Rolle is a poet, playwright, and environmental advocate. She is the author of six plays and seven books of poetry including her most recent, Black Street (Center for Black Studies Research, 2009) and Common Ancestry (Mille Grazie, 1999). Her poems have been anthologized in The Geography of Home, The Poetry of Peace, Poetry Zone I, II, & IV, Rivertalk and others. All of her plays have been produced by Santa Barbara's Dramatic Women Theater Company. Her arts reviews and commentaries have appeared in local and regional publications. She has been inspiring young people to write about their surroundings since 1996 through her Song of Place Poetry Project.
Sponsored by the IHC's Geographies of Place series.