02 Feb

Warriors and Dissenters: The War Within the War of 1914-1918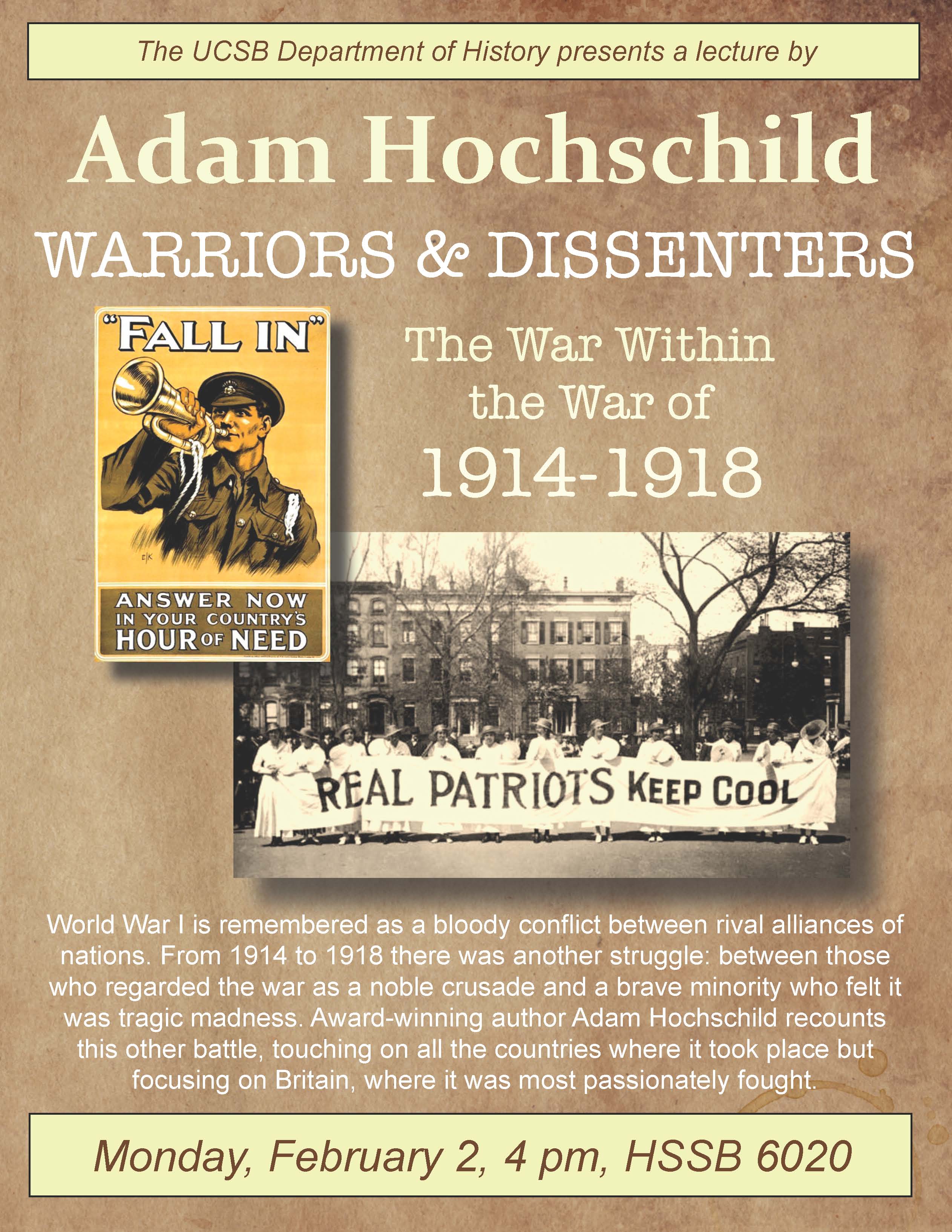 Adam Hochschild (author, To End All Wars: A Story of Loyalty and Rebellion, 1914-1918)
Monday, February 2, 2015 / 4:00 PM
McCune Conference Room, HSSB 6020

As we mark the centenary of the First World War, this epochal event is usually remembered as a bloody conflict between rival alliances of nations. But from 1914 to 1918 there was another struggle: between those who regarded the war as a noble and necessary crusade and a brave minority who felt it was tragic madness and refused to fight. Hochschild describes this battle between the Great War's staunchest advocates and its most ardent critics—the latter of whom, in some cases, denounced the carnage from jail. Mr. Hochschild's talk touches on all the countries where this domestic battle took place but focuses on Britain, where it was most passionately fought. Following his presentation, the author will  sign copies of his recent book on this topic, To End All Wars: A Story of Loyalty and Rebellion, 1914-1918.
Adam Hochschild is a highly acclaimed historian, essayist, and travel writer. His first book, Half the Way Home: A Memoir of Father and Son, was published in 1986. The New York Times called it "an extraordinarily moving portrait of the complexities and confusions of familial love . . . firmly grounded in the specifics of a particular time and place, conjuring them up with Proustian detail and affection." It was followed by The Mirror at Midnight: A South African Journey and The Unquiet Ghost: Russians Remember Stalin. His 1997 collection, Finding the Trapdoor: Essays, Portraits, Travels, won the PEN/Spielvogel-Diamonstein Award for the Art of the Essay. King Leopold's Ghost: A Story of Greed, Terror and Heroism in Colonial Africa won a J. Anthony Lukas award in the United States and the Duff Cooper Prize in England. Bury the Chains: Prophets and Rebels in the Fight to Free an Empire's Slaves received the Los Angeles Times Book Prize for History. His most recent book, To End All Wars: A Story of Loyalty and Rebellion, 1914-1918, appeared in 2011. In addition to writing, Mr. Hochschild lectures on journalism at the University of California, Berkeley.
Sponsored by the Dept. of History and the Center for Cold War Studies.