27 Jan

Domestic Production and Subsistence in an Ubaid Household in Upper Mesopotamia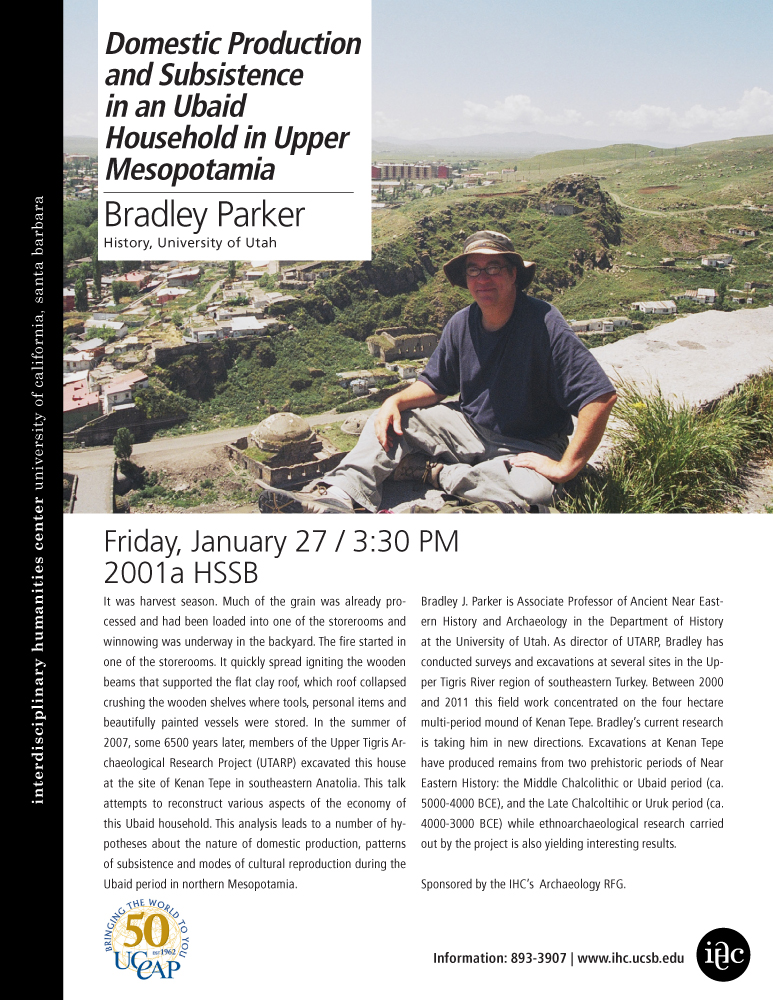 Bradley Parker (History, University of Utah)
Friday, January 27 / 3:30 PM
2001a HSSB
It was harvest season. Much of the grain was already processed and had been loaded into one of the storerooms and winnowing was underway in the backyard. The fire started in one of the storerooms. It quickly spread igniting the wooden beams that supported the flat clay roof, which roof collapsed crushing the wooden shelves where tools, personal items and beautifully painted vessels were stored. In the summer of 2007, some 6500 years later, members of the Upper Tigris Archaeological Research Project (UTARP) excavated this house at the site of Kenan Tepe in southeastern Anatolia. This talk attempts to reconstruct various aspects of the economy of this Ubaid household. This analysis leads to a number of hypotheses about the nature of domestic production, patterns of subsistence and modes of cultural reproduction during the Ubaid period in northern Mesopotamia.
Bradley J. Parker is Associate Professor of Ancient Near Eastern History and Archaeology in the Department of History at the University of Utah. As director of UTARP, Bradley has conducted surveys and excavations at several sites in the Upper Tigris River region of southeastern Turkey. Between 2000 and 2011 this field work concentrated on the four hectare multi-period mound of Kenan Tepe. Bradley's current research is taking him in new directions. Excavations at Kenan Tepe have produced remains from two prehistoric periods of Near Eastern History: the Middle Chalcolithic or Ubaid period (ca. 5000-4000 BCE), and the Late Chalcoltihic or Uruk period (ca. 4000-3000 BCE) while ethnoarchaeological research carried out by the project is also yielding interesting results.
Sponsored by the IHC's  Archaeology RFG.