19 May

Why Historical Trauma Studies?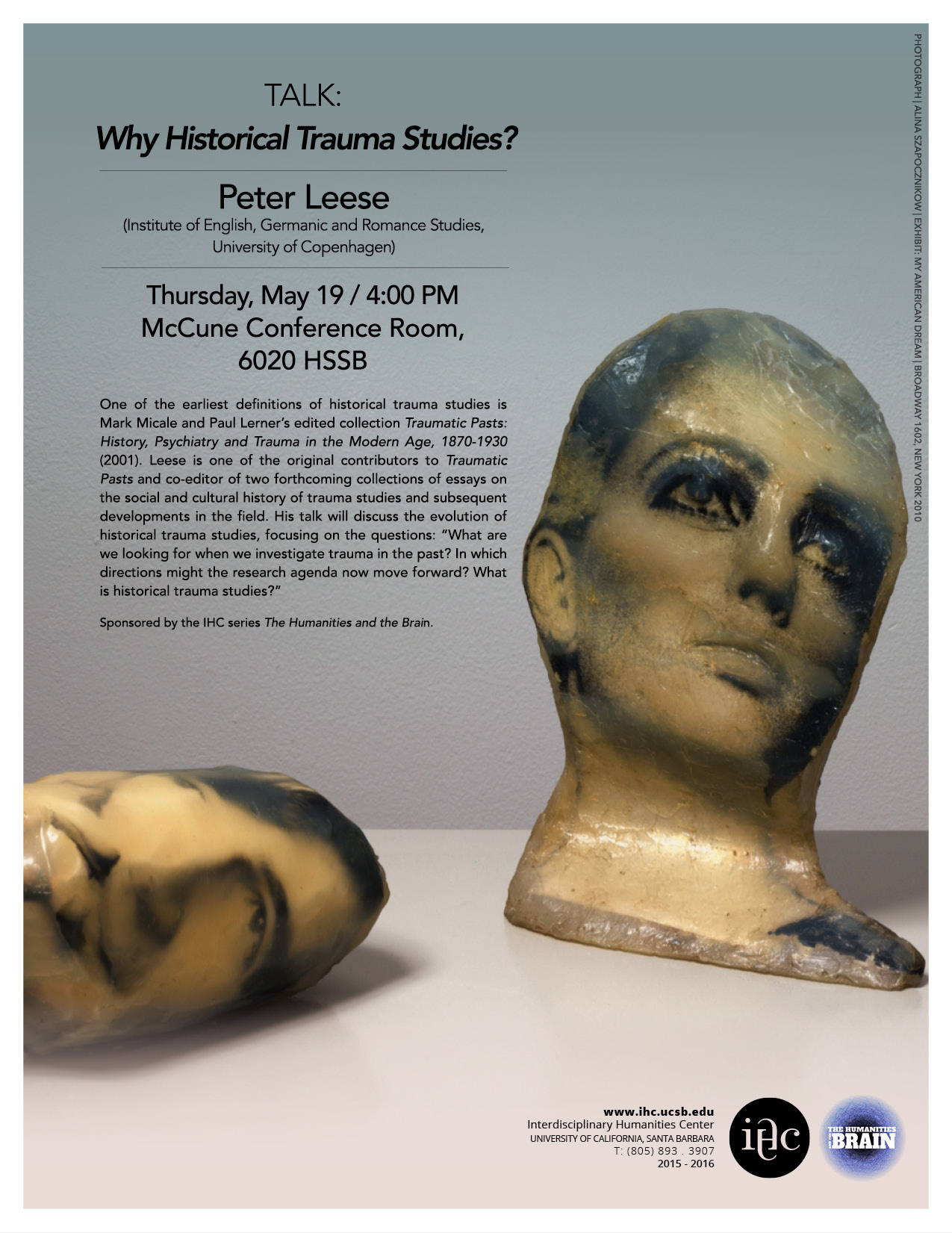 Peter Leese (Institute of English, Germanic and Romance Studies, University of Copenhagen)
Thursday, May 19, 2016 / 4:00 PM
McCune Conference Room, 6020 HSSB
One of the earliest definitions of historical trauma studies is Mark Micale and Paul Lerner's edited collection Traumatic Pasts: History, Psychiatry and Trauma in the Modern Age, 1870-1930 (2001). Leese is one of the original contributors to Traumatic Pasts and co-editor of two forthcoming collections of essays on the social and cultural history of trauma studies and subsequent developments in the field. His talk will discuss the evolution of historical trauma studies, focusing on the questions: "What are we looking for when we investigate trauma in the past? In which directions might the research agenda now move forward? What is historical trauma studies?"
Peter Leese is Associate Professor of British History at the Department of English, Germanic and Romance Studies, University of Copenhagen, Denmark. Currently a Visiting Fellow at the Center for Ideas and Society, University of California, Riverside, his most recent research project is 'Migrant Memory: Life-Stories, Investigations, Pictures.' He is the author of Shell Shock: Traumatic Neurosis and the British Soldiers of the First World War, and Britain Since 1945: Aspects of Identity. Psychological Trauma and the Legacies of the First World War and Traumatic Memories of the Second World War and After, edited by Peter Leese and Jason Crouthamel, will both be published by Palgrave Macmillan in autumn 2016.

Click here to listen to a recording of Peter Leese's talk for the IHC series: The Humanities and the Brain.
Sponsored by the IHC series The Humanities and the Brain.