18 Feb

Mediterranean Princely Courts and the Transmission of Cultures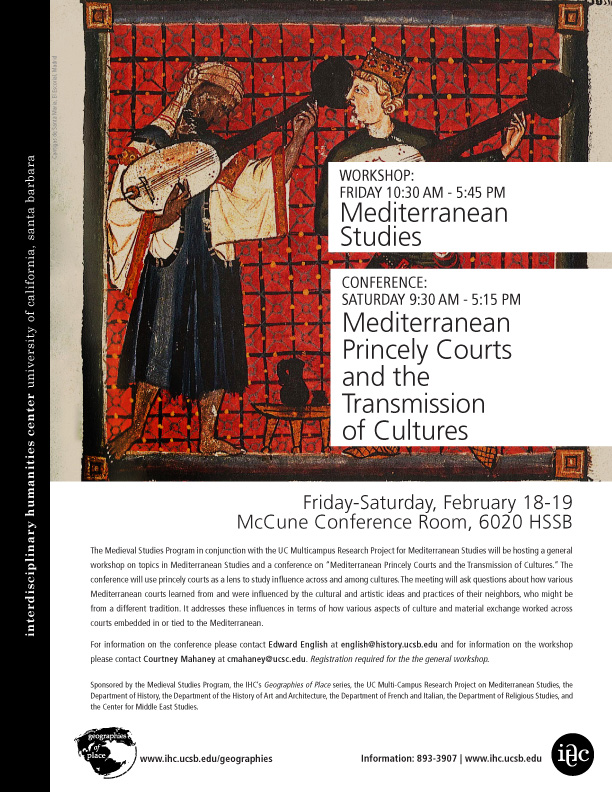 Friday-Saturday, February 18-19, 2011
McCune Conference Room, 6020 HSSB
The Medieval Studies Program in conjunction with the UC Multicampus Research Project for Mediterranean Studies will be hosting a general workshop on topics in Mediterranean Studies and a conference on "Mediterranean Princely Courts and the Transmission of Cultures." The conference will use princely courts as a lens to study influence across and among cultures. The meeting will ask questions about how various Mediterranean courts learned from and were influenced by the cultural and artistic ideas and practices of their neighbors, who might be from a different tradition. It addresses these influences in terms of how various aspects of culture and material exchange worked across courts embedded in or tied to the Mediterranean.
For information on the conference please contact Edward English at english@history.ucsb.edu and for information on the workshop please contact Courtney Mahaney at cmahaney@ucsc.edu. Registration required for the the general workshop.
Sponsored by the Medieval Studies Program, the IHC's Geographies of Place series, the UC Multi-Campus Research Project on Mediterranean Studies, the Department of History, the Department of the History of Art and Architecture, the Department of French and Italian, the Department of Religious Studies, and the Center for Middle East Studies.