21 Jan

The Struggle for Civility and Justice: The Common Good in Late Medieval and Renaissance Italy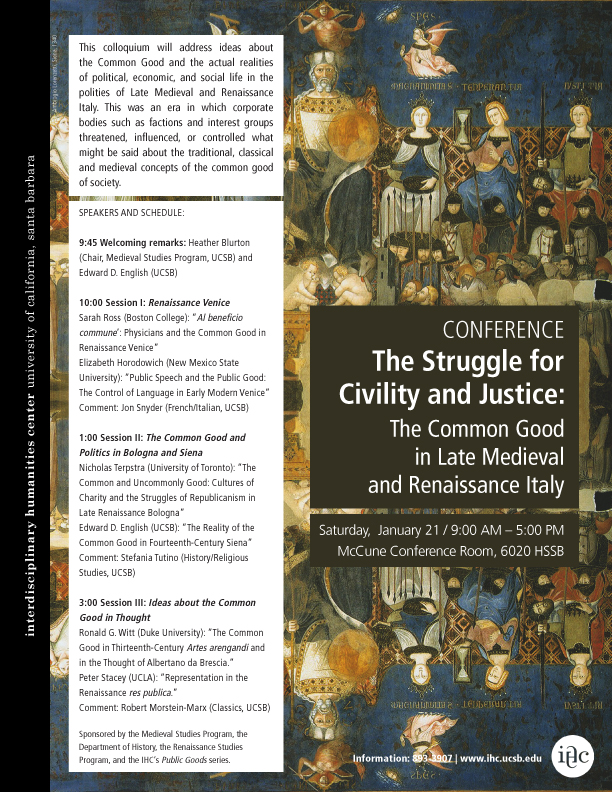 Saturday,  January 21, 2012 / 9:00 AM – 5:00 PM
McCune Conference Room, 6020 HSSB
This colloquium will address ideas about the Common Good and the actual realities of political, economic, and social life in the polities of Late Medieval and Renaissance Italy. This was an era in which corporate bodies such as factions and interest groups threatened, influenced, or controlled what might be said about the traditional, classical and medieval concepts of the common good of society.
Speakers and schedule:
9:45 Welcoming remarks: Heather Blurton (Chair, Medieval Studies Program, UCSB) and Edward D. English (UCSB)
10:00 Session I: Renaissance Venice
Sarah Ross (Boston College): "Al beneficio commune': Physicians and the Common Good in Renaissance Venice"
Elizabeth Horodowich (New Mexico State University): "Public Speech and the Public Good: The Control of Language in Early Modern Venice"
Comment: Jon Snyder (French/Italian, UCSB)
1:00 Session II: The Common Good and Politics in Bologna and Siena
Nicholas Terpstra (University of Toronto): "The Common and Uncommonly Good: Cultures of Charity and the Struggles of Republicanism in Late Renaissance Bologna"
Edward D. English (UCSB): "The Reality of the Common Good in Fourteenth-Century Siena"
Comment: Stefania Tutino (History/Religious Studies, UCSB)
3:00 Session III: Ideas about the Common Good in Thought
Ronald G. Witt (Duke University): "The Common Good in Thirteenth-Century Artes arengandi and in the Thought of Albertano da Brescia."
Peter Stacey (UCLA): "Representation in the Renaissance res publica."
Comment: Robert Morstein-Marx (Classics, UCSB)
Sponsored by the Medieval Studies Program, the Department of History, the Renaissance Studies Program, and the IHC's Public Goods series.