02 Nov

The Shogun's Silver Telescope: God, Art & Money in the First English Voyages to Japan,1611-23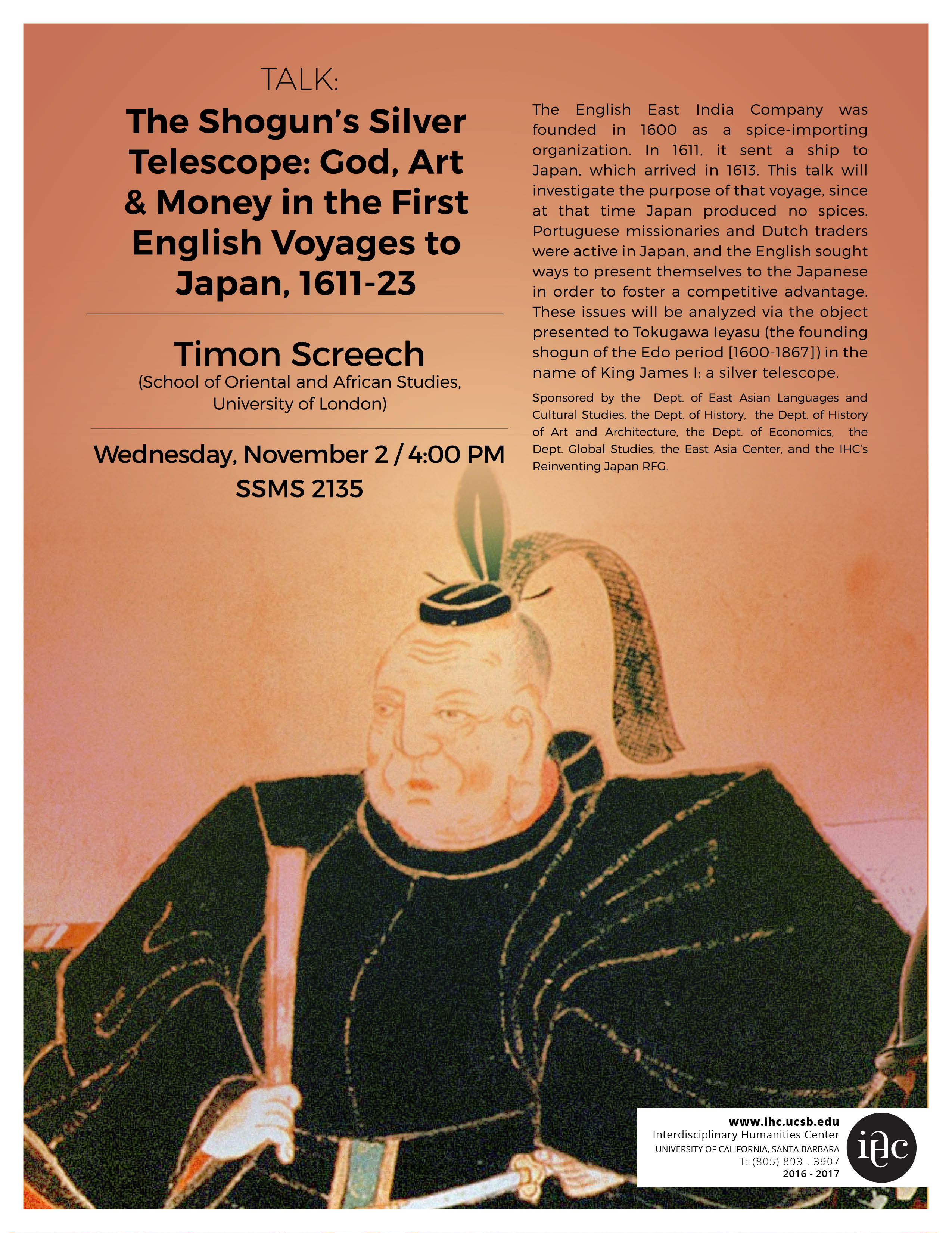 Timon Screech (School of Oriental and African Studies, University of London)
Wednesday, November 2, 2016 / 4:00 PM
SSMS 2135
The English East India Company was founded in 1600 as a spice-importing organization. In 1611, it sent a ship to Japan, which arrived in 1613. This talk will investigate the purpose of that voyage, since at that time Japan produced no spices. Portuguese missionaries and Dutch traders were active in Japan, and the English sought ways to present themselves to the Japanese in order to foster a competitive advantage. These issues will be analyzed via the object presented to Tokugawa Ieyasu (the founding shogun of the Edo period [1600-1867]) in the name of King James I: a silver telescope.
Timon Screech is professor of Japanese art at SOAS (School of Oriental and African Studies), University of London. He is Head of the Department of the History of Art & Archaeology, and Head of the School of Arts, SOAS. He is the author of many books on the visual culture of Japan's Edo period, including: The Lens Within the Heart: The Western Scientific Gaze and Popular Imagery in Later Edo Japan (1996); Sex and the Floating World: Erotic Images in Japan, 1700-1820 (2009); and Obtaining Images: Art, Production and Display in Edo Japan (2012). His work has been translated into French, Japanese, Korean, Polish and Romanian.
Sponsored by the  Dept. of East Asian Languages and Cultural Studies, the Dept. of History,  the Dept. of History of Art and Architecture, the Dept. of Economics,  the Dept. Global Studies, the East Asia Center, and the IHC's Reinventing Japan RFG.