14 Nov

The Poetry Nobody Knows: Rare or Unique Poems in Early Modern English Manuscript Collections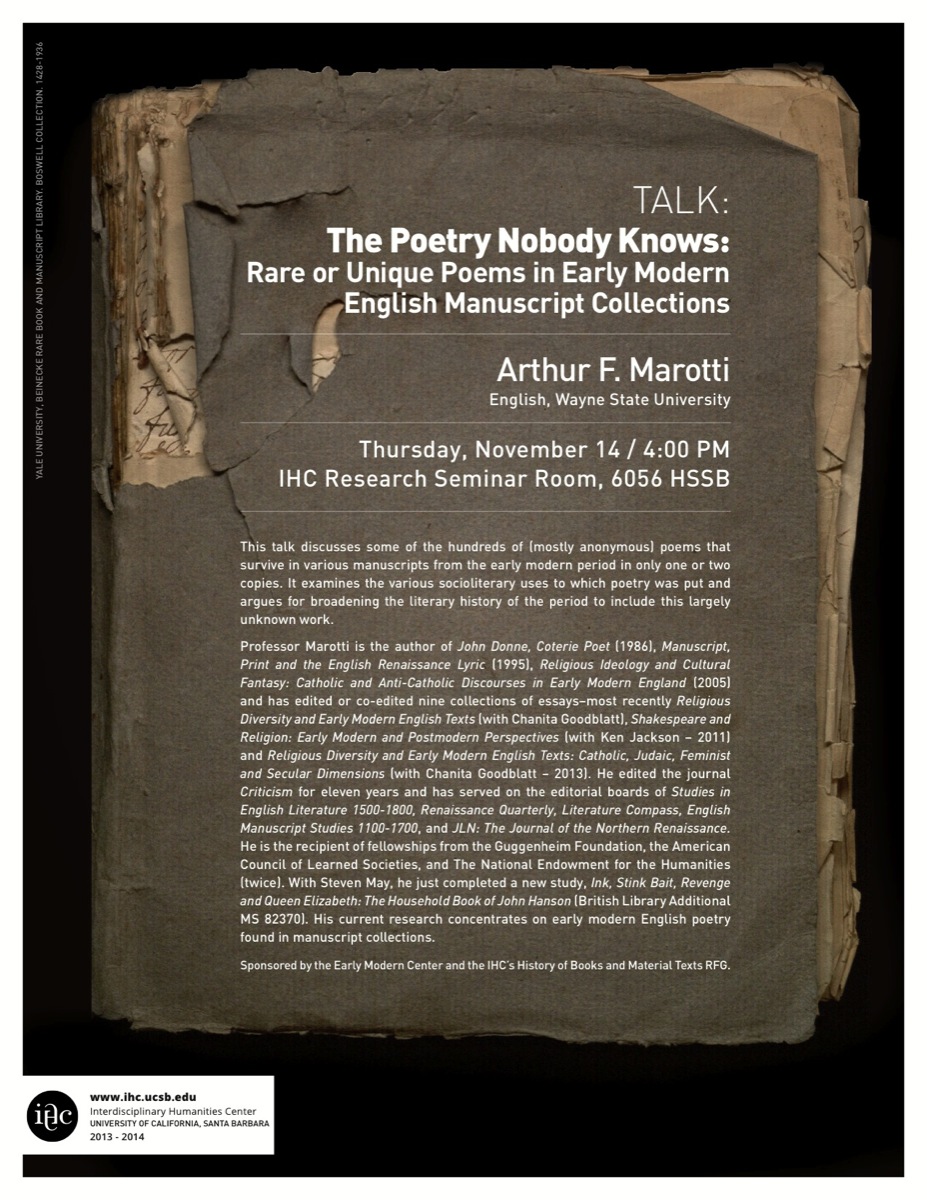 Arthur F. Marotti (English, Wayne State University)
Thursday, November 14 / 4:00 PM
IHC Research Seminar Room, 6056 HSSB
This talk discusses some of the hundreds of (mostly anonymous) poems that survive in various manuscripts from the early modern period in only one or two copies. It examines the various socioliterary uses to which poetry was put and argues for broadening the literary history of the period to include this largely unknown work.
Professor Marotti is the author of John Donne, Coterie Poet (1986), Manuscript, Print and the English Renaissance Lyric (1995), Religious Ideology and Cultural Fantasy: Catholic and Anti-Catholic Discourses in Early Modern England (2005) and has edited or co-edited nine collections of essays–most recently Religious Diversity and Early Modern English Texts (with Chanita Goodblatt), Shakespeare and Religion: Early Modern and Postmodern Perspectives (with Ken Jackson – 2011) and Religious Diversity and Early Modern English Texts: Catholic, Judaic, Feminist and Secular Dimensions (with Chanita Goodblatt – 2013). He edited the journal Criticism for eleven years and has served on the editorial boards of Studies in English Literature 1500-1800, Renaissance Quarterly, Literature Compass, English Manuscript Studies 1100-1700, and JLN: The Journal of the Northern Renaissance. He is the recipient of fellowships from the Guggenheim Foundation, the American Council of Learned Societies, and The National Endowment for the Humanities (twice). With Steven May, he just completed a new study, Ink, Stink Bait, Revenge and Queen Elizabeth: The Household Book of John Hanson (British Library Additional MS 82370). His current research concentrates on early modern English poetry found in manuscript collections.
Sponsored by the Early Modern Center and the IHC's History of Books and Material Texts RFG.