09 Feb

The Past, Present, and Future of Feminist Studies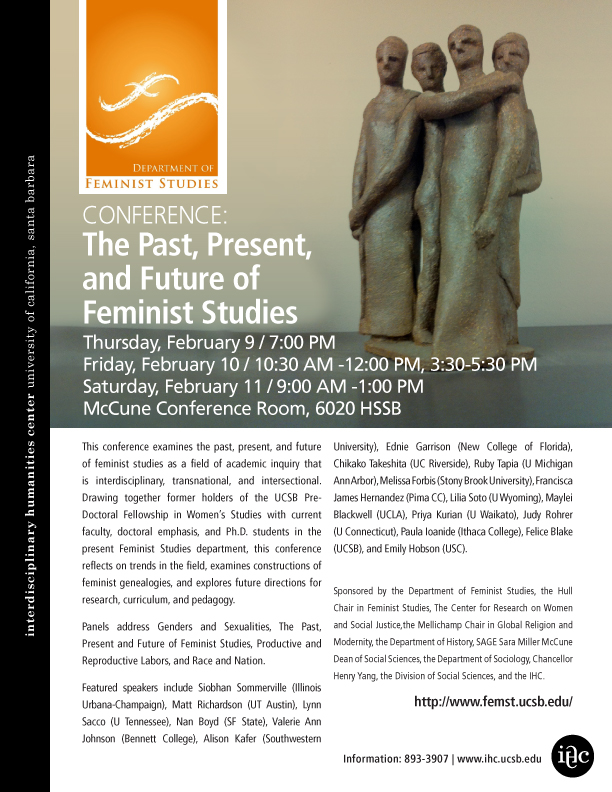 Thursday-Saturday, February 9-11
McCune Conference Room, 6020 HSSB

This conference examines the past, present, and future of feminist studies as a field of academic inquiry that is interdisciplinary, transnational, and intersectional. Drawing together former holders of the UCSB Pre-Doctoral Fellowship in Women's Studies with current faculty, doctoral emphasis, and Ph.D. students in the present Feminist Studies department, this conference reflects on trends in the field, examines constructions of feminist genealogies, and explores future directions for research, curriculum, and pedagogy.
Panels address Genders and Sexualities, The Past, Present and Future of Feminist Studies, Productive and Reproductive Labors, and Race and Nation.
Featured speakers include Siobhan Sommerville (Illinois Urbana-Champaign), Matt Richardson (UT Austin), Lynn Sacco (U Tennessee), Nan Boyd (SF State), Valerie Ann Johnson (Bennett College), Alison Kafer (Southwestern University), Ednie Garrison (New College of Florida), Chikako Takeshita (UC Riverside), Ruby Tapia (U Michigan Ann Arbor), Melissa Forbis (Stony Brook University), Francisca James Hernandez (Pima CC), Lilia Soto (U Wyoming), Maylei Blackwell (UCLA), Priya Kurian (U Waikato), Judy Rohrer (U Connecticut), Paula Ioanide (Ithaca College), Felice Blake (UCSB), and Emily Hobson (USC).
Sponsored by the Department of Feminist Studies, the Hull Chair in Feminist Studies, The Center for Research on Women and Social Justice,the Mellichamp Chair in Global Religion and Modernity, the Department of History, SAGE Sara Miller McCune Dean of Social Sciences, the Department of Sociology, Chancellor Henry Yang, the Division of Social Sciences, and the IHC.
Website: http://ucsbfeministstudiesconference.wordpress.com/