15 Nov

The Invisible War (Kirby Dick, 2012 93 min.)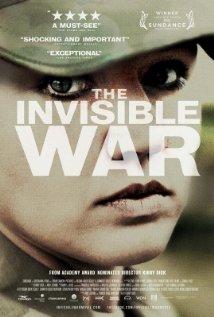 Amy Ziering (Producer)
Thursday, November 15, 2012 / 7:00 PM
UCSB Pollock Theater
The Invisible War is a groundbreaking investigation about one of America's most shameful and best kept secrets: the epidemic of rape within the U.S. military. The film paints a startling picture of the extent of the problem: a female soldier in combat zones is more likely to be raped by a fellow soldier than killed by enemy fire.
Focusing on the powerfully emotional stories of rape victims, The Invisible War is a moving indictment of the systemic cover-up of military sex crimes, chronicling the women's (and men's) struggles to rebuild their lives and fight for justice. It also features hard-hitting interviews with high-ranking military officials and members of Congress that reveal the perfect storm of conditions that exist for rape in the military, its long-hidden history, and what can be done to bring about much-needed change.
Q&A with Producer Amy Ziering and reception to follow.
Reservations are required for this free event.  Visit: http://www.carseywolf.ucsb.edu/events/film-screening-invisible-war
Sponsored by UCSB's Carsey-Wolf Center, UCSB Rape Prevention Education Program, UCSB Veteran's Resource Team, the Claeyssens Veterans Museum and Library, and the IHC series Fallout: In the Aftermath of War.