10 Nov

The Engaged Classroom: Learning at the Intersection of Campus and Community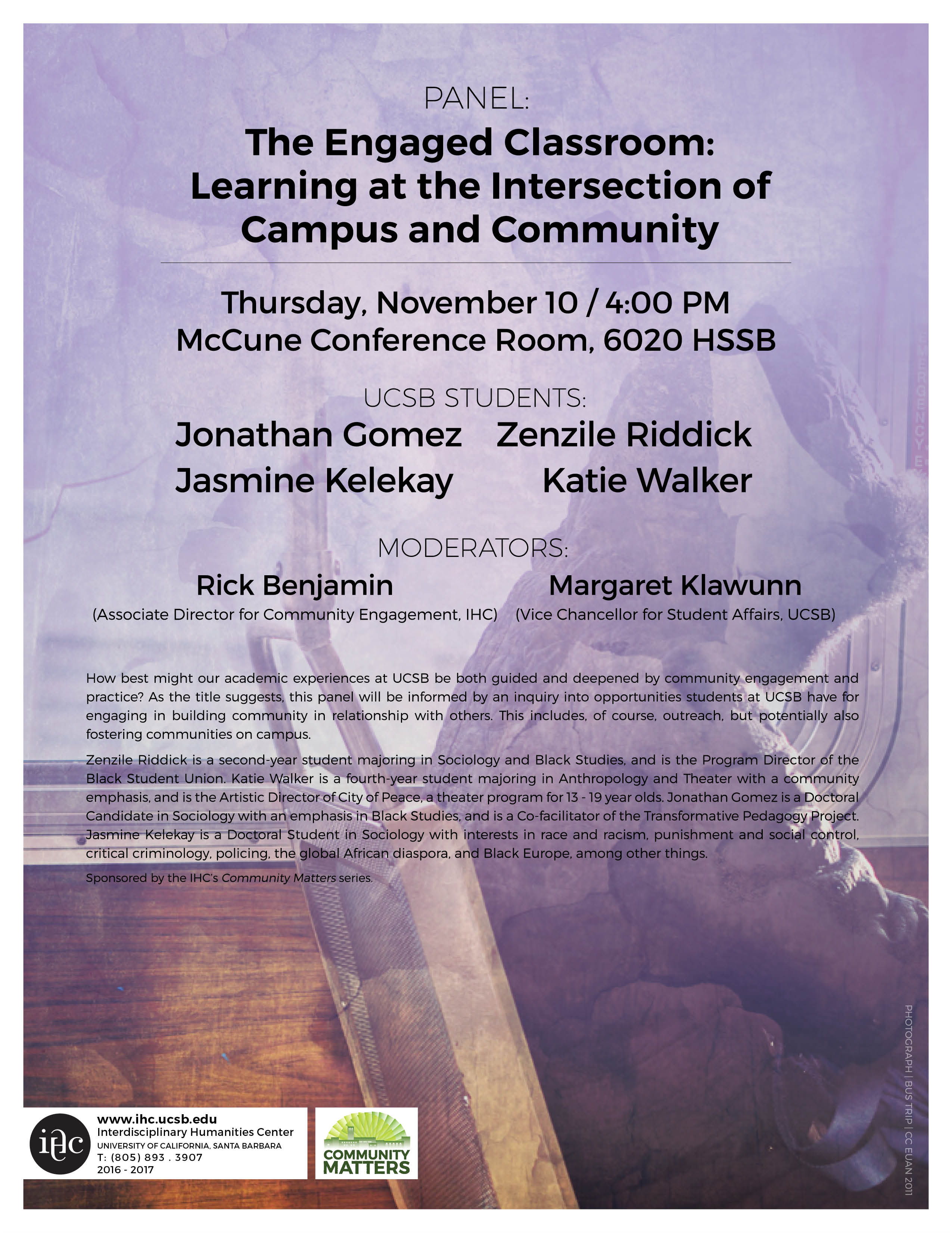 UCSB students:
Zenzile Riddick
Katie Walker
Jonathan Gomez
Jasmine Kelekay
Moderators: Rick Benjamin (Associate Director for Community Engagement, IHC)
Margaret Klawunn (Vice Chancellor for Student Affairs, UCSB)
Thursday, November 10, 2016  / 4:00 PM
McCune Conference Room, 6020 HSSB
How best might our academic experiences at UCSB be both guided and deepened by community engagement and practice? As the title suggests, this panel will be informed by an inquiry into opportunities students at UCSB have for engaging in building community in relationship with others. This includes, of course, outreach, but potentially also fostering communities on campus.
Zenzile Riddick is a second-year student majoring in Sociology and Black Studies, and is the Program Director of the Black Student Union. Katie Walker is a fourth-year student majoring in Anthropology and Theater with a community emphasis, and is the Artistic Director of City of Peace, a theater program for 13 – 19 year olds. Jonathan Gomez is a Doctoral Candidate in Sociology with emphasis in Black Studies, and is a Co-facilitator of the Transformative Pedagogy Project. Jasmine Kelekay is a Doctoral Student in Sociology with an interest in race and racism, punishment and social control, critical criminology, policing, global African diaspora, Black Europe, among other things.

Click here to listen to a recording of the panel from the 2016-17 IHC series: Community Matters.
Sponsored by the IHC's Community Matters series.