13 Nov

Spatium Sets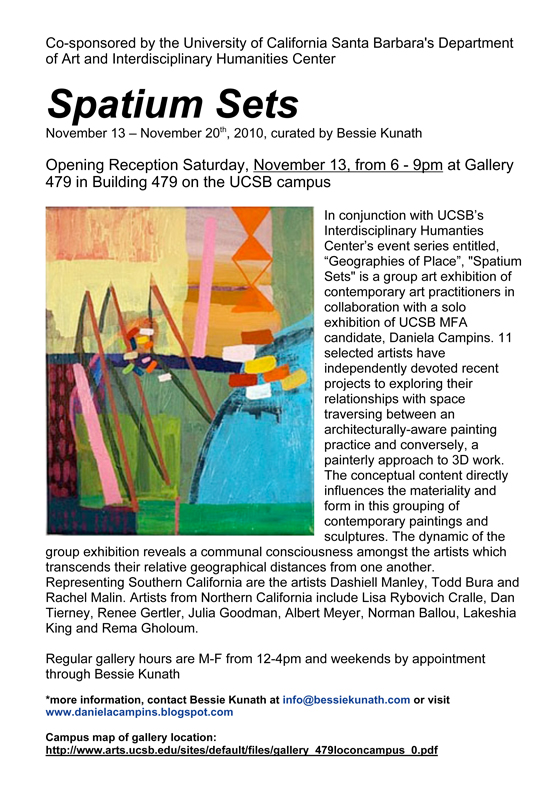 Saturday, November 13, 2010 / 6:00 PM
479 Gallery in Old Gym on UCSB campus
"Spatium Sets" is a group art exhibition of contemporary art practitioners in collaboration with a solo exhibition of UCSB MFA candidate, Daniela Campins.  Venezuelan-born Campins' artwork articulates the idea of space and visual perception though painting. Using Campins' paintings as a point of departure, various California-based artists have been invited to exhibit their work dealing with similar issues. The dynamic of Spatium Sets reveals a communal consciousness amongst the artists which transcends their relative geographical distances from one another. All of the selected artists have independently devoted recent projects to exploring their relationships with space traversing between an architecturally-aware painting practice and conversely, a painterly approach to creating 3D work. The conceptual content directly influences the materiality and form in this grouping of paintings and sculptures.    Representing Southern California are the artists Dashiell Manley, Todd Bura and Rachel Malin. Artists from Northern California include Lisa Rybovich Cralle, Dan Tierney, Renee Gertler, Julia Goodman, Albert Meyer, Norman Ballou, Lakeshia King and Rema Gholoum.
Spatium Sets runs from Saturday November 13th to Saturday November 20th, 2010. The opening reception will be on Saturday Nov. 13 from 6-9 pm. Regular gallery hours are M-F from 12-4pm and weekends by appointment; contact Bessie Kunath at 415.378.5428
Sponsored by the UCSB Department of Art and the IHC's Geographies of Place series.