04 Jun

Soul Food Today and Yesterday: Discussion of Readings from Hog & Hominy and Sistah Vegan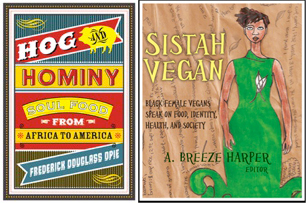 Friday, June 4 / 10:30 AM
IHC Seminar Room
Join the Food Studies RFG for an engaging discussion of selections from two books: Sistah Vegan: Black Female Vegans Speak on Food, Identity, Health, and Society, edited by A. Breeze Harper and Hog and Hominy: Soul Food from Africa to America, by Frederick Douglass Opie.
Historian Opie traces soul food's development over the centuries and shows how Southern slavery, segregation, and the Great Migration to the North's urban areas have left their marks on today's African American cuisine.  Harper's collected volume of critical essays, personal narratives, and poems asks how do race, class, and gender affect the experiences of black female vegans? How do black women vegans navigate through family and friends' perceptions of veganism as a "white thing" and in opposition to traditional Soul Food identity?
Please contact Ali Hendley at ahendley@umail.ucsb.edu for electronic versions of the readings.
Sponsored by the IHC's Food Studies RFG, Department of Sociology and Department of History