19 Oct

Snarled Megalopolis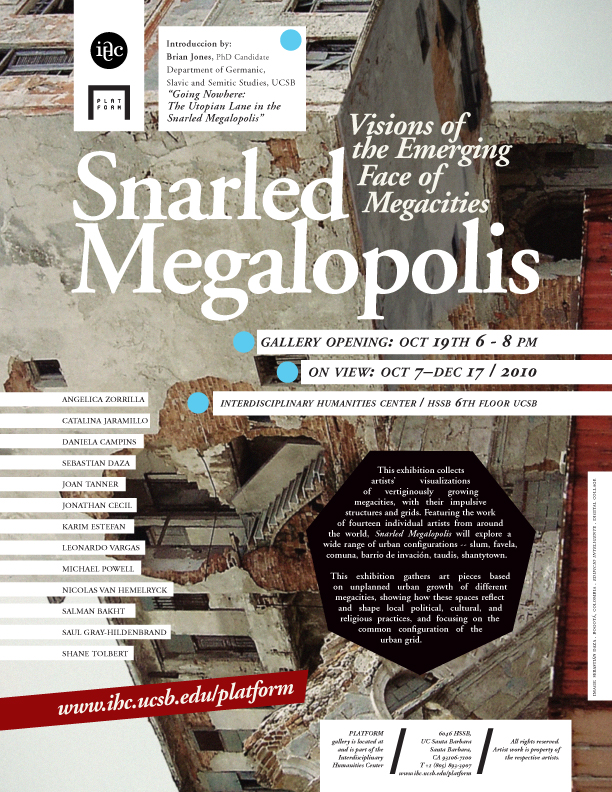 Debut of IHC's PLATFORM Gallery
Tuesday, October 19, 2010 / 6:00 PM
6th Floor, HSSB
SNARLED MEGALOPOLIS
Visions of the Emerging Face of Megacities
This exhibition collects artists' visualizations of vertiginously growing megacities, with their impulsive structures and grids.  Featuring the work of fourteen individual artists from around the world, Snarled Megalopolis will explore a wide range of urban configurations — slum, favela, comuna, barrio de invación, taudis, shantytown.
This exhibition gathers art pieces based on unplanned urban growth of different megacities, showing how these spaces reflect and shape local political, cultural, and religious practices, and focusing on the common configuration of the urban grid.
Introduction by:
BRIAN JONES, PhD Candidate
Department of Germanic, Slavic and Semitic Studies
University of California, Santa Barbara
"Going Nowhere:
The Utopian Lane in the Snarled Megalopolis"
Brian Jones' research focuses primarily on the interrelations between literature, architectural theory and urban space in 19th and early 20th century Germany. His dissertation, City Machines and Garden Cities, studies the history of comprehensive planning schemes that leads to High Modernist visions of the totally rationalized city.
ARTISTS
ANGELICA ZORRILLA
CATALINA JARAMILLO
DANIELA CAMPINS
DIEGO CONTRERAS
JOAN TANNER
JONATHAN CECIL
KARIM ESTEFAN
LEONARDO VARGAS
MICHAEL POWELL
NICOLAS VAN HEMELRYCK
SALMAN BAKHT
SAUL GRAY-HILDENBRAND
SEBASTIÁN DAZA
SHANE TOLBERT