08 Feb

Shakespeare and Risk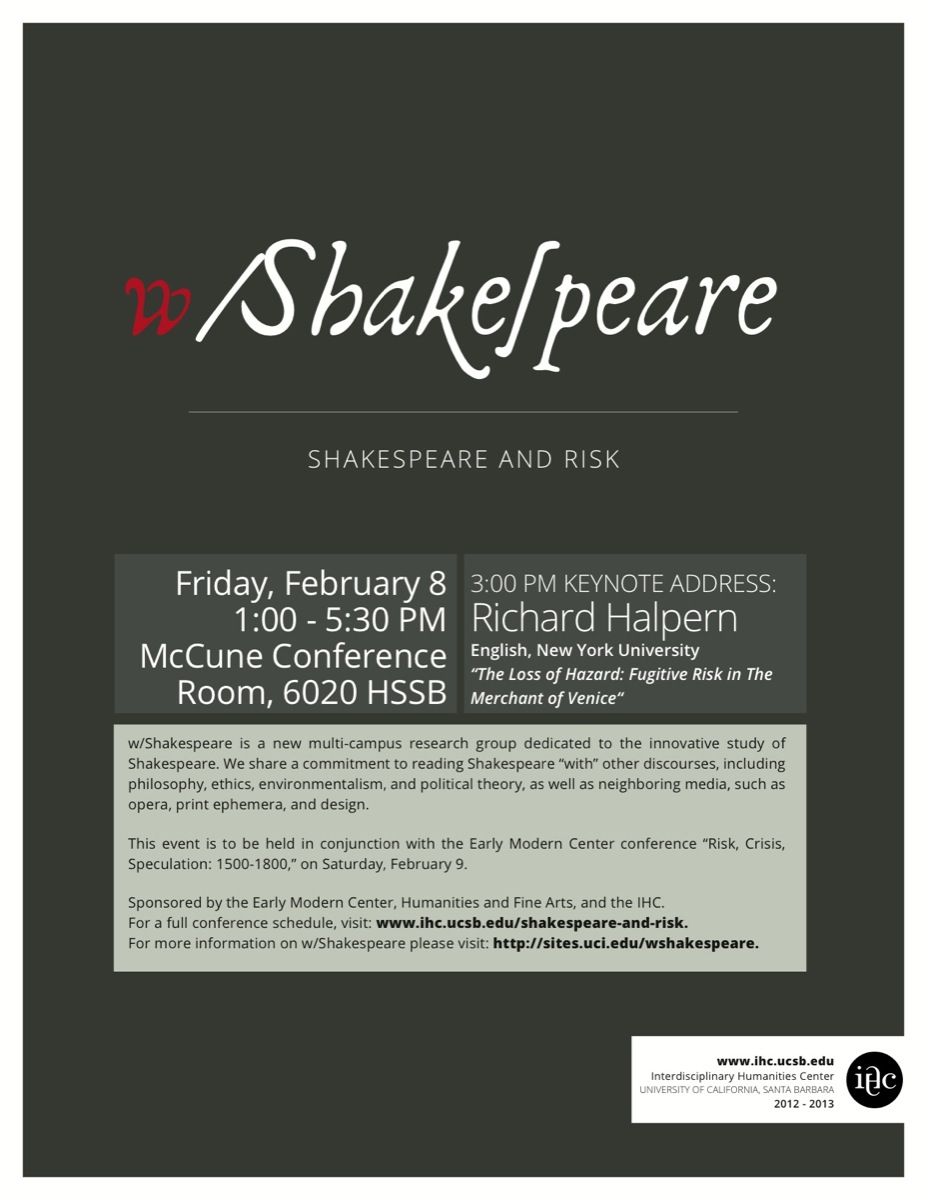 Friday, February 8 / 1:00-5:30 PM
McCune Conference Room, 6020 HSSB
Keynote Speaker: Richard Halpern, (English, New York University): "The Loss of Hazard: Fugitive Risk in The Merchant of Venice"
w/Shakespeare is a new multi-campus research group dedicated to the innovative study of Shakespeare. Convened by Julia Reinhard Lupton (UCI) and Jim Kearney (UCSB), w/Shakespeare includes scholars from UCI, UCSB, UCLA, and UCSC. We share a commitment to reading Shakespeare "with" other discourses, including philosophy, ethics, environmentalism, and political theory, as well as neighboring media, such as opera, print ephemera, and design.
This event is to be held in conjunction with the Early Modern Center conference "Risk, Crisis, Speculation: 1500-1800," on Saturday, February 9.
Sponsored by the Early Modern Center, Humanities and Fine Arts, and the IHC.
For more information on w/Shakespeare please visit: http://sites.uci.edu/wshakespeare/
1:10-1:15 Welcome Address
James Kearney (English, UCSB)
1:15-2:45 Panel: "Shakespeare and Risk"
Megan Herrold (English,University of Southern California): "'A Game Played Home': Fixed Wages and Tyranny in Shakespeare's The Winter's Tale"
Rachel Levinson-Emley, (English,UCSB): "Bloody Exposure: The Hazards of Antonio's Thwarted Melancholic Masochistic Martyrdom"
Samuel Arkin, (English, UC Irvine):  "Tragedy and the Genre of Risk: Hamlet and Moral Character"
Moderator: Megan Palmer Browne (English, UCSB)
2:45-3:00 Coffee Break
3:00-4:30 Keynote Address
Richard Halpern,(English, New York University): "The Loss of Hazard: Fugitive Risk in The Merchant of Venice"
Introduced by James Kearney, UCSB
Respondent: Julia Reinhard Lupton, UC Irvine
4:30-5:30 Theatrical Performance
UCSB Acting Program; directed by Irwin Appel (Theater, UCSB).
For a schedule of both Friday's and Saturday's events please visit: http://emc.english.ucsb.edu/conferences/2012-2013/risk_crisis_speculation_schedule.asp