26 May

Sergei Eisenstein between Decadence and Marxism: The Motif of Saint Sebastian in the Soviet Director's Films, Drawings, and Writings.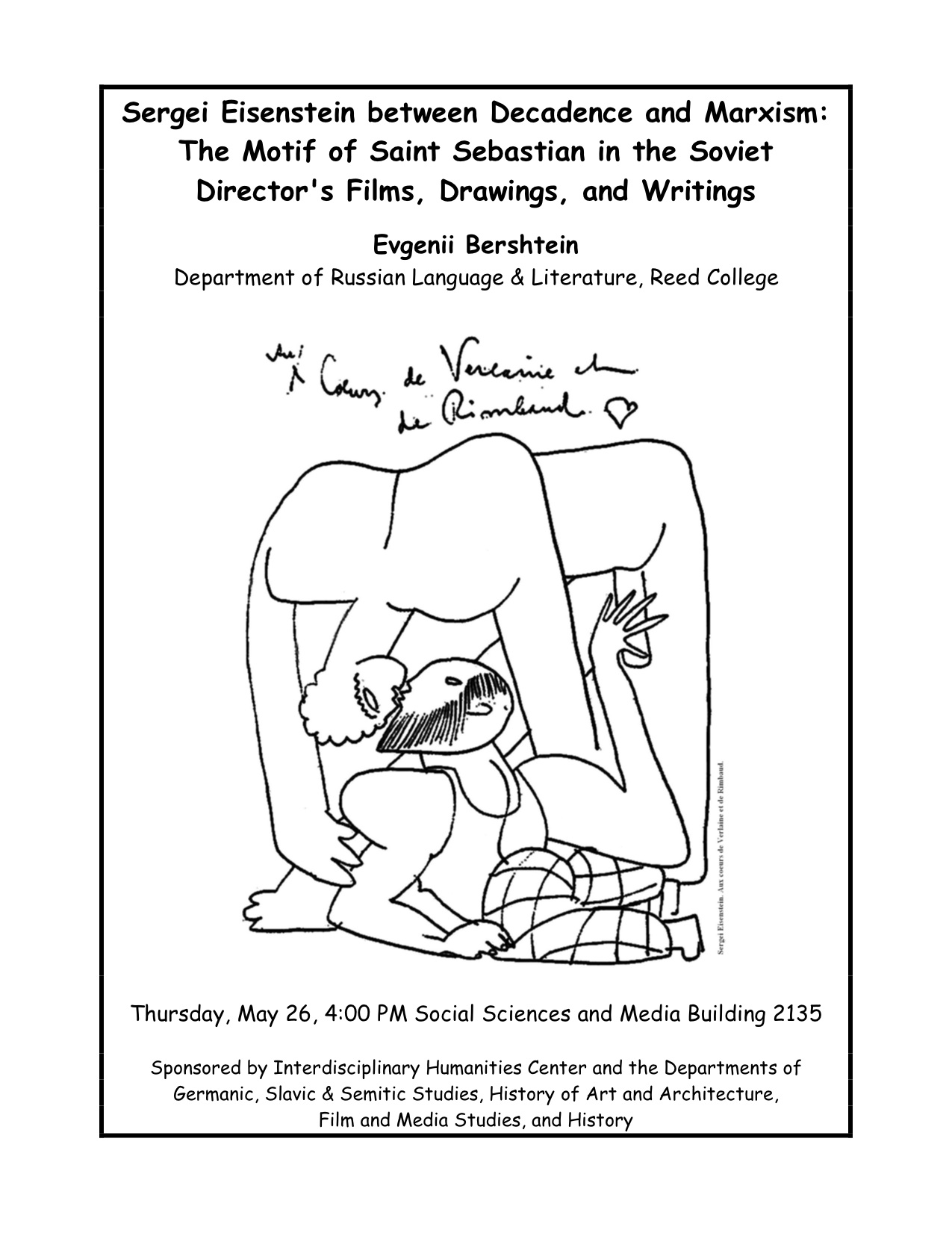 Evgenii Bershtein (Russian Language and Literature, Reed College)
Thursday, May 26 / 4:00 PM
Social Sciences and Media Building 2135
Sergei Mikhailovich Eisenstein (1898-1948), one of the last century's most influential film directors and theoreticians, was also a prolific writer of sexual theory and the author of thousands of erotic drawings. Although Eisenstein's intense interest in the philosophy of sex and gender, as well as the prominence of sexual symbolism in his films are well known, a significant part of his writing on this subject and most of his erotic drawings have never been published and only become accessible for archival research in recent years. These theoretical and visual texts are not only crucial for understanding Eisenstein as a thinker and artist, they are also a necessary source for interpreting his films and ground-breaking cinematic aesthetic. Combining archival, library, and film research, I explore  the structure and intellectual genesis of Eisenstein's thinking on sexuality and the ways in which  Eisenstein's theoretical notions impacted his films. My presentation consists of two parts: in the first part, I discuss the Eisenstein's idiosyncratic approach to the notions of sublimation and bisexuality, and the role they played in his aesthetics. In the second part, I examine the figure of Saint Sebastian as a recurrent motif in Eisenstein's drawings, films, and writings. Eisenstein's theoretical and autobiographical writings help me to interpret and contextualize this prominent motif in his artistic works. The ultimate goal of my project is to develop a more comprehensive approach to this extraordinarily important artist.
Evgenii Bershtein is an Associate Professor in the Department of Russian Language and Literature at Reed College in Portland, Oregon. He has published extensively on eighteenth-century Russian literature, contemporary Russian literature, Russian Symbolist Culture and sexuality as an aspect of culture. His recent publications include the following essays and book chapters: " 'The Withering of Private Life': Walter Benjamin in Moscow," " 'Next to Christ': Oscar Wilde in Russian Modernism," and "An Englishman in the Russian Bathhouse: Mikhail Kuzmin's Wings and the Russian Tradition of Homoerotic Writing." He is currently working on a new project devoted to Sergei Eisenstein.
This event is co-sponsored by IHC and the Departments of History, Film and Media Studies and History of Art and Architecture.