17 Feb

Saturation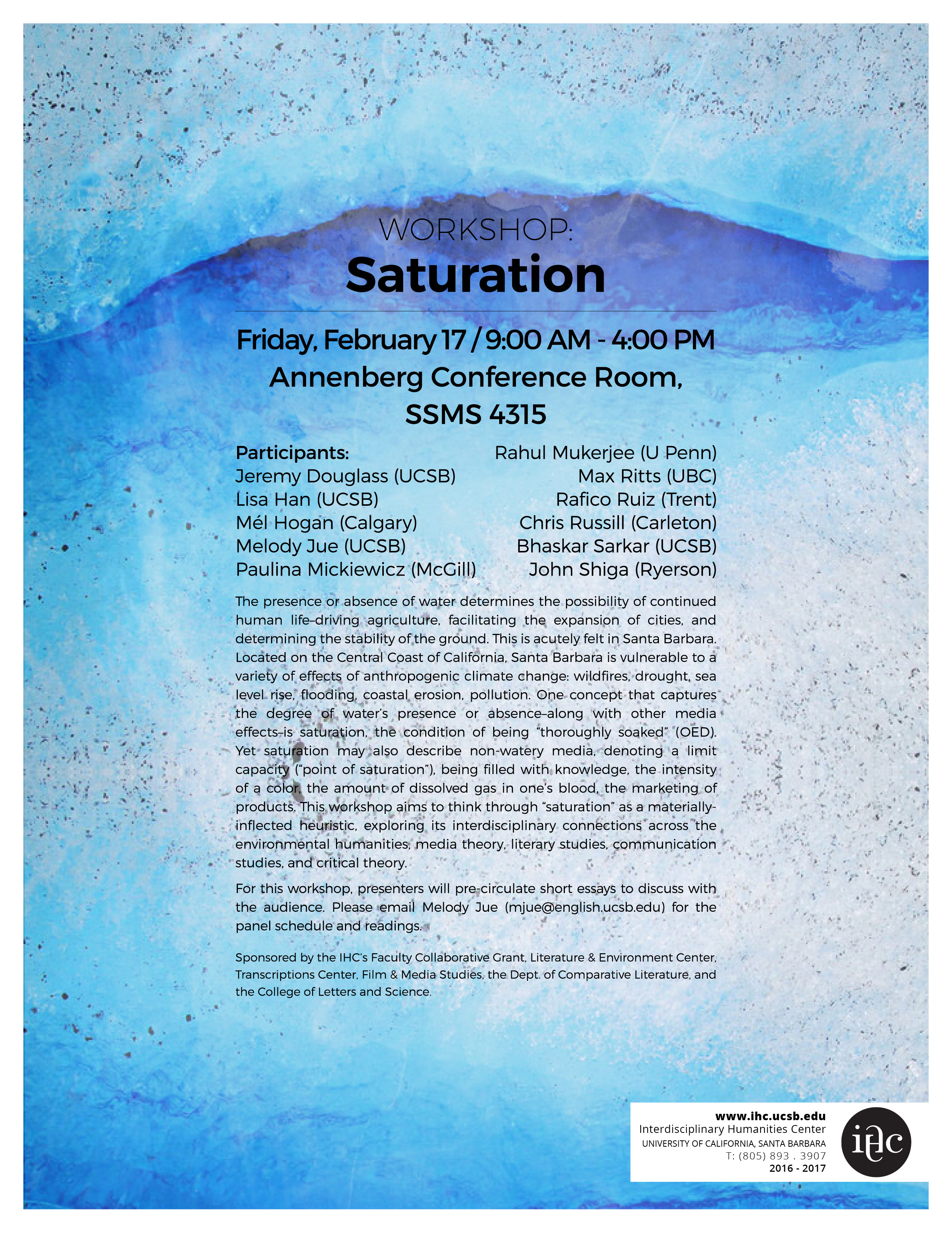 Friday, February 17, 2017 / 9:00 AM – 4:00 PM
Annenberg Conference Room, SSMS 4315
Participants:
Jeremy Douglass (UCSB)
Lisa Han (UCSB)
Mél Hogan (Calgary)
Melody Jue (UCSB)
Paulina Mickiewicz (McGill)
Rahul Mukerjee (U Penn)
Max Ritts (UBC)
Rafico Ruiz (Trent)
Chris Russill (Carleton)
Bhaskar Sarkar (UCSB)
John Shiga (Ryerson)
The presence or absence of water determines the possibility of continued human life–driving agriculture, facilitating the expansion of cities, and determining the stability of the ground. This is acutely felt in Santa Barbara. Located on the Central Coast of California, Santa Barbara is vulnerable to a variety of effects of anthropogenic climate change: wildfires, drought, sea level rise, flooding, coastal erosion, pollution. One concept that captures the degree of water's presence or absence–along with other media effects–is saturation, the condition of being "thoroughly soaked" (OED). Yet saturation may also describe non-watery media, denoting a limit capacity ("point of saturation"), being filled with knowledge, the intensity of a color, the amount of dissolved gas in one's blood, the marketing of products. This workshop aims to think through "saturation" as a materially-inflected heuristic, exploring its interdisciplinary connections across the environmental humanities, media theory, literary studies, communication studies, and critical theory.
For this workshop, presenters will pre-circulate short essays to discuss with the audience. Please email Melody Jue for the panel schedule and readings.
Sponsored by the IHC's Faculty Collaborative Grant, Literature & Environment Center, Transcriptions Center, Film & Media Studies, the Dept. of Comparative Literature, and the College of Letters and Science.