28 Oct

Re-framing the Folktale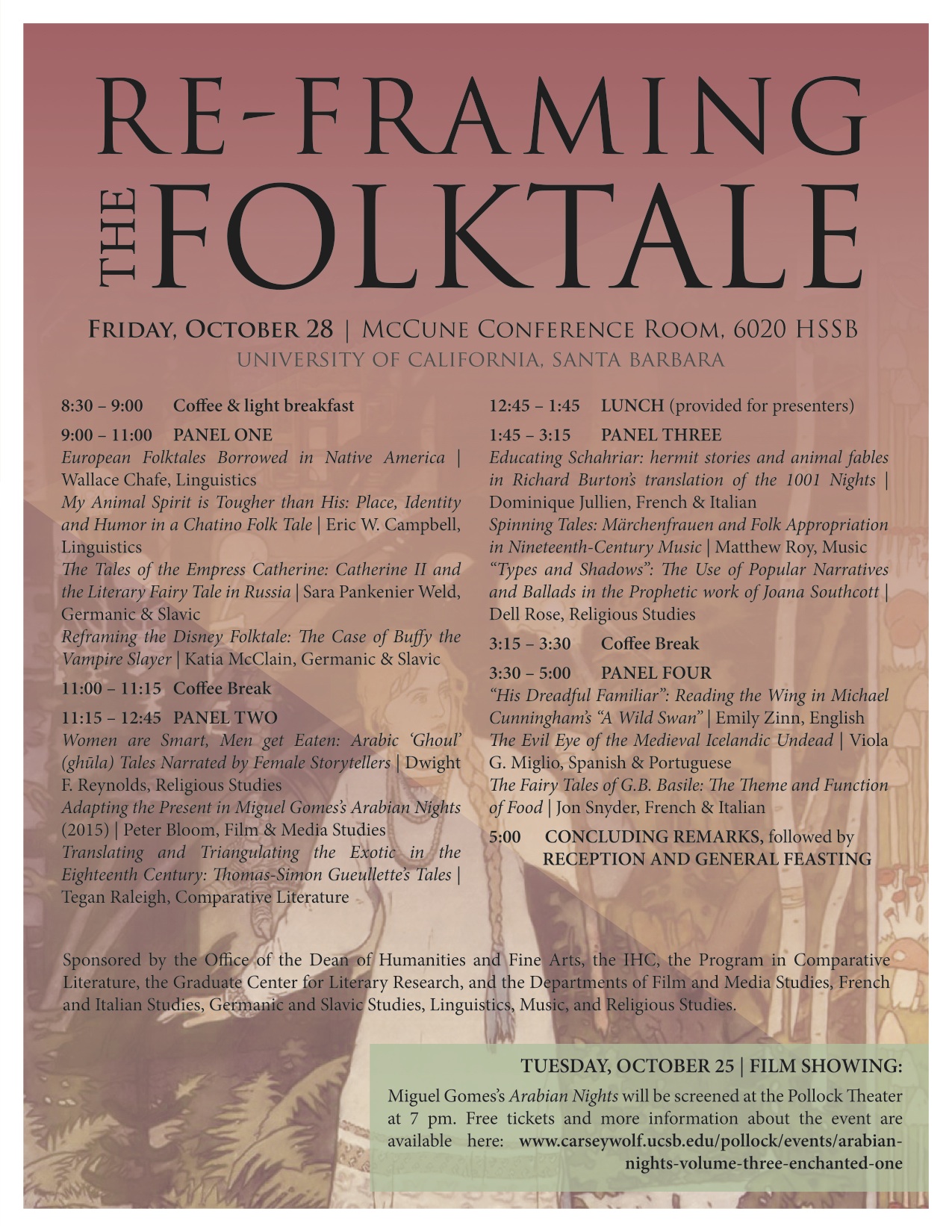 Friday, October 28, 2016 / 9:00 AM – 5:00 PM
McCune Conference Room, 6020 HSSB
Scholars from UCSB examine how and why traditional folktales are continuously renewed and reused in genres as divergent as children's bedtime stories, adult literature, oral folk tales, Disney films, contemporary television programs, music, and religious texts. Why are these texts so powerful that we return to them again and again? What psychological forces are behind their enduring popularity? What role do they play in creating gender and social models in modern society?
In conjunction with the conference, Miguel Gomes's Arabian Nights will be screened on Tuesday, October 25 at 7:00 PM at the Pollock Theater. Free tickets and more information about the event are available here:
http://www.carseywolf.ucsb.edu/pollock/events/arabian-nights-volume-three-enchanted-one
This event is sponsored by Office of the Dean of Humanities and Fine Arts, the IHC, the Program in Comparative Literature, the Graduate Center for Literary Research, and the Departments of Film and Media Studies, French & Italian, Germanic and Slavic, Linguistics, Music and Religious Studies.
Conference Schedule
8:30-9:00  Coffee & light breakfast
9:00-11:00  PANEL ONE
9:00-9:30  European Folktales Borrowed in Native America (Wallace Chafe, Linguistics)
9:30-10:00  My Animal Spirit is Tougher than His: Place, Identity and Humor in a Chatino Folk Tale
(Eric W. Campbell, Linguistics)
10:00-10:30    The Tales of the Empress Catherine: Catherine II and the Literary Fairy Tale in Russia (Sara Pankenier Weld, Germanic & Slavic)
10:30-11:00  Reframing the Disney Folktale: The Case of Buffy the Vampire Slayer
(Katia McClain, Germanic and Slavic Studies)
11:00-11:15  Coffee Break
11:15 – 12:45  PANEL TWO
11:15 – 11:45  Women are Smart, Men get Eaten: Arabic 'Ghoul' (ghūla) Tales Narrated by Female Storytellers (Dwight F. Reynolds, Religious Studies)
11:45-12:15  Adapting the Present in Miguel Gomes's Arabian Nights (2015) (Peter Bloom, Film & Media Studies)
12:15-12:45     Translating and Triangulating the Exotic in the Eighteenth Century: Thomas-Simon Gueullette's Tales (Tegan Raleigh, Comparative Literature)
12:45-1:45  LUNCH (provided for presenters)
1:45-3:15   PANEL THREE
1:45-2:15  Educating Schahriar: hermit stories and animal fables in Richard Burton's translation of the 1001 Nights (Dominique Jullien, French & Italian)
2:15-2:45  Spinning Tales: Märchenfrauen and Folk Appropriation in Nineteenth-Century Music
(Matthew Roy, Music)
2:45-3:15 "Types and Shadows": The Use of Popular Narratives and Ballads in the Prophetic work of Joana Southcott (Dell Rose, Religious Studies)
3:15-3:30  Coffee Break
3:30-5:00  PANEL FOUR
3:30-4:00   "His Dreadful Familiar": Reading the Wing in Michael Cunningham's "A Wild Swan" (Emily Zinn, English)
4:00-4:30   The Evil Eye of the Medieval Icelandic Undead (Viola G. Miglio, Spanish & Portuguese)

4:30-5:00   The Fairy Tales of G.B. Basile: The Theme and Function of Food (Jon Snyder, French & Italian)
5:00  CONCLUDING REMARKS, followed by
RECEPTION AND GENERAL FEASTING