29 Apr

Productive Geographies: IHC Graduate Conference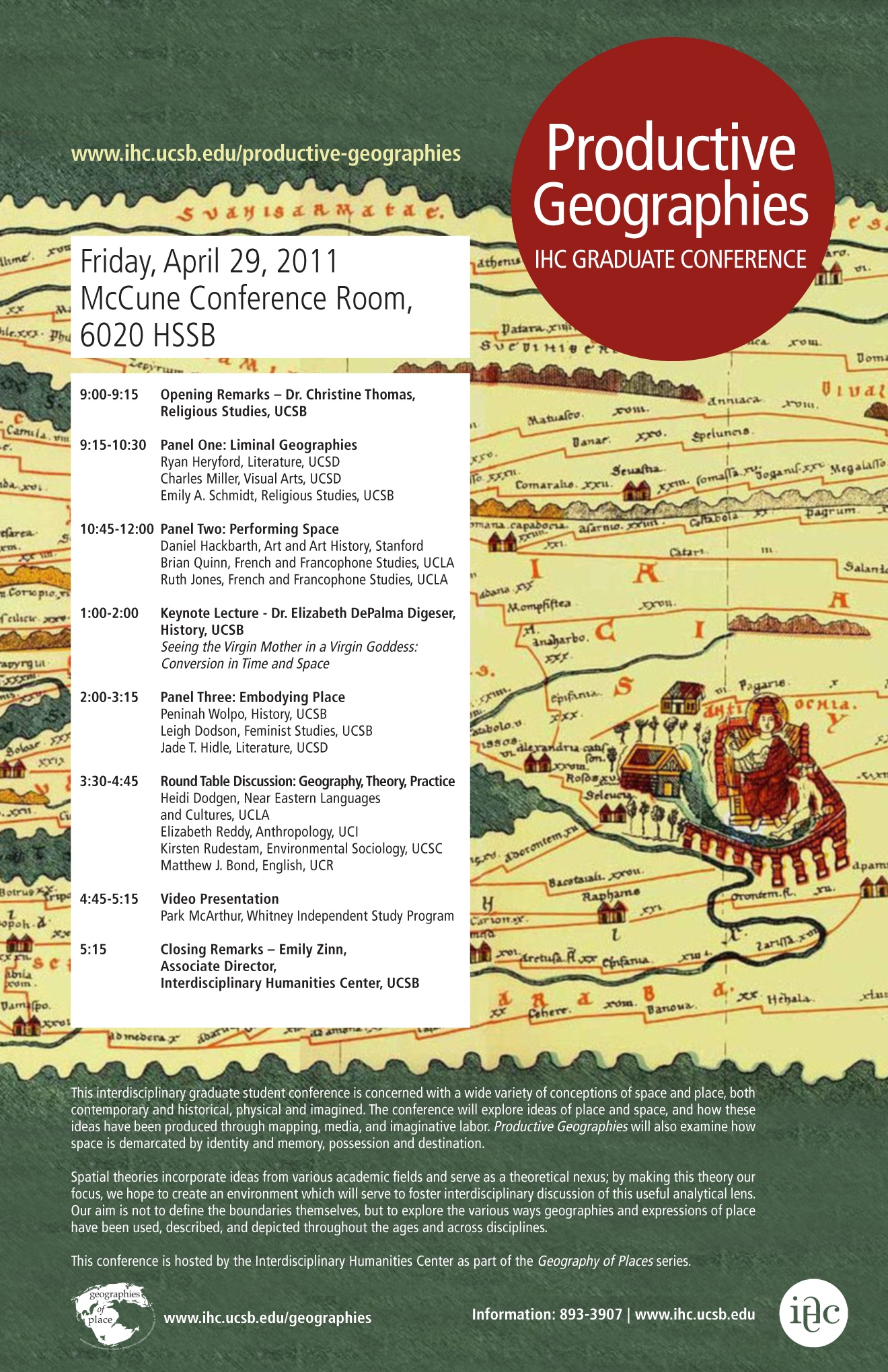 Friday, April 29, 2011
McCune Conference Room, 6020 HSSB
This interdisciplinary graduate student conference is concerned with a wide variety of conceptions of space and place, both contemporary and historical, physical and imagined. The conference will explore ideas of place and space, and how these ideas have been produced through mapping, media, and imaginative labor. Productive Geographies will also examine how space is demarcated by identity and memory, possession and destination.
Spatial theories incorporate ideas from various academic fields and serve as a theoretical nexus; by making this theory our focus, we hope to create an environment which will serve to foster interdisciplinary discussion of this useful analytical lens. Our aim is not to define the boundaries themselves, but to explore the various ways geographies and expressions of place have been used, described, and depicted throughout the ages and across disciplines.
Conference Schedule:
9:00-9:15              Welcoming Remarks – Dr. Christine Thomas, Religious Studies, UCSB
9:15-10:30            Panel One: Liminal Geographies
Moderator: Jessica Ambler, Art and Architectural History, UCSB
Ryan Heryford, Literature, UCSD: The Park and the Penitentiary: Mapping Out the Preservation and the Production of 'Uncivilized' Life
Charles Miller, Visual Arts, UCSD: Banality Weaponized: UCSD, the 'Edge City' and the Political Contingencies of 'Place'
Emily A. Schmidt, Religious Studies, UCSB: Ritual and  Architecture in Flavian Rome: The Shaping of Imperial Image
10:30-10:45         Coffee break
10:45-12:00         Panel Two: Performing Space
Moderator: Brianna Bricker, Art and Architectural History, UCSB
Daniel Hackbarth, Art and Art History, Stanford: 'Embodied Atmospheres': Space and Environment in the Dadaist Art and Theory of Raoul Hausmann
Brian Quinn, French and Francophone Studies, UCLA: A Post-industrial Aesthetic: French Street Theater and the Crisis of Dimension
Ruth Jones, French and Francophone Studies, UCLA: From Drifting to Leaping Without a Plan: Experiential Experiments in the City
12:00-1:00            Lunch
1:00-2:00              Keynote Lecture – Dr. Elizabeth DePalma Digeser, History, UCSB
Seeing the Virgin Mother in a Virgin Goddess: Conversion in Time and Space

2:00-3:15              Panel Three: Embodying Place
Moderator: Greg Goalwin, Sociology, UCSB
Peninah Wolpo, History, UCSB: Organic Cities and Man-Made Cultures in the Ancient World
Leigh Dodson, Feminist Studies, UCSB: Rural Obscenities: Locating Sex, Work, and Privacy in Burleson, Texas
Jade T. Hidle, Literature, UCSD: 'For Our Truths Change With Time': The Body's Alternate Histories and Queer Temporalities in Andrew X. Pham's Catfish and Mandala
3:15-3:30              Coffee Break
3:30-4:45              Round-table Discussion: Geography, Theory, Practice
Moderator: Peninah Wolpo, History, UCSB
Heidi Dodgen, Near Eastern Languages and Cultures, UCLA: The Presentation of Geography in Neo-Assyrian Royal Inscriptions and Historiographic Texts: The Southern Levant as a Case Study
Elizabeth Reddy, Anthropology, UCI: Powered by Rescaling: Rural Mexican Places and Migrant Developers
Kirsten Rudestam, Environmental Sociology, UCSC: Integrated Waterscapes: Culture, Power and Politics in the Deschutes Basin
Matthew J. Bond, English, UCR: The Topography of Oblivion
4:45-5:15 Video Presentation
Park McArthur, Whitney Independent Study Program: Mobility: New York and A Soft Limp Key

5:15                        Closing Remarks – Emily Zinn, Associate Director, Interdisciplinary Humanities Center, UCSB

5:30                        Reception
This conference is hosted by the Interdisciplinary Humanities Center as part of its Geography of Places series.
For more information, please contact the organizers at geopands@gmail.com.