23 Feb

Probing "Presence": Photography and Policing in Colonial South Africa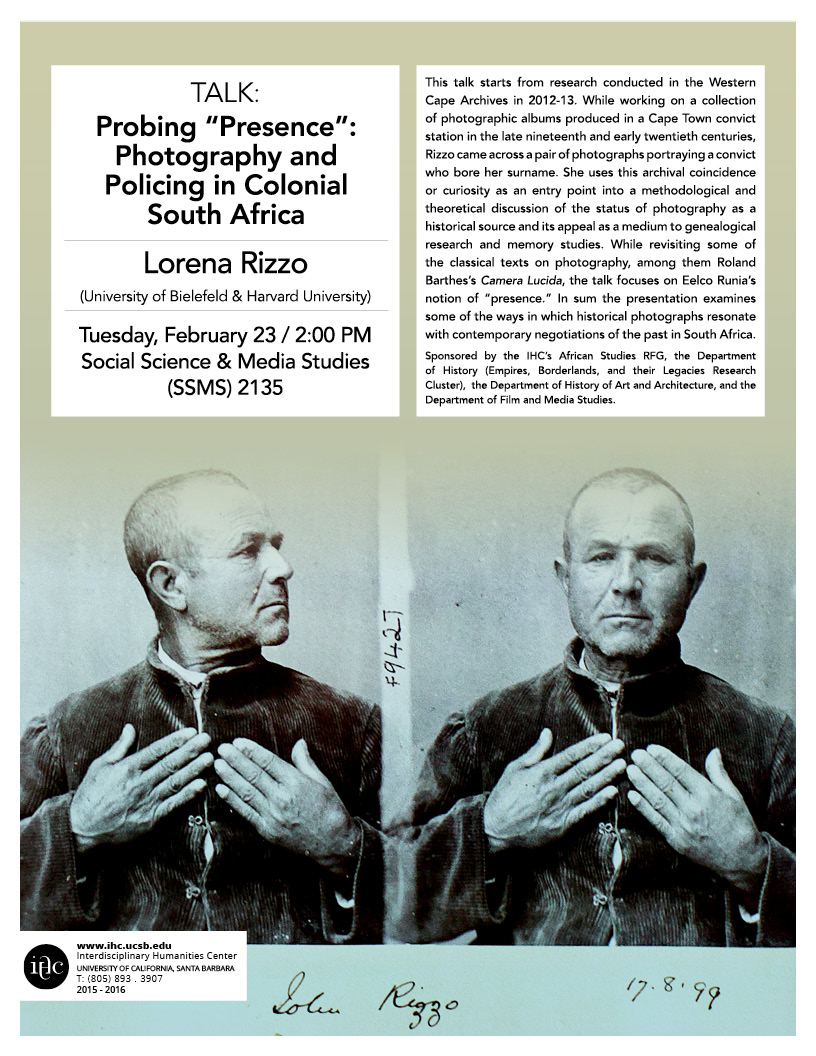 Lorena Rizzo (University of Bielefeld & Harvard University)
Tuesday, February 23, 2016 / 2:00 PM
Social Sciences & Media Studies (SSMS) 2135
This talk starts from research conducted in the Western Cape Archives in 2012-13. While working on a collection of photographic albums produced in a Cape Town convict station in the late nineteenth and early twentieth centuries, Rizzo came across a pair of photographs portraying a convict who bore her surname. She uses this archival coincidence or curiosity as an entry point into a methodological and theoretical discussion of the status of photography as a historical source and its appeal as a medium to genealogical research and memory studies. While revisiting some of the classical texts on photography, among them Roland Barthes's Camera Lucida, the talk focuses on Eelco Runia's notion of "presence." In sum the presentation examines some of the ways in which historical photographs resonate with contemporary negotiations of the past in South Africa.
Rizzo is the author of Gender & Colonialism: A History of Kaoko in North-West Nambia, 1870s-1950s (Basler Afrika Bibliographien, 2012) and of numerous publications on the history of photography in Africa.
Sponsored by the IHC's African Studies RFG, the Department of History (Empires, Borderlands, and their Legacies Research Cluster), the Department of History of Art and Architecture, and the Department of Film and Media Studies.