10 Feb

The Politics of Heritage from Madras to Chennai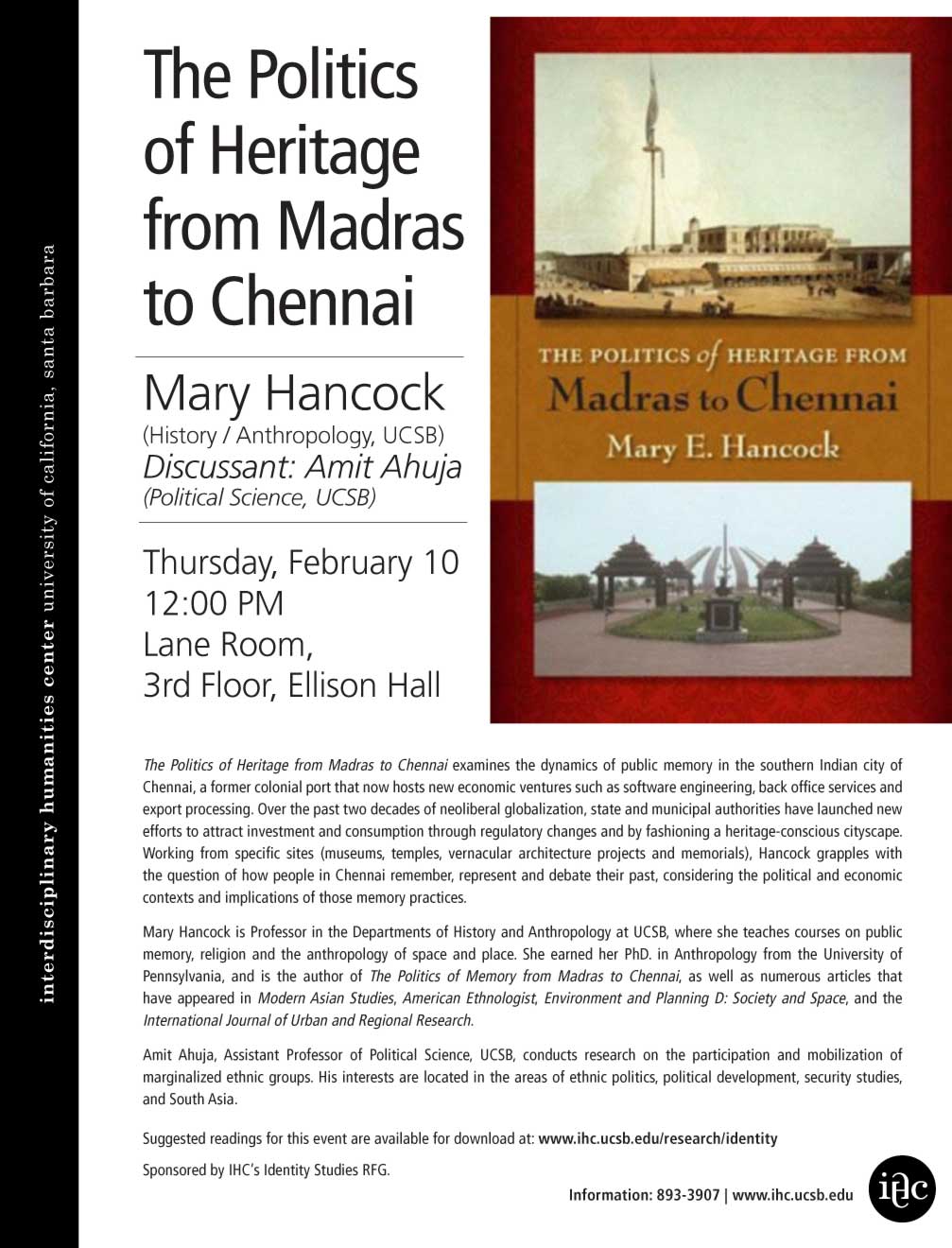 Mary Hancock (History / Anthropology, UCSB)
Discussant: Amit Ahuja (Political Science, UCSB)
Thursday, February 10 / 12:00 PM
Lane Room, 3rd Floor, Ellison Hall
The Politics of Heritage from Madras to Chennai examines the dynamics of public memory in the southern Indian city of Chennai, a former colonial port that now hosts new economic ventures such as software engineering, back office services and export processing. Over the past two decades of neoliberal globalization, state and municipal authorities have launched new efforts to attract investment and consumption through regulatory changes and by fashioning a heritage-conscious cityscape. Working from specific sites (museums, temples, vernacular architecture projects and memorials), Hancock grapples with the question of how people in Chennai remember, represent and debate their past, considering the political and economic contexts and implications of those memory practices.
Mary Hancock is Professor in the Departments of History and Anthropology at UCSB, where she teaches courses on public memory, religion and the anthropology of space and place. She earned her PhD n Anthropology from the University of Pennsylvania, and is the author of The Politics of Memory from Madras to Chennai, as well as numerous articles that have appeared in Modern Asian Studies, American Ethnologist, Environment and Planning D: Society and Space, and the International Journal of Urban and Regional Research.
Amit Ahuja, Assistant Professor of Political Science, UCSB, conducts research on the participation and mobilization of marginalized ethnic groups. His interests are located in the areas of ethnic politics, political development, security studies, and South Asia.
Suggested readings for this event are available for download at: www.ihc.ucsb.edu/research/identity
Sponsored by IHC's Identity Studies RFG.