07 Apr

Orchestra of Exiles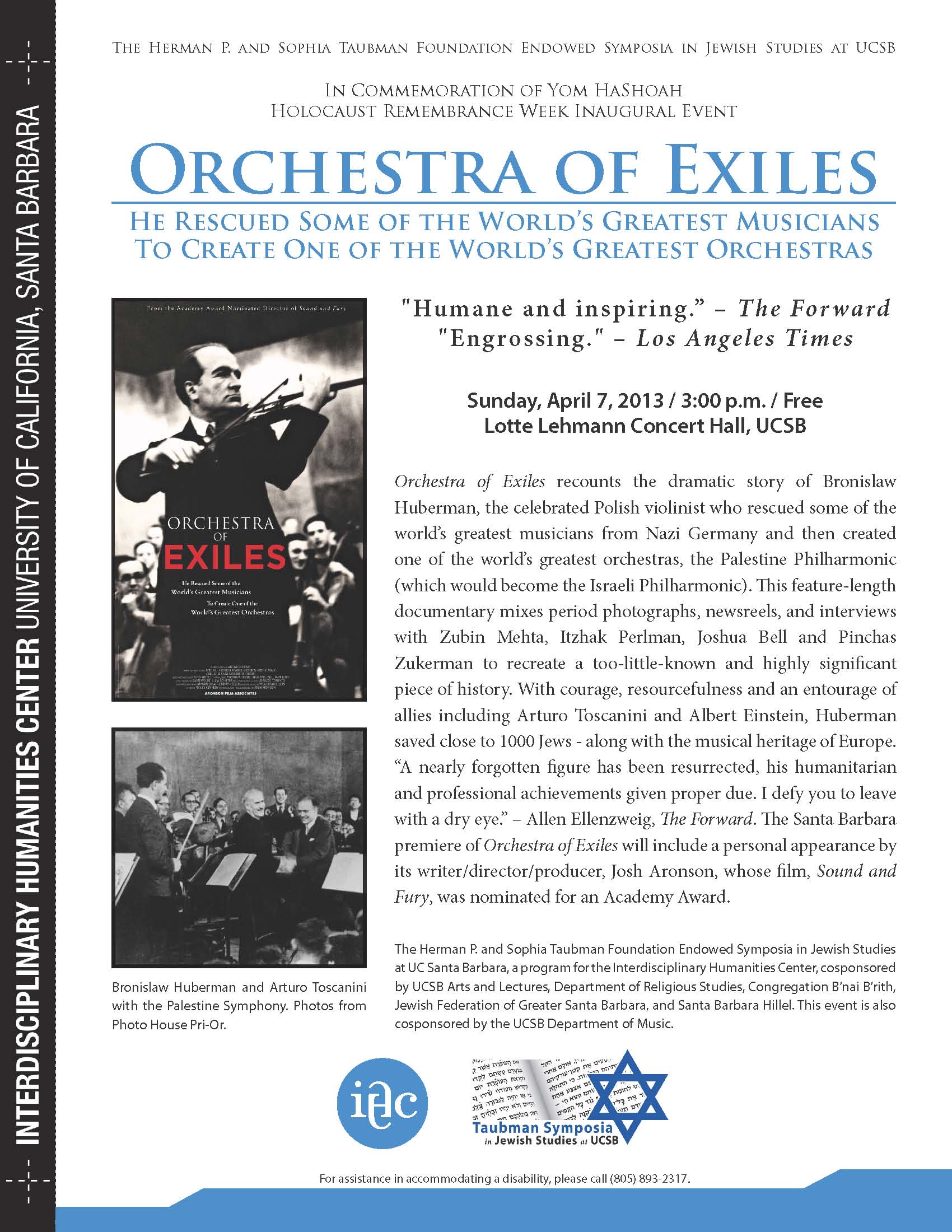 Sunday, April 7 / 3:00 PM
Lotte Lehman Concert Hall
Josh Aronson (director, Orchestra of Exiles)
Orchestra of Exiles recounts the dramatic story of Bronislaw Huberman, the celebrated Polish violinist who rescued some of the world's greatest musicians from Nazi Germany and then created one of the world's greatest orchestras, the Palestine Philharmonic (which would become the Israeli Philharmonic). This feature-length documentary mixes period photographs, newsreels, and interviews with Zubin Mehta, Itzhak Perlman, Joshua Bell and Pinchas Zukerman to recreate a too-little-known and highly significant piece of history. With courage, resourcefulness and an entourage of allies including Arturo Toscanini and Albert Einstein, Huberman saved close to 1,000 Jews – along with the musical heritage of Europe. "A nearly forgotten figure has been resurrected, his humanitarian and professional achievements given proper due. I defy you to leave with a dry eye." – Allen Ellenzweig, The Forward. The Santa Barbara premiere of Orchestra of Exiles will include a personal appearance by its writer/director/producer, Josh Aronson, whose film, Sound and Fury, was nominated for an Academy Award.
Sponsored by The Herman P. and Sophia Taubman Foundation Endowed Symposia in Jewish Studies at UC Santa Barbara, Arts & Lectures, the Dept. of Religious Studies, the Dept. of Music, Congregation B'nai B'rith, Jewish Federation of Greater Santa Barbara, and Santa Barbara Hillel.
Website: https://www.ihc.ucsb.edu/endowments/taubman/