30 May

Open Access as Possibility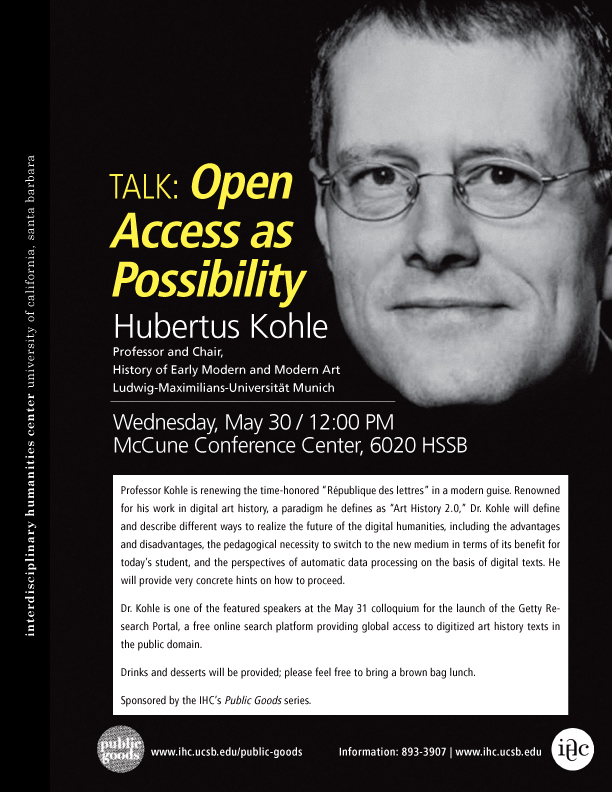 Hubertus Kohle (Professor and Chair, History of Early Modern and Modern Art Ludwig-Maximilians-Universität Munich)
Wednesday, May 30, 2012 / 12:00 PM
McCune Conference Center, 6020 HSSB
Professor Kohle is renewing the time-honored "République des lettres" in a modern guise. Renowned for his work in digital art history, a paradigm he defines as "Art History 2.0," Dr. Kohle will define and describe different ways to realize the future of the digital humanities, including the advantages and disadvantages, the pedagogical necessity to switch to the new medium in terms of its benefit for today's student, and the perspectives of automatic data processing on the basis of digital texts. He will provide very concrete hints on how to proceed.
Dr. Kohle is one of the featured speakers at the May 31 colloquium for the launch of the Getty Research Portal, a free online search platform providing global access to digitized art history texts in the public domain.
Drinks and desserts will be provided; please feel free to bring a brown bag lunch.
Sponsored by the IHC's Public Goods series.