13 Apr

Nikolai Federov, Konstantin Tsiolkovsky and the Roots of the Russian Space Program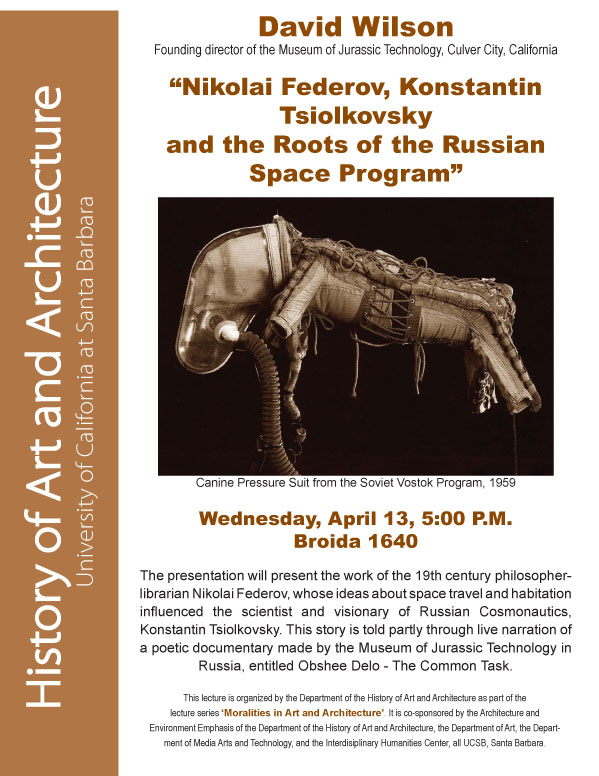 David Wilson (Founding Director, Museum of Jurassic Technology)
Wednesday, April 13 / 5:00 PM
Broida 1640
David Wilson will present the work of the 19th century  philosopher-librarian Nikolai Federov, whose ideas about space travel  and habitation influenced the scientist and visionary of  Russian Cosmonautics, Konstantin Tsiolkovsky. This story is told partly through live narration of a poetic  documentary made by the Museum of Jurassic Technology in Russia,  entitled Obshee Delo – The Common Task.
David Wilson is the founding director of the Museum of Jurassic Technology. He received his MFA from California Institute of the Arts in 1974 and opened The Museum of Jurassic Technology in 1988 at its current Culver City, California location. The MJT has exhibited internationally and Mr. Wilson has lectured throughout the North America and Europe. In addition, Mr. Wilson has produced eight independent films, most recently under the auspices of MJT in conjunction with Kabinet, an arts and science-based cultural institution located in St. Petersburg, Russia. The latest of their collaborative efforts is entitled Bol'shoe Sovietskia Zatmenie or The Great Soviet Eclipse. Over the past decade, the Museum and Mr. Wilson have been honored through numerous grants and awards. In 2001, the MacArthur Foundation granted him a Fellowship in recognition of his accomplishments at The Museum of Jurassic Technology.
Sponsored by This lecture is organized by the Department of the History of Art and Architecture as part of the lecture series 'Moralities in Art and Architecture'. It is co-sponsored by the Architecture and Environment Emphasis of the Department of the History of Art and Architecture, the Department of Media Arts and Technology, and the Interdisciplinary Humanities Center, all UCSB, Santa Barbara.