13 Mar

New Discoveries in the Ancient Synagogue at Huqoq in Israel's Galilee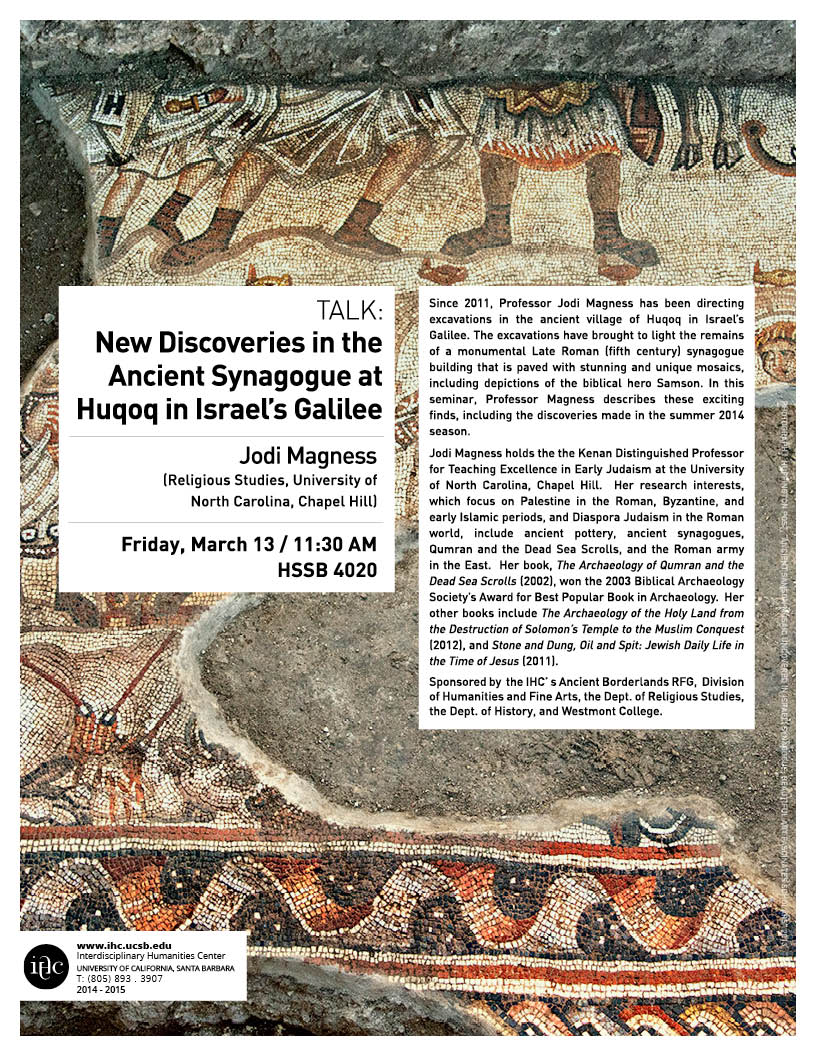 Jodi Magness (Religious Studies, University of North Carolina, Chapel Hill)
Friday, March 13 / 11:30-1:00 AM
HSSB 4020
Since 2011, Professor Jodi Magness has been directing excavations in the ancient village of Huqoq in Israel's Galilee. The excavations have brought to light the remains of a monumental Late Roman (fifth century) synagogue building that is paved with stunning and unique mosaics, including depictions of the biblical hero Samson. In this seminar, Professor Magness describes these exciting finds, including the discoveries made in the summer 2014 season.
Jodi Magness holds the the Kenan Distinguished Professor for Teaching Excellence in Early Judaism at the University of North Carolina, Chapel Hill.  Her research interests, which focus on Palestine in the Roman, Byzantine, and early Islamic periods, and Diaspora Judaism in the Roman world, include ancient pottery, ancient synagogues, Qumran and the Dead Sea Scrolls, and the Roman army in the East.  Her book, The Archaeology of Qumran and the Dead Sea Scrolls (2002), won the 2003 Biblical Archaeology Society's Award for Best Popular Book in Archaeology.  Her other books include The Archaeology of the Holy Land from the Destruction of Solomon's Temple to the Muslim Conquest (2012), and Stone and Dung, Oil and Spit: Jewish Daily Life in the Time of Jesus (2011).
Sponsored by  the IHC' s Ancient Borderlands RFG,  Division of Humanities, the Dept. of Religious Studies, the Dept. of History, and Westmont College.