16 Feb

Muslim American / American Muslim Community Engagements: Opportunities and Challenges in the Aftermath of the 2016 Elections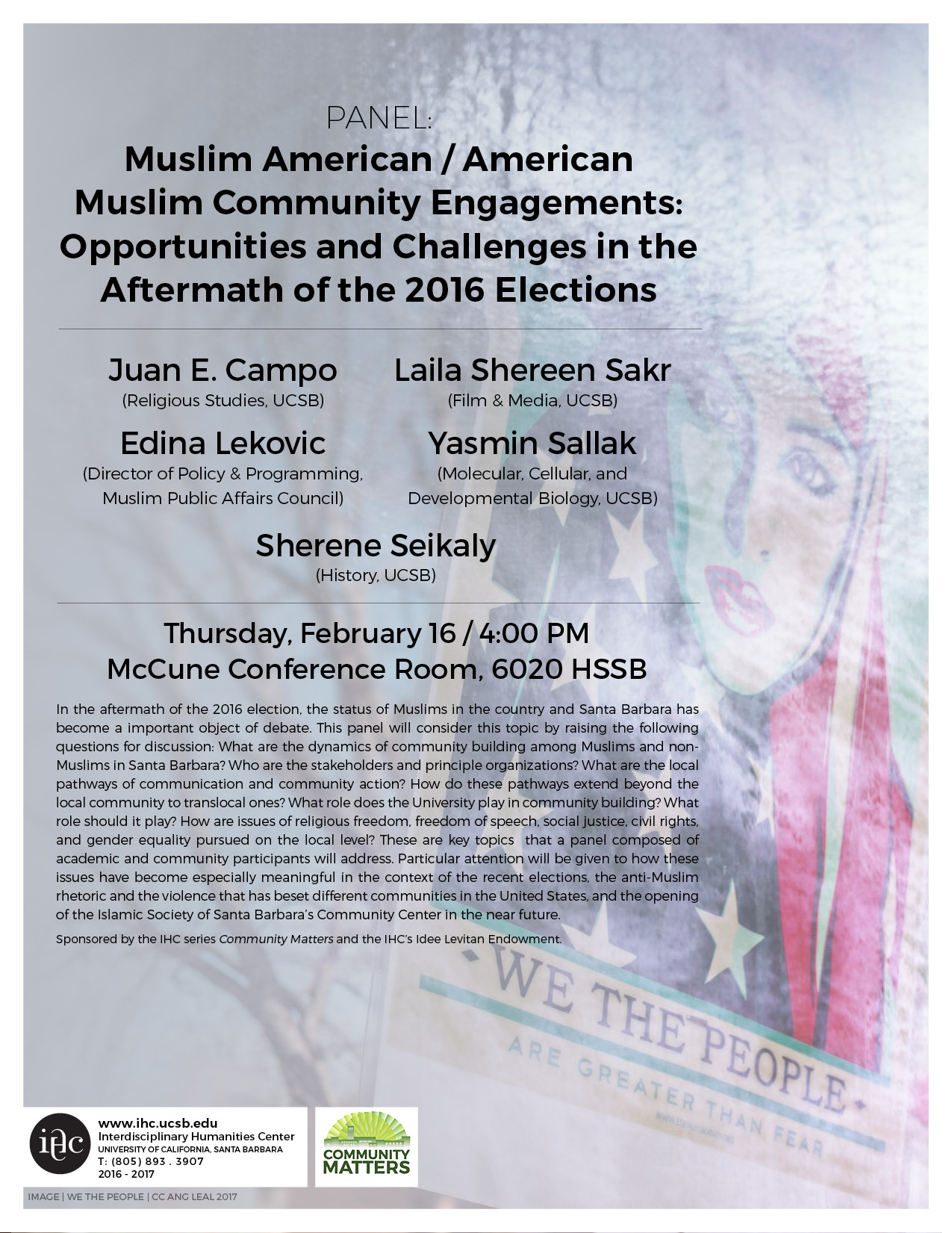 Juan E. Campo (Religious Studies, UCSB)
Edina Lekovic (Director of Policy & Programming, Muslim Public Affairs Council)
Yasmin Sallak (Molecular, Cellular, and Developmental Biology, UCSB)
Laila Shereen Sakr (Film & Media, UCSB)
Sherene Seikaly (History, UCSB)
Thursday, February 16, 2017 / 4:00 PM
McCune Conference Room, 6020 HSSB
In the aftermath of the 2016 election, the status of Muslims in the country and Santa Barbara has become a important object of debate. This panel will consider this topic by raising the following  questions for discussion: What are the dynamics of community building among Muslims and non-Muslims in Santa Barbara? Who are the stakeholders and principle organizations? What are the local pathways of communication and community action? How do these pathways extend beyond the local community to translocal ones? What role does the University play in community building? What role should it play? How are issues of religious freedom, freedom of speech, social justice, civil rights, and gender equality pursued on the local level? These are key topics  that a panel composed of academic and community participants will address. Particular attention will be given to how these issues have become especially meaningful in the context of the recent elections, the anti-Muslim rhetoric and the violence that has beset different communities in the United States, and the opening of the Islamic Society of Santa Barbara's Community Center in the near future.

Click here to listen to a recording of the panel from the 2016-17 IHC series: Community Matters.
Sponsored by the IHC's Community Matters series.