15 May

Composition: Making Meaning through Design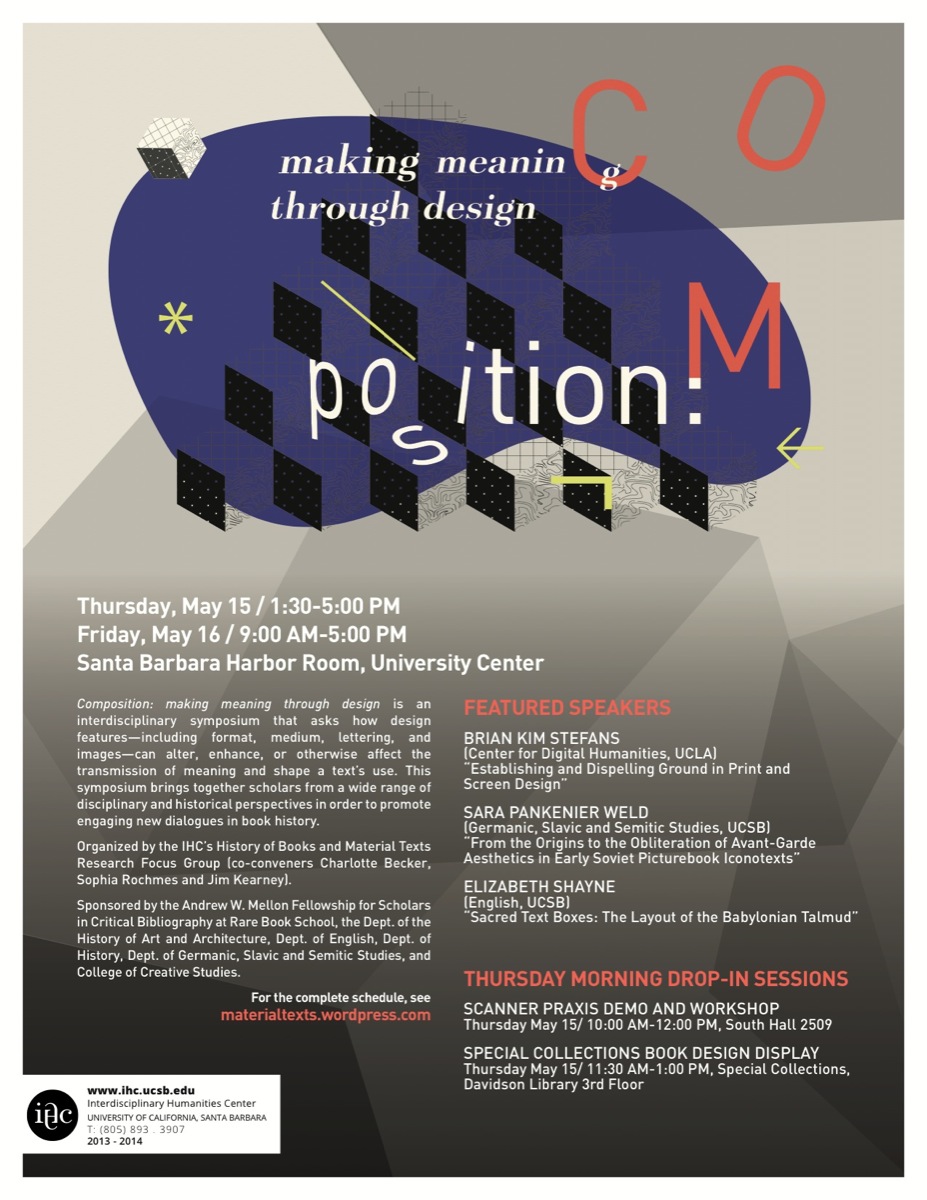 Thursday, May 15 / 1:30-5:00 PM
Friday, May 16 / 9:00 AM-5:00 PM
Santa Barbara Harbor Room, University Center
Composition: making meaning through design is an interdisciplinary symposium that asks how design features—including format, medium, lettering, and images—can alter, enhance, or otherwise affect the transmission of meaning and shape a text's use. This symposium brings together scholars from a wide range of disciplinary and historical perspectives in order to promote engaging new dialogues in book history.
Organized by the IHC's History of Books and Material Texts Research Focus Group (co-conveners Charlotte Becker, Sophia Rochmes and Jim Kearney).
Sponsored by the Andrew W. Mellon Fellowship for Scholars in Critical Bibliography at Rare Book School, the Dept. of the History of Art and Architecture, Dept. of English, Dept. of History, Dept. of Germanic, Slavic and Semitic Studies, and College of Creative Studies.
For the complete schedule, see materialtexts.wordpress.com
Featured Speakers
Brian Kim Stefans
(Center for Digital Humanities, UCLA)
"Establishing and Dispelling Ground in Print and Screen Design"
Sara Pankenier Weld
(Germanic, Slavic and Semitic Studies, UCSB)
"From the Origins to the Obliteration of Avant-Garde Aesthetics in Early Soviet Picturebook Iconotexts"
Elizabeth Shayne
(English, UCSB)
"Sacred Text Boxes: The Layout of the Babylonian Talmud"
Thursday Morning Drop-In Sessions
Scanner Praxis Demo and Workshop
Thursday May 15/ 10:00 AM-12:00 PM, South Hall 2509
Special Collections Book Design Display
Thursday May 15/ 11:30 AM-1:00 PM, Special Collections, Davidson Library 3rd Floor