27 Jan

Performing Woman/History/Legend: La Malinche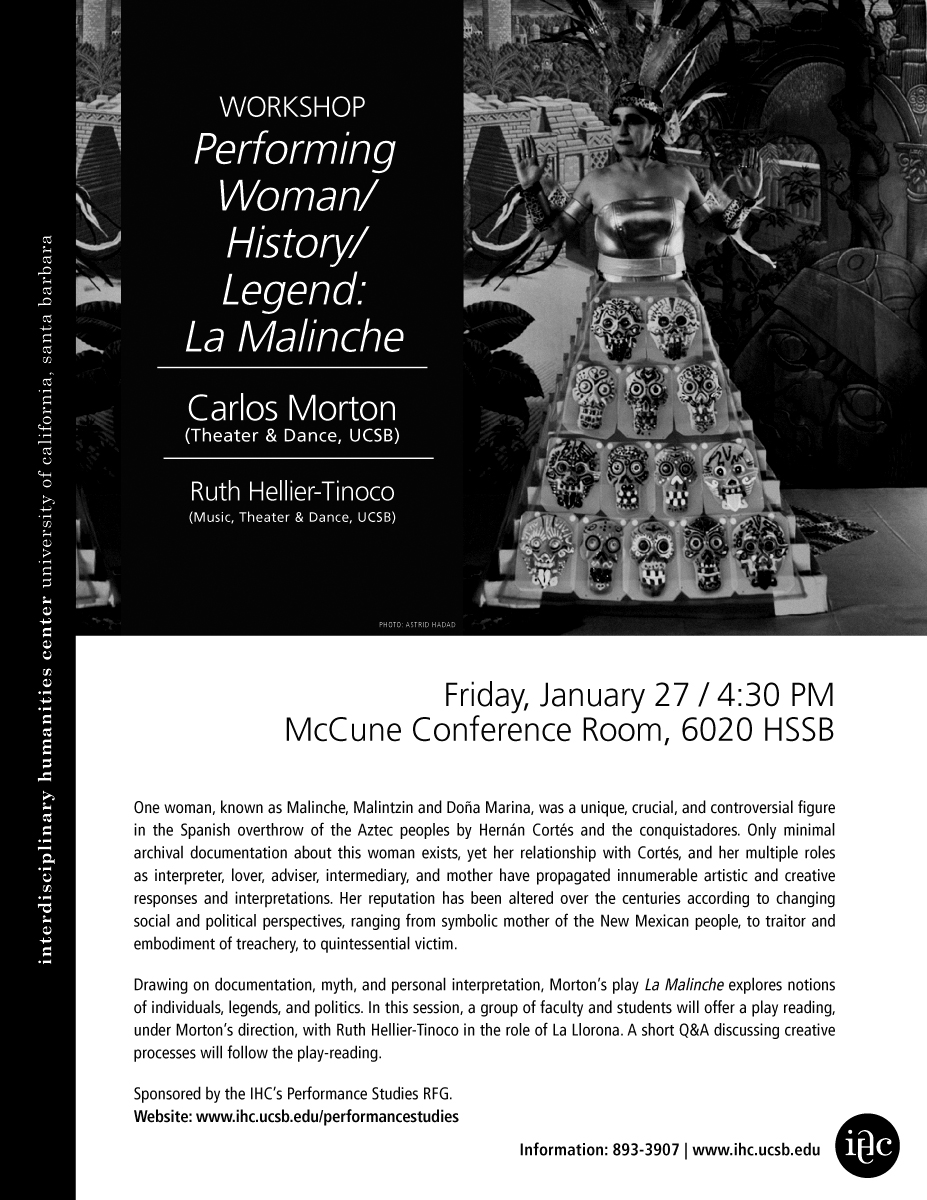 Carlos Morton (Theater & Dance, UCSB)
Ruth Hellier-Tinoco (Music, Theater & Dance, UCSB)
Friday, January 27 / 4:30 PM
McCune Conference Room, 6020 HSSB
La Malinche: a play by Carlos Morton; Q&A with the playwright, facilitated by Ruth Hellier-Tinoco
One woman, known as Malinche, Malintzin and Doña Marina, was a unique, crucial, and controversial figure in the Spanish overthrow of the Aztec peoples by Hernán Cortés and the conquistadores. Only minimal archival documentation about this woman exists, yet her relationship with Cortés, and her multiple roles as interpreter, lover, adviser, intermediary, and mother have propagated innumerable artistic and creative responses and interpretations. Her reputation has been altered over the centuries according to changing social and political perspectives, ranging from symbolic mother of the new Mexican people, to traitor and embodiment of treachery, to quintessential victim.
Drawing on documentation, myth, and personal interpretation, Morton's play, La Malinche, explores notions of individuals, legends, and politics. In this session, a group of faculty and students will offer a play-reading, under Morton's direction. A short Q&A discussing creative processes will follow the play-reading.
CAST:
LA MALINCHE —  Nina Bennahum
HERNAN CORTES — Irwin Appel
LA LLORONA — Ruth Hellier-Tinoco
CIUACOATL — Rachel Wolfe
BISHOP LIZARRAGA — Brian Granger
SANCHEZ –  Zachary Price
Carlos Morton is professor of theater and a playwright.
Ruth Hellier-Tinoco is assistant professor of music, theater and dance and a former actress and performer.
Sponsored by the IHC's Performance Studies RFG.
Website: www.ihc.ucsb.edu/performancestudies