30 May

Jews in the Los Angeles Mosaic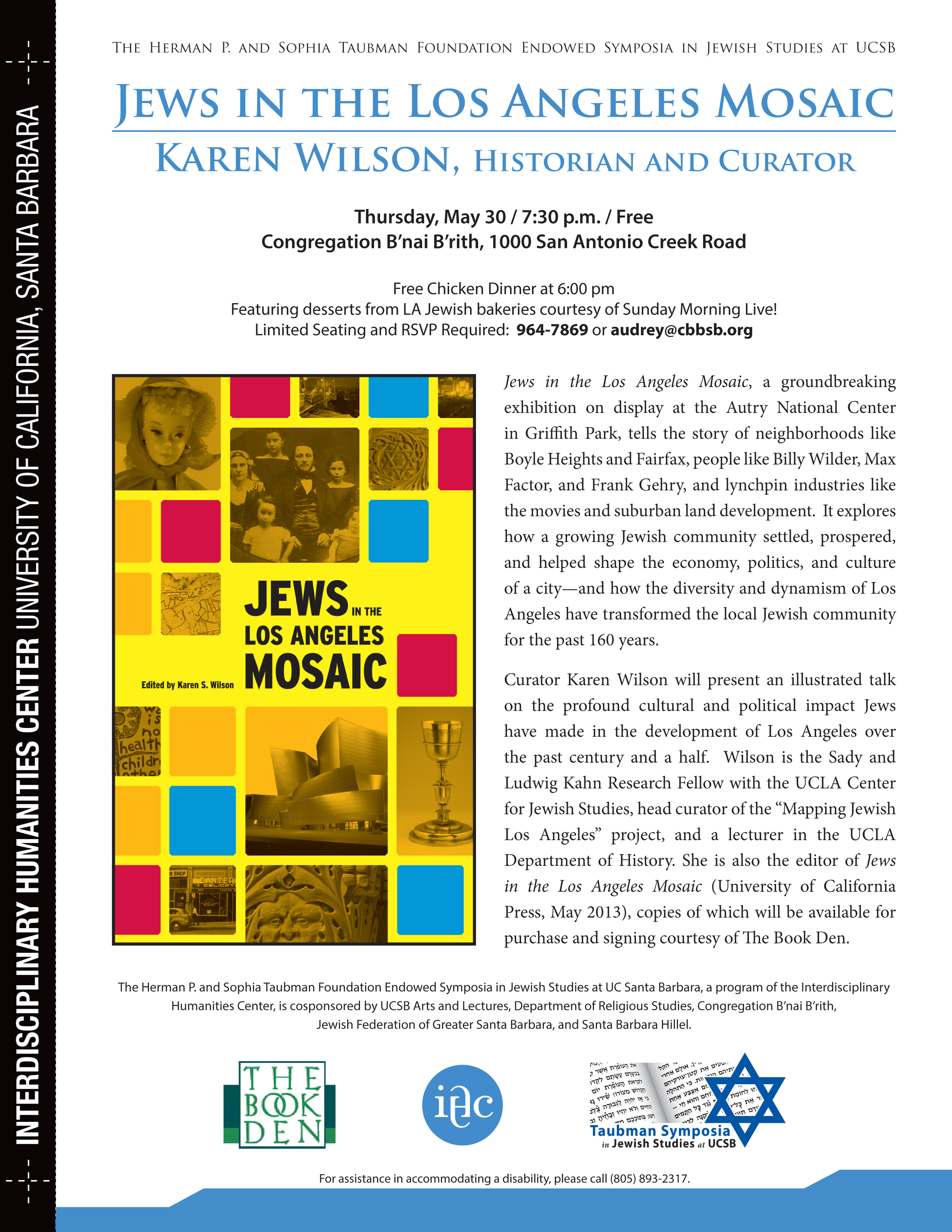 Karen Wilson (History, UCLA)
Thursday, May 30 / 7:30 PM
Congregation B'nai B'rith, 1000 San Antonio Creek Road
Limited Seating and RSVP Required: 964-7869 or audrey@cbbsb.org
 Jews in the Los Angeles Mosaic, a groundbreaking exhibition on display at the Autry National Center in Griffith Park, tells the story of neighborhoods like Boyle Heights and Fairfax, people like Billy Wilder, Max Factor, and Frank Gehry, and lynchpin industries like the movies and suburban land development. It explores how a growing Jewish community settled, prospered, and helped shape the economy, politics, and culture of a city—and how the diversity and dynamism of Los Angeles have transformed the local Jewish community for the past 160 years.
Curator Karen Wilson will present an illustrated talk on the profound cultural and political impact Jews have made in the development of Los Angeles over the past century and a half. Wilson is the Sady and Ludwig Kahn Research Fellow with the UCLA Center for Jewish Studies, head curator of the "Mapping Jewish Los Angeles" project, and a lecturer in the UCLA Department of History. She is also the editor of Jews in the Los Angeles Mosaic (University of California Press, May 2013), copies of which will be available for purchase and signing courtesy of The Book Den.
For assistance in accommodating a disability, please call (805) 893-2317.
 The Herman P. and Sophia Taubman Foundation Endowed Symposia in Jewish Studies at UC Santa Barbara, a program of the Interdisciplinary Humanities Center, is cosponsored by UCSB Arts and Lectures, Department of Religious Studies, Congregation B'nai B'rith, Jewish Federation of Greater Santa Barbara, and Santa Barbara Hillel.