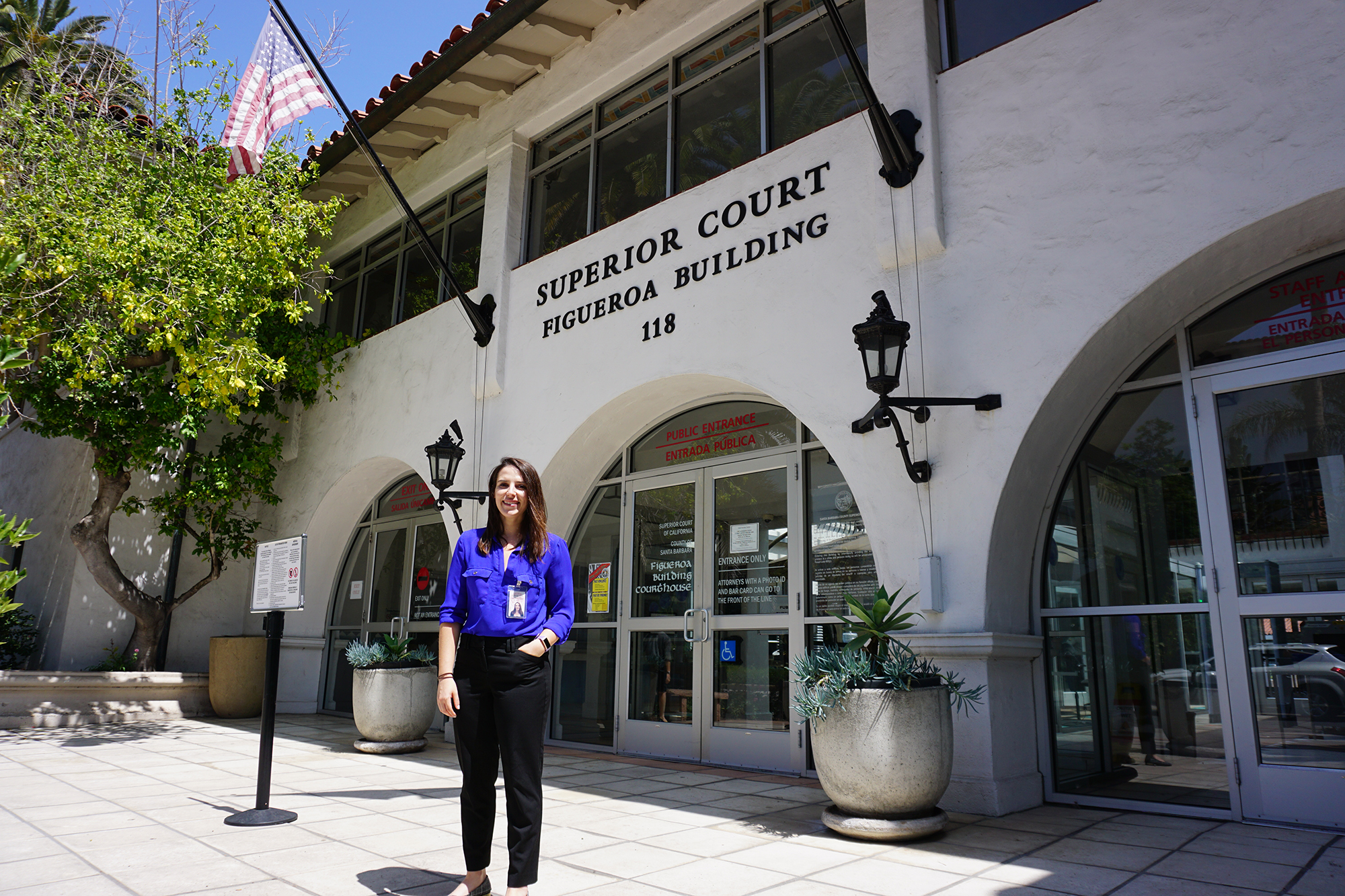 19 Aug

IHC Public Humanities Graduate Fellow Intern Chelsea Lonergan

August 19, 2019

Chelsea Lonergan is a graduate student in the Department of Communication's Media Neuroscience Lab, where she studies cognitive sex differences, hormonal stress response, and moral evaluations of media content.  As an IHC Public Humanities Graduate Fellow, Lonergan completed an internship at the Superior Court of Santa Barbara.

You are working with the Superior Court of Santa Barbara (SCSB) this summer as a public fellow intern. Tell us about the projects you are working on.

I'm working on several different public information projects, but all of them are centered on trying to figure out where people have trouble navigating the criminal court system and what I can make and what can be distributed to help better explain that particular cog of the system.

One of my first projects began with meeting with the security staff and observing how the public interacted with that first gateway into the court. From there, I could get an understanding of where some issues were in the communication of security screening measures and prohibited items. I helped to redesign a security screening sign that was more mindful of non-native English speakers and also focused on the main areas of concern. I have also been working with the Children's Waiting Room manager to collect data on who is aware of and who utilizes that free service. The goal is to create new signage both in-person and online to better advertise the Children's Waiting Room to parents who may need to make sure their children have somewhere to go while they are handling court matters—this can be a major barrier for the public who may not be able to afford childcare during the hours they spend in court.

I also worked with a volunteer who comes in weekly to help direct members of the public on busy mornings. From that conversation, I learned that many individuals will be so stressed and/or lost that they are often completely unsure of where they need to go, or even what the purpose of their visit is. With this information, I was able to create a flow chart and other navigation pamphlets that will be part of an "information" desk and will help to streamline and direct incoming members of the public when there is no volunteer or staff member present.

The most challenging project I am working on is focused on the pretrial portion of the court system. When individuals are arrested and brought into jail, especially if it is their first time in the system, there are so many protocols and practices which they may know nothing or very little about. These include things like understanding what the purpose of a risk assessment interview is and knowing when to record phone numbers before phones are confiscated. I have been working with the pretrial teams in both the North (Santa Maria) and South (Santa Barbara) County to develop an educational pamphlet that can be distributed to individuals in holding cells and can help to situate them better in terms of what risk assessment is for, what their cash bail or release options are, and what they can expect before their next court date.

Why is this work important? How do you see this project impacting the local community?

This work is so important because of how many lives it impacts. Not only are new people being arrested almost every day (who may be completely lost about what may happen to them or what agency they have), but there are also family members and friends who are just as lost as their loved ones. Even by simply educating those who are arrested about what the steps are ahead of them, they can make better, more informed decisions that will affect their futures and the lives of those close to them.

We are lucky in Santa Barbara to have a beautiful courthouse which is also a tourist destination. The court is a public building, and everyone will have to navigate it at some point in their lives, whether it's for a traffic ticket, a marriage license, or reporting for jury duty. Helping to make the system easier to navigate benefits everyone because it helps keep the central cog of our local justice system well-oiled and efficient.

Examples of work completed during Lonergan's internship

This internship is part of the IHC's Public Humanities Graduate Fellows Program. Why were you interested in participating in this program?

I heard about the program and this particular fellowship opportunity through a professor whom I taught for, and who knew I was interested in government work. After meeting with the Associate Director and Academic Coordinator of the program, Erin and Adam, I learned more about the purpose of the program and decided to join. Interdisciplinary research and collaboration has always been something I value quite a bit, as some of my best work and most inspiring conversations have stemmed from talking to and working with people from completely different academic backgrounds. As a social scientist who has been trained in psychology and neuroscience, I am always delighted to talk with other social scientists or humanists to pinpoint common interests and concerns, and how our different strengths can be used in service of tackling those problems.

In what ways has your work as a graduate student in the humanistic social sciences prepared you to be successful in an internship like the one at SCSB?

Part of my training as a Communication scholar has involved many survey courses on areas such as media and how we process it, organizational dynamics and cultures, and other social psychological ideas of identity or information processing. I also have worked as a teaching assistant and teaching associate for my department's upper-division Communication and Law course as well as the Forensic Communication course. There, I learned much more about how our justice system works, and specifically how messages about and within the court system are formed, how they are processed, and what their outcomes are.

My education in both domain-general (i.e., social psychology) and domain-specific (i.e., forensic communication) areas has contributed significantly to my effectiveness as a Fellow at the court. For example, I know from my training and from my teaching that simply removing jargon, or technical/court-specific language, from an educational pamphlet or instruction increases understanding up to 80%. In a way, my lack of expertise and my role as just another member of the public helps to illuminate where complicated court systems and protocols may need to be explained. However, my 'expertise' as a Communication student helps me to explain those systems and protocols in the most effective and easy-to-digest way possible.

What is the topic of your doctoral research? Has your participation in the Public Humanities Graduate Fellows Program influenced how you approach your research or how you envision its significance?

My research is all about hormonal sex differences and how they play a role in how males and females choose, process, and respond to media content. My dissertation is specifically focusing on how hormones might predict the ways men and women differentially perceive and respond to moral conflict in the media.

While the methodology and basic questions driving my dissertation will not be changed by my participation in the program, I certainly see its reach as bigger than I did before. My dissertation will be the first study to test competing theories of hormonal stress response, and so it will be kept as simple as possible and only using a couple of hypothetical narratives (with different types of moral conflict) to test the hypotheses. However, moral conflict exists in all types of media, including news media. Given today's political climate, I don't see a future where it won't be valuable to predict how men and women may respond to different frames of a news story or different 'characters' in a story or article. Even past biological sex, there is no shortage of other factors that can be used to predict and explain why some process one news story or issue as moral while others see the same one as immoral. Since news and entertainment media are inherently public-facing, I absolutely see a connection between the goals of the Graduate Fellows Program and the questions that I and others in my field are trying to answer.

How do you see this internship and the program contributing to your career aspirations?

This fellowship and program have been integral in my transition from communication neuroscience to government work. Although it makes sense to me intuitively, others may struggle to understand how and why my research and training lends itself to government work. To me, it's as simple as my desire to put my skills in research and communication into a public sector arena. With the opportunity to work now as a Fellow, I am able to point to a concrete piece of experience that has both bridged my scholarship and career aspirations, and positively impacted my local community. However, this Fellowship has gone beyond simply providing me with professional shoes to fill for ten weeks; it has proved to me that my goals of applying my training to government work are not only possible, they are inevitable.

Click here to learn more about IHC Public Humanities Graduate Fellows Internships.