23 May

Workshop on Historical Trauma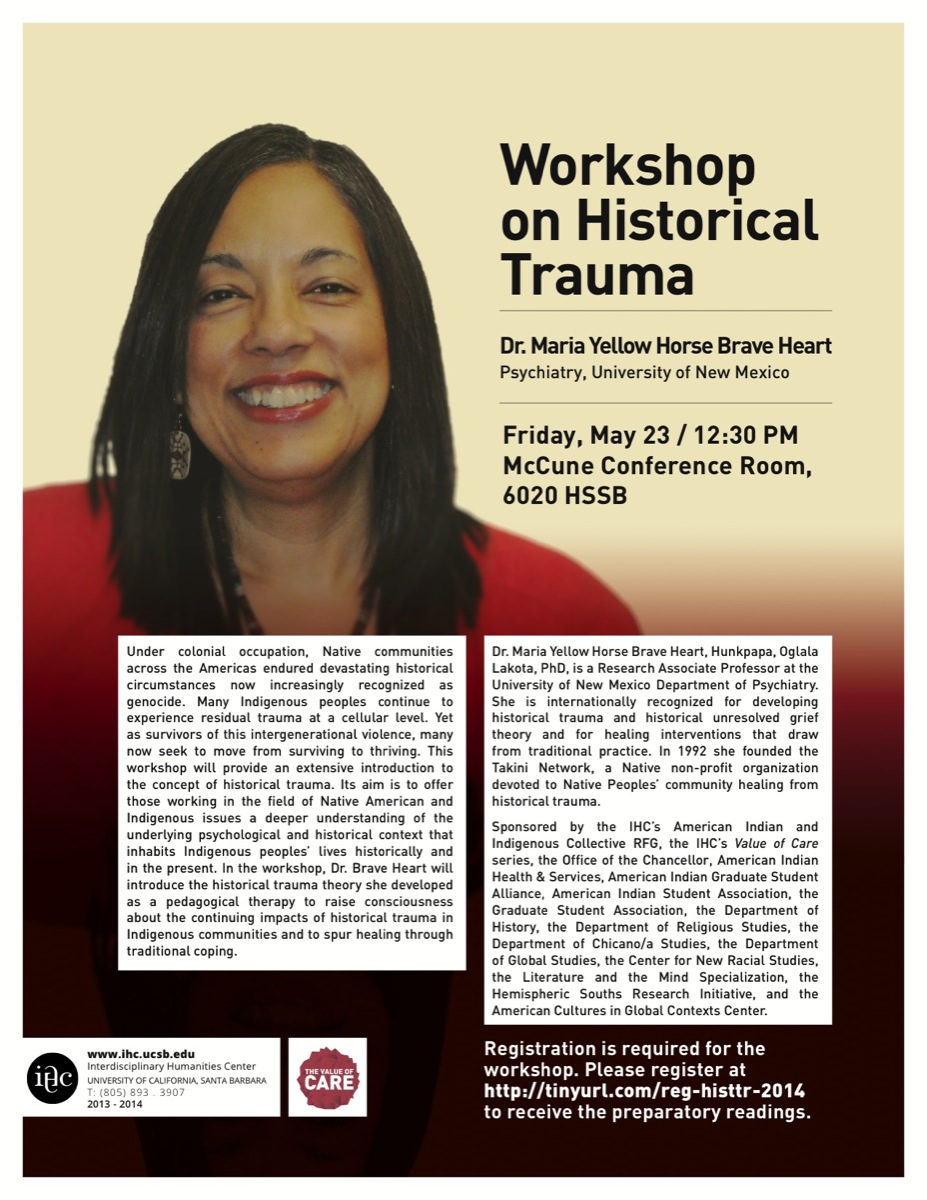 Dr. Maria Yellow Horse Brave Heart
(Psychiatry, University of New Mexico)
Friday, May 23, 2014 / 12:30 PM
McCune Conference Room, 6020 HSSB
Registration is required for this workshop. Please register at http://tinyurl.com/reg-histtr-2014 to receive the preparatory readings.
Under colonial occupation, Native communities across the Americas endured devastating historical circumstances now increasingly recognized as genocide. Many Indigenous peoples continue to experience residual trauma at a cellular level. Yet as survivors of this intergenerational violence, many now seek to move from surviving to thriving. This workshop will provide an extensive introduction to the concept of historical trauma. Its aim is to offer those working in the field of Native American and Indigenous issues a deeper understanding of the underlying psychological and historical context that inhabits Indigenous peoples' lives historically and in the present. In the workshop, Dr. Brave Heart will introduce the historical trauma theory she developed as a pedagogical therapy to raise consciousness about the continuing impacts of historical trauma in Indigenous communities and to spur healing through traditional coping.
Dr. Maria Yellow Horse Brave Heart, Hunkpapa, Oglala Lakota, PhD, is a Research Associate Professor at the University of New Mexico Department of Psychiatry. She is internationally recognized for developing historical trauma and historical unresolved grief theory and for healing interventions that draw from traditional practice. In 1992 she founded the Takini Network, a Native non-profit organization devoted to Native Peoples' community healing from historical trauma.
Sponsored by the IHC's American Indian and Indigenous Collective Research focus group RFG, the IHC's Value of Care series, the Office of the Chancellor, American Indian Health & Services, American Indian Graduate Student Alliance, American Indian Student Association, the Graduate Student Association, the Department of History, the Department of Religious Studies, the Department of Chicano/a Studies, the Department of Global Studies, the Center for New Racial Studies, the Literature and the Mind Specialization, the Hemispheric Souths Research Initiative, and the American Cultures in Global Contexts Center.