18 May

Harare's Urban Palimpsest: Radical Performative Materiality in Zimbabwe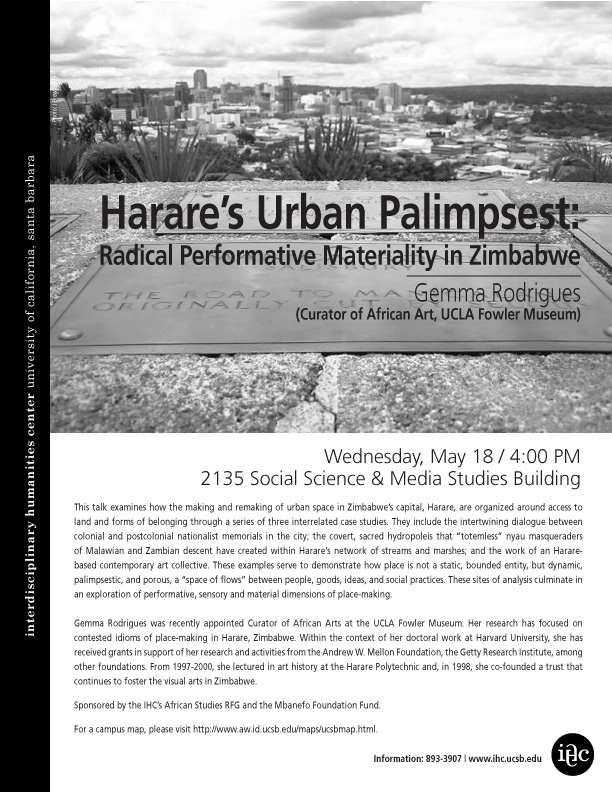 Gemma Rodrigues (Curator of African Art, UCLA Fowler Museum)
Wednesday, May 18 / 4:00 PM
2135 Social Science & Media Studies Building
This talk examines how the making and remaking of urban space in Zimbabwe's capital, Harare, are organized around access to land and forms of belonging through a series of three interrelated case studies. They include the intertwining dialogue between colonial and postcolonial nationalist memorials in the city; the covert, sacred hydropoleis that "totemless" nyau masqueraders of Malawian and Zambian descent have created within Harare's network of streams and marshes; and the work of an Harare-based contemporary art collective. These examples will serve to demonstrate how notions of place are not static, bounded entities, but dynamic, palimpsestic, and porous '"space of flows'" between people, goods, ideas, and social practices. These sites of analysis culminate in an exploration of performative, sensory and material dimensions of place-making.
Gemma Rodrigues was recently appointed Curator of African Arts at the UCLA Fowler Museum. Her research has focused on contested idioms of place-making in Harare, Zimbabwe. After completing her doctorate at Harvard University, she has received numerous grants in support of her research from the Andrew W. Mellon Foundation and the Getty Research Institute. From 1997-2000, she lectured in art history at the Harare Polytechnic and, in 1998, she co-founded a trust that continues to foster the visual arts in Zimbabwe.
Sponsored by the IHC's African Studies RFG and the Mbanefo Foundation Fund.
To view a campus map, please visit: http://www.aw.id.ucsb.edu/maps/ucsbmap.html