12 Mar

"Global Humanities?" — 4Humanities Discussion Forum with Rens Bod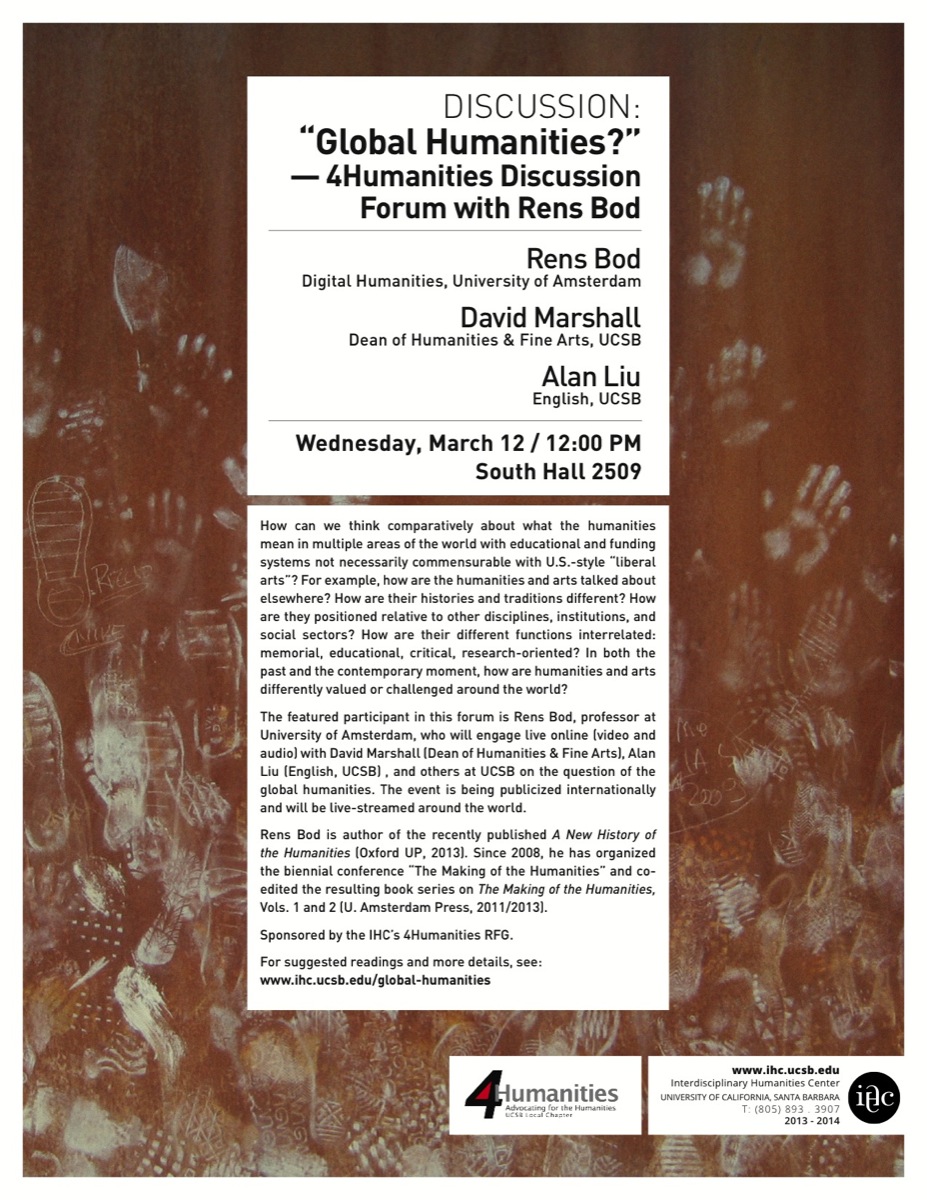 Rens Bod (Digital Humanities, University of Amsterdam)
David Marshall (Dean of Humanities & Fine Arts, UCSB)
Alan Liu (English, UCSB)
Wednesday, March 12 / 12:00 PM
South Hall 2509
How can we think comparatively about what the humanities mean in multiple areas of the world with educational and funding systems not necessarily commensurable with U.S.-style "liberal arts"? For example, how are the humanities and arts talked about elsewhere? How are their histories and traditions different? How are they positioned relative to other disciplines, institutions, and social sectors? How are their different functions interrelated: memorial, educational, critical, research-oriented? In both the past and the contemporary moment, how are humanities and arts differently valued or challenged around the world?
The featured participant in this forum is Rens Bod, professor at University of Amsterdam, who will engage live online (video and audio) with David Marshall (Dean of Humanities & Fine Arts), Alan Liu (English, UCSB) , and others at UCSB on the question of the global humanities. The event is being publicized internationally and will be live-streamed around the world.
Rens Bod is author of the recently published A New History of the Humanities (Oxford UP, 2013). Since 2008, he has organized the biennial conference "The Making of the Humanities" and co-edited the resulting book series on The Making of the Humanities, Vols. 1 and 2 (U. Amsterdam Press, 2011/2013).
Sponsored by the IHC's 4Humanities RFG.
For suggested readings and more details, see http://bit.ly/1bfikOs
Website: http://4humanities.org/2014/02/global-humanities-4humanities-discussion-forum-with-rens-bod-march-12-2014/