01 May

Women, Gender, Sex: Social and Cultural Histories of the Long Nineteenth Century-A Conference in honor of Patricia Cline Cohen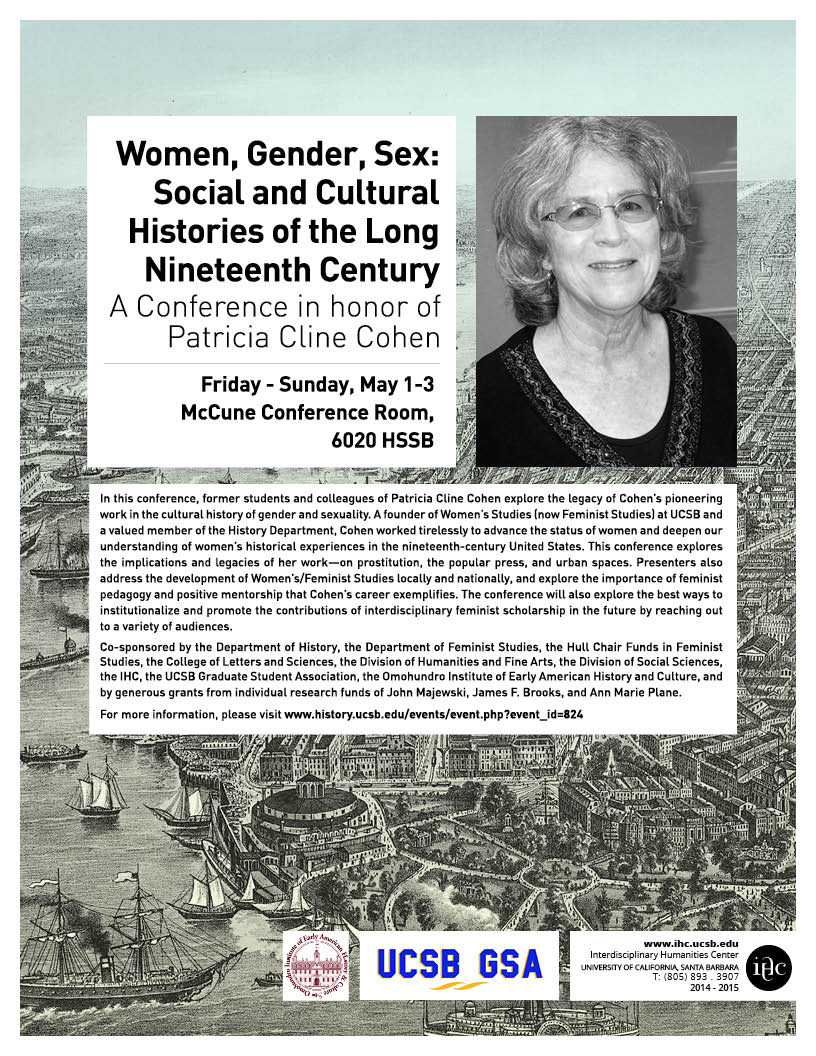 Friday – Sunday, May 1-3, 2015
McCune Conference Room, HSSB 6020
In this conference, former students and colleagues of Patricia Cline Cohen explore the legacy of Cohen's pioneering work in the cultural history of gender and sexuality. A founder of Women's Studies (now Feminist Studies) at UCSB and a valued member of the History Department, Cohen worked tirelessly to advance the status of women and deepen our understanding of women's historical experiences in the nineteenth-century United States. This conference explores the implications and legacies of her work—on prostitution, the popular press, and urban spaces. Presenters also address the development of Women's/Feminist Studies locally and nationally, and explore the importance of feminist pedagogy and positive mentorship that Cohen's career exemplifies. The conference will also explore the best ways to institutionalize and promote the contributions of interdisciplinary feminist scholarship in the future by reaching out to a variety of audiences.
Co-sponsored by the Department of History, the Department of Feminist Studies, the Hull Chair Funds in Feminist Studies, the College of Letters and Sciences, the Division of Humanities and Fine Arts, the Division of Social Sciences, the IHC, the UCSB Graduate Student Association, the Omohundro Institute of Early American History and Culture, and by generous grants from individual research funds of John Majewski, James F. Brooks, and Ann Marie Plane.
For more information and a full conference schedule, please visit the History department website.
Conference Program
Please note: All Sessions are in the McCune Room of the Interdisciplinary Humanities Center, UCSB—Humanities and Social Sciences Building (HSSB) 6020.
Friday, May 1:
2:30-3:30 Check in and mingling, snacks
3:30-4:15— Welcoming Remarks
Elizabeth DePalma Digeser,
Chair, Department of History, UCSB
Kum-Kum Bhavnani,
Prof. of Sociology and Chair, UCSB Academic Senate
David Marshall
Executive Vice Chancellor, UCSB
Henry Yang, Chancellor, UCSB
4:15-5:45 Opening Keynote Panel:
Women's Studies/Feminist Studies: Past, Present, Future
CHAIR: Laury Oaks, Feminist Studies, UCSB
Jane De Hart, History (emerita), UCSB
"Looking Back/Moving Forward: the Challenges Facing Feminist History and Historians in the 21st Century"
Eileen Boris, Feminist Studies, UCSB
"From Women to Gender and Beyond: The Entwined Trajectories of Women's History and Feminist Studies"
Clare A. Lyons, Univ. of Maryland
"Feminist Scholarship and the History of Sexuality"
5:45-6:45—Reception—Toast to Pat!
Ann Marie Plane, History, UCSB & Megan Perle Bowman, George State Univ.
John Majewski, Interim Dean, Humanities and Fine Arts, UCSB
Saturday, May 2:
8:30-9:00—Coffee and continental breakfast
9-10:30—Mentoring 101: Feminist Pedagogy
CHAIR: John Majewski, Interim Dean, Humanities and Fine Arts, UCSB
Elizabeth Stordeur Pryor, Smith College
"On Pat Cohen and Mentorship: Analogue Advising in a Digital Age"
Ula Y. Taylor, African American Studies, UC Berkeley
"Formal Intimacy"
Stacey Robertson, History and Women's Studies, Bradley University
"360-Degree Mentorship"
10.45-12:15—The Murder of Helen Jewett and its Implications
CHAIR: Erika Rappaport, History, UCSB
April Haynes, Univ. of Oregon
"Helen Jewett's Afterlife, or, a numerate divination and semi-spiritual account of the academic adventures of a murdered prostitute"
Warren Wood, California Polytechnic, Pomona
"'Not an honest woman in the country': How Pat Cohen and Helen Jewett Inspired a New Understanding of Women and Morality in Gold Rush San Francisco"
Amy Greenberg, Pennsylvania State University
"The Many Pleasures of Teaching The Murder of Helen Jewett"
12:15-2:00 BUFFET LUNCH (included with conference registration)
2:00-3:30—The Flash Press–Collaboration and Impact:
CHAIR: Catherine Nesci (UCSB French and Italian)
Helen Horowitz, Smith College
"Writing alongside Pat, a Collaborator Extraordinaire"
Katherine Hijar, CSU San Marcos
"'Nymphs of the Pave' on the Page: Women's Place in Public in Pat Cohen's New York"
Lisa Jacobson, History, UCSB
"The Flash Press in the Classroom"
3:30-4:00 Break
4:00-5:30– Mentoring 102: "A Calculating Teacher"
CHAIR: Susan Juster, Univ. of Michigan
Angela Woollacott, Australian National University
Catherine E. Kelly, Univ. of Oklahoma
Alicia E. Rodriquez, CSU Bakersfield
Lynn Sacco, University of Tennessee (Knoxville)
Megan Perle Bowman, Georgia State University
Alexandra Coles, History, UCSB
CONFERENCE DINNER: 6:30-7:00 Reception, 7 pm dinner
The Canary Hotel
31 W. Carillo Street (corner of Chapala)
Santa Barbara, CA 93101
Visit the Canary Hotel website for more information and directions to the hotel.
**Dinner can be purchased together with Conference Registration or as a separate item for those not attending the conference
Sunday, May 3:
8:30-9:00—Coffee and continental breakfast
9:30-11:00—Roundtable: History in Public
CHAIR: James Brooks, UCSB History
Shelley Bookspan, Consultant
Betsy Homsher, Dean of Students, Kettering University
Sarah Stage, ASU (textbook co-author)
Beverly Schwartzberg, Literacy Program, SB Public Library
William Warner, English, UCSB
11:00-11:15—Break
11:15-12:00—Response: Patricia Cline Cohen, History (emerita), UCSB
12:00-1:15—Lunch (box lunch available by preorder)
1:15—Conference ends.