22 Apr

Dancing Fugitive Futures: Black Dance After Race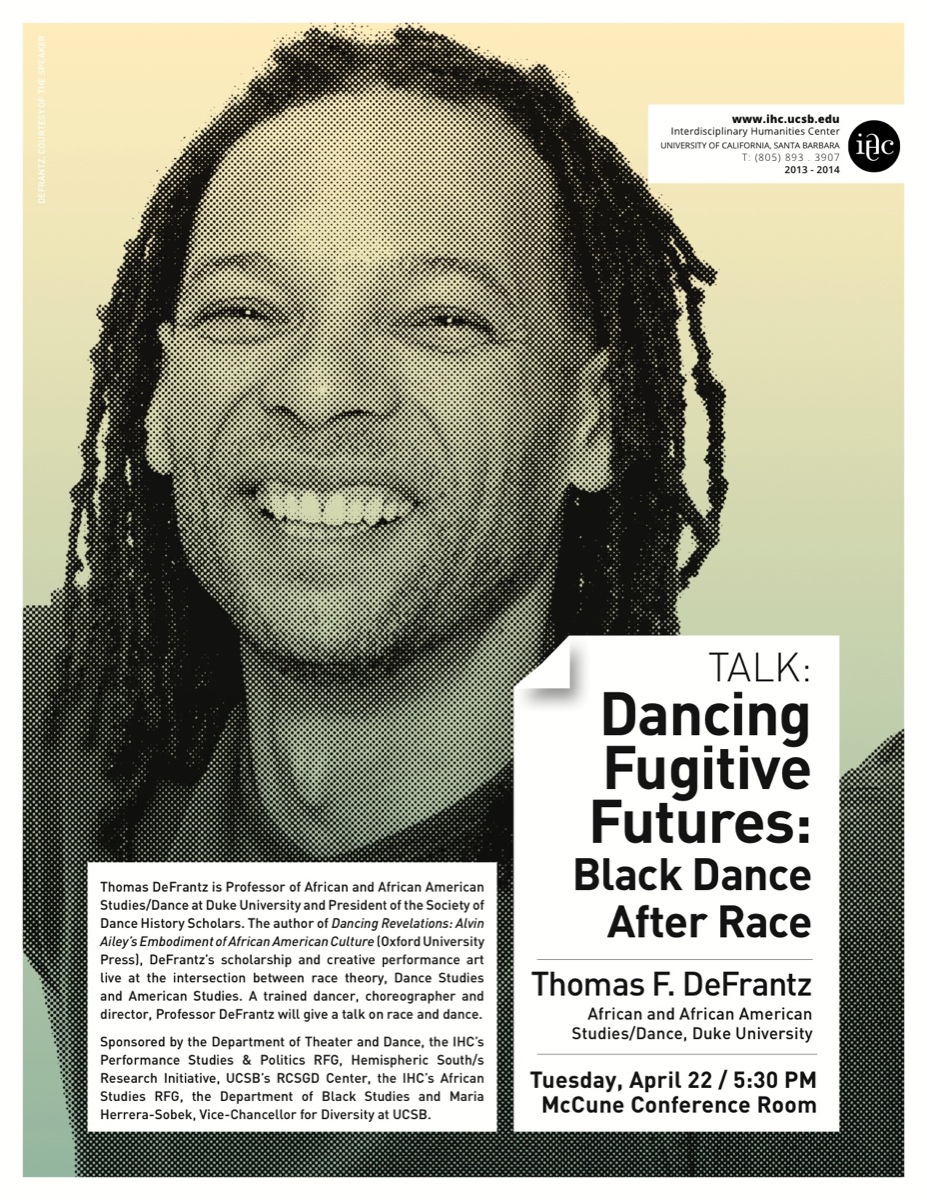 Thomas F. DeFrantz (African and African American Studies/Dance, Duke University)
Tuesday, April 22 / 5:30 PM
McCune Conference Room
Thomas DeFrantz is Professor of African and African American Studies/Dance at Duke University and President of the Society of Dance History Scholars. The author of Dancing Revelations: Alvin Ailey's Embodiment of African American Culture (Oxford University Press), DeFrantz's scholarship and creative performance art lives at the intersection between race theory, Dance Studies and American Studies. A trained dancer, choreographer and director, Professor DeFrantz will give a talk on race and dance.
Born a Hoosier, Thomas F. DeFrantz is Professor of Dance at Duke University, and President of the Society of Dance History Scholars, an international organization that advances the field of dance studies through research, publication, performance, and outreach to audiences across the arts, humanities, and social sciences. He is also the director of SLIPPAGE: Performance, Culture, Technology, a research group that explores emerging technology in live performance applications. His books include the edited volume Dancing Many Drums: Excavations in African American Dance (University of Wisconsin Press, 2002, winner of the CHOICE Award for Outstanding Academic Publication and the Errol Hill Award presented by the American Society for Theater Research) and Dancing Revelations Alvin Ailey's Embodiment of African American Culture (Oxford University Press, 2004, winner of the de la Torre Bueno Prize for Outstanding Publication in Dance).  His most recent publication is an anthology, Black Performance Theory, co-edited with Anita Gonzalez (Duke University Press, 2014). A director and writer, his creative works include Queer Theory! An Academic Travesty commissioned by the Theater Offensive of Boston and the Flynn Center for the Arts, and Monk's Mood: A Performance Meditation on the Life and Music of Thelonious Monk. He has taught at NYU, Stanford, Hampshire College, MIT, and Yale; has presented his research by invitation in Australia, Brazil, Canada, Chile, China, Finland, France, Germany, Great Britain, India, Ireland, Italy, the Netherlands, Poland, Portugal, South Korea, and Sweden; and performed in Botswana, France, India, Ireland, and South Africa. In 2012 he established the Collegium for African Diaspora Dance, which hosted the conference "Dancing the African Diaspora: Theories of Black Performance" in February, 2014 at Duke University. Current research imperatives include explorations of black social dance, and the development of live-processing interfaces for performance.
For more information about the April 22 performance at Campbell Hall, please visit: https://artsandlectures.sa.ucsb.edu/Details.aspx?PerfNum=2789
Sponsored by the Dept. of Theater and Dance, the IHC's Performance Studies & Politics RFG, Hemispheric South/s Research Initiative, UCSB's Resource Center for Gender and Sexual Diversity, the IHC's African Studies RFG,  the Department of Black Studies and  Maria Herrera-Sobek, the Associate Vice-Chancellor for Diversity at UCSB.