06 May

Enemy to Brother: Jews, Catholics, and Vatican II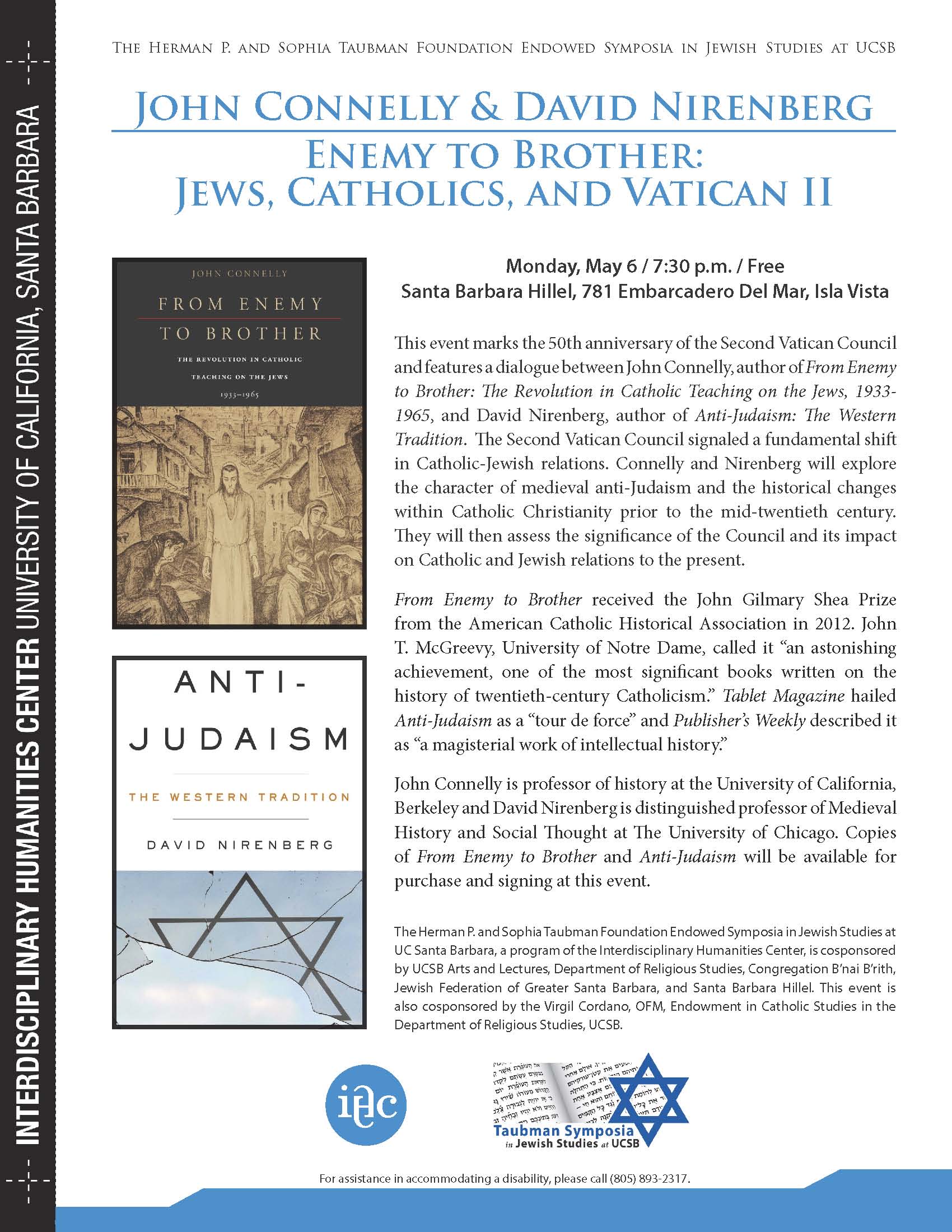 John Connelly (History, UC Berkeley)
David Nirenberg (History, The University of Chicago)
Monday, May 6 / 7:30 PM
Santa Barbara Hillel, 781 Embarcadero Del Mar, Isla Vista
This event marks the 50th anniversary of the Second Vatican Council and features a dialogue between John Connelly, author of From Enemy to Brother: The Revolution in Catholic Teaching on the Jews, 1933-1965, and David Nirenberg, author of Anti-Judaism: The Western Tradition.  The Second Vatican Council signaled a fundamental shift in Catholic-Jewish relations.  Connelly and Nirenberg will explore the character of medieval anti-Judaism and the historical changes within Catholic Christianity prior to the mid-twentieth century. They will then assess the significance of the Council and its impact on Catholic and Jewish relations to the present.
From Enemy to Brother received the John Gilmary Shea Prize from the American Catholic Historical Association in 2012.  John T. McGreevy, University of Notre Dame, called it "an astonishing achievement, one of the most significant books written on the history of twentieth-century Catholicism."  Tablet Magazine hailed Anti-Judaism as a "tour de force" and Publisher's Weekly described it as "a magisterial work of intellectual history."
John Connelly is professor of history at the University of California, Berkeley and David Nirenberg is distinguished professor of Medieval History and Social Thought at The University of Chicago.  Copies of From Enemy to Brother and Anti-Judaism will be available for purchase and signing at this event.
The Herman P. and Sophia Taubman Foundation Endowed Symposia in Jewish Studies at UC Santa Barbara, a program of the Interdisciplinary Humanities Center, is cosponsored by UCSB Arts and Lectures, Department of Religious Studies, Congregation B'nai B'rith, Jewish Federation of Greater Santa Barbara, and Santa Barbara Hillel.  This event is also cosponsored by the Virgil Cordano, OFM, Endowment in Catholic Studies in the Department of Religious Studies.