09 May

Embodying Mexico: Tourism, Nationalism and Performance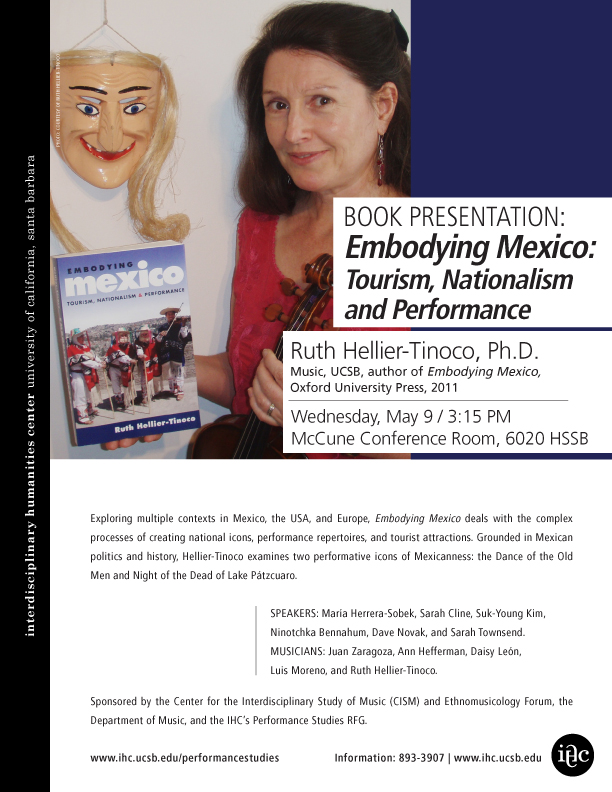 Ruth Hellier-Tinoco, Ph.D. (Music, Theater & Dance, UCSB, author of Embodying Mexico, Oxford University Press, 2011)
Wednesday, May 9 / 3:15 PM
McCune Conference Room, 6020 HSSB
Speakers:
Ruth Hellier-Tinoco, Ph.D. (Music, Theater & Dance, UCSB, author of Embodying Mexico, Oxford University Press, 2011)
María Herrera-Sobek, Ph.D. (Associate Vice Chancellor and Chicana/o Studies, UCSB)
Sarah Cline, Ph.D. (History, UCSB)
Suk-Young Kim, Ph.D. (Theater/Performance Studies, UCSB)
Ninotchka Bennahum, Ph.D. (Theater & Dance, UCSB)
Dave Novak, Ph.D. (Music, UCSB)
Raíces de mi Tierra dancers  (UCSB's student folklórico ensemble)
Musical performances by Ruth Hellier-Tinoco, Juan Zaragoza, Ann Hefferman, and Daisy León
Exploring multiple contexts in Mexico, the USA, and Europe, Embodying Mexico expands and enriches our understanding of complex processes of creating national icons, performance repertoires, and tourist attractions. Hellier-Tinoco examines two performative icons of Mexicanness–the Dance of the Old Men and Night of the Dead of Lake Pátzcuaro–in numerous manifestations, including film, theater, tourist guides, advertisements, and souvenirs. Covering a ninety-year period from the postrevolutionary era to the present day, Hellier-Tinoco's analysis is thoroughly grounded in Mexican politics and history, and simultaneously incorporates choreographic, musicological, and dramaturgical analysis.
Ruth Hellier-Tinoco, PhD, is an assistant professor in the Department of Music, whose work engages the fields of performance studies, ethnomusicology, dance and theater studies, Latin American history, feminist studies, and community arts.
Fragments of Embodying Mexico, an exhibition of research artifacts and books will be on display in the Davidson Library, UCSB from April to June.
Sponsored by the Center for the Interdisciplinary Study of Music (CISM) and Ethnomusicology Forum, the Department of Music, and the IHC's Performance Studies RFG.
Website: www.ihc.ucsb.edu/performancestudies