22 Apr

Dream Island and Sea Forest: The Afterlife of Tokyo's Landfills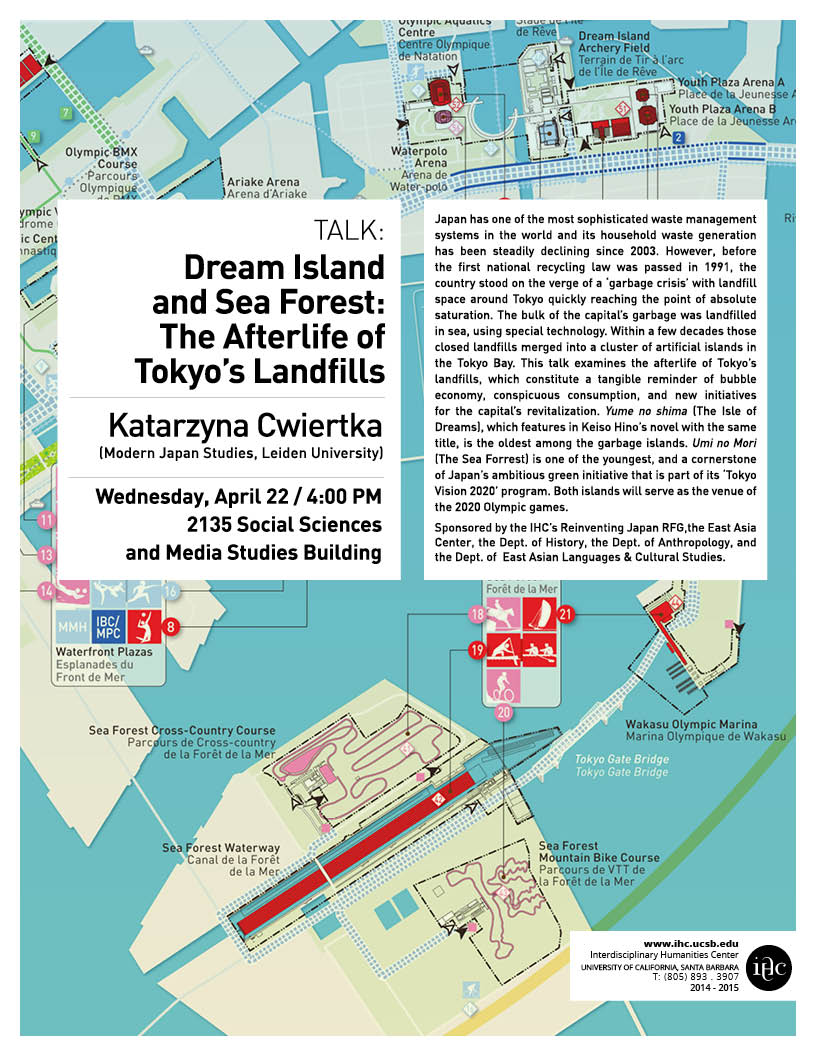 Katarzyna Cwiertka (Modern Japan Studies,Leiden University)
Wednesday, April 22, 2015  / 4:00 PM
2135 Social Sciences and Media Studies Building
Japan has one of the most sophisticated waste management systems in the world and its household waste generation has been steadily declining since 2003. However, before the first national recycling law was passed in 1991, the country stood on the verge of a 'garbage crisis' with landfill space around Tokyo quickly reaching the point of absolute saturation. The bulk of the capital's garbage was landfilled in sea, using special technology. Within a few decades those closed landfills merged into a cluster of artificial islands in the Tokyo Bay. This talk examines the afterlife of Tokyo's landfills, which constitute a tangible reminder of bubble economy, conspicuous consumption, and new initiatives for the capital's revitalization. Yume no shima (The Isle of Dreams), which features in Keiso Hino's novel with the same title, is the oldest among the garbage islands. Umi no Mori (The Sea Forrest) is one of the youngest, and a cornerstone of Japan's ambitious green initiative that is part of its 'Tokyo Vision 2020' program. Both islands will serve as the venue of the 2020 Olympic games.
Katarzyna J. Cwiertka has earned her Ph.D. from Leiden University where she is now Chair and Professor of Modern Japan Studies as well as the director of the Modern East Asia Research Centre. An expert on food history of modern Japan and Korea, she is the author of Modern Japanese Cuisine: Food, Power and National Identity (Reaktion Books 2006) and Cuisine, Colonialism and Cold War: Food in Twentieth Century Korea (Reaktion Books 2012); and the editor of Asian Food: The Global and the Local (University of Hawai'i Press 2002), Critical Readings on Food in East Asia (Brill 2012), and Food and War in Mid-Twentieth-Century East Asia (Ashgate 2013).
Sponsored by the IHC's Reinventing Japan RFG,the East Asia Center, the Dept. of History, the Dept. of Anthropology, and the Dept. of  East Asian Languages & Cultural Studies.