23 Feb

The Discarded and The Dignified—The Politics of the Fear that "Only One Can Live"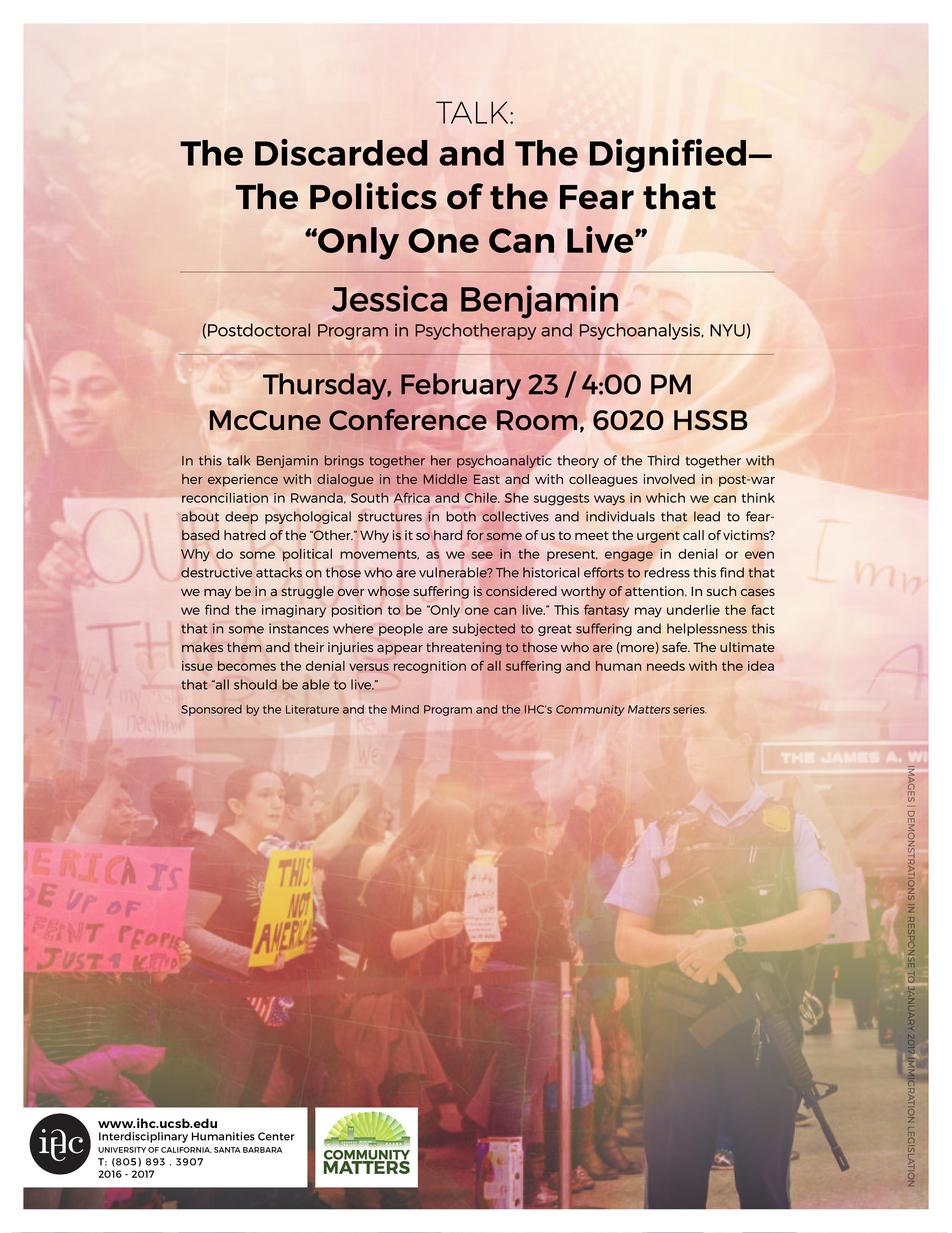 Jessica Benjamin (Postdoctoral Program in Psychotherapy and Psychoanalysis, NYU)
Thursday, February 23, 2017 / 4:00 PM
McCune Conference Room, 6020 HSSB
In this talk Benjamin brings together her psychoanalytic theory of the Third together with her experience with dialogue in the Middle East and with colleagues involved in post-war reconciliation in Rwanda, South Africa and Chile. She suggests ways in which we can think about deep psychological structures in both collectives and individuals that lead to fear-based hatred of the "Other." Why is it so hard for some of us to meet the urgent call of victims? Why do some political movements, as we see in the present, engage in denial or even destructive attacks on those who are vulnerable? The historical efforts to redress this find that we may be in a struggle over whose suffering is considered worthy of attention. In such cases we find the imaginary position to be "Only one can live." This fantasy may underlie the fact that in some instances where people are subjected to great suffering and helplessness this makes them and their injuries appear threatening to those who are (more) safe. The ultimate issue becomes the denial versus recognition of all suffering and human needs with the idea that "all should be able to live."
Jessica Benjamin is considered to be one of the most important and influential psychoanalysts of the last four decades. She was one of the founders of relational psychoanalysis, and was one of the first to introduce feminism and gender studies into psychoanalytic thought. Her early studies included social structure and feminism, but more recently she is known for her effort to explain the classical aspects of psychoanalysis using object relations, relational psychoanalysis, and feminist thought. She has made significant contributions to the concept of intersubjectivity in psychoanalysis. In 2015 Jessica Benjamin received the Hans-Kilian-Award for her achievements in the fields of psychoanalysis, feminist psychology and the theory of intersubjective recognition.

Click here to listen to a recording of Jessica Benjamin's talk for the 2016-17 IHC series: Community Matters.
Sponsored by the Literature and the Mind Program and the IHC's Community Matters series.