04 Mar

Dictatorship, Censorship and Sponsorship: State and Donor Control of Popular Theater in Zimbabwe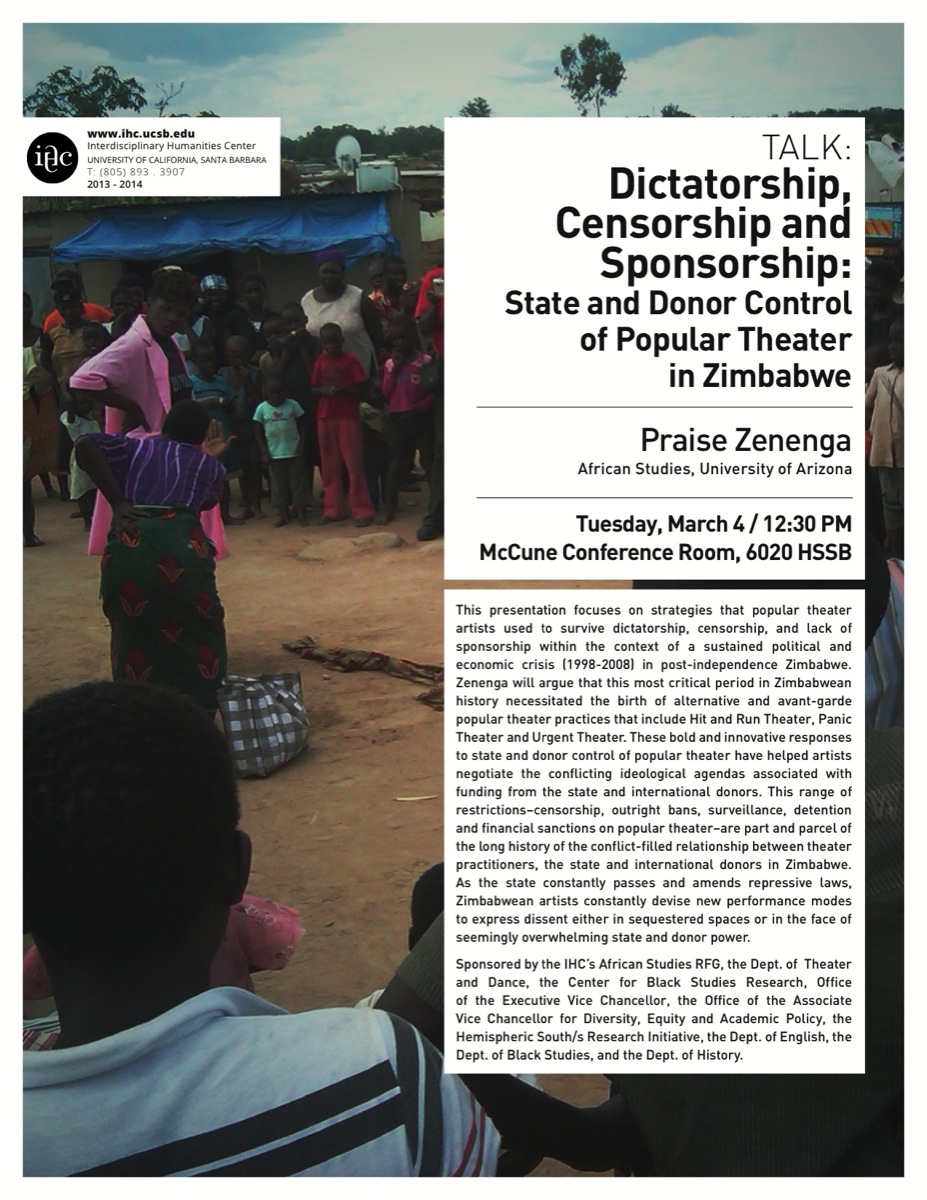 Praise Zenenga (African Studies,University of Arizona)
Tuesday, March 4 / 12:30 PM
McCune Conference Room, 6020 HSSB
This presentation focuses on strategies that popular theater artists used to survive dictatorship, censorship, and lack of sponsorship within the context of a sustained political and economic crisis (1998-2008) in post-independence Zimbabwe. Zenenga will argue that this most critical period in Zimbabwean history necessitated the birth of alternative and avant-garde popular theater practices that include Hit and Run Theater, Panic Theater and Urgent Theater. These bold and innovative responses to state and donor control of popular theater have helped artists negotiate the conflicting ideological agendas associated with funding from the state and international donors. This range of restrictions–censorship, outright bans, surveillance, detention and financial sanctions on popular theater–are part and parcel of the long history of the conflict-filled relationship between theater practitioners, the state and international donors in Zimbabwe. As the state constantly passes and amends repres
sive laws,  Zimbabwean artists constantly devise new performance modes to express dissent either in sequestered spaces or in the face of seemingly overwhelming state and donor power.
Praise Zenenga is an Associate Professor in the Africana Studies Program at the University of Arizona. His research and teaching focus on interdisciplinary approaches to identity, race, social change and social justice in the literature and performance of African and African Diaspora communities. He is working on a co-edited volume entitled Performance and AIDS: International Studies of Best Practices to Overcome a Pandemic.
Sponsored by the IHC's African Studies RFG, the Dept. of  Theater and Dance, the Center for Black Studies Research, Office of the Executive Vice Chancellor, the Office of the Associate Vice Chancellor for Diversity, Equity and Academic Policy, the Hemispheric South/s Research Initiative, the Dept. of English, the Dept. of Black Studies, and the Dept. of History.