03 Nov

Democracy Matters: The Road to Self-Governance in Isla Vista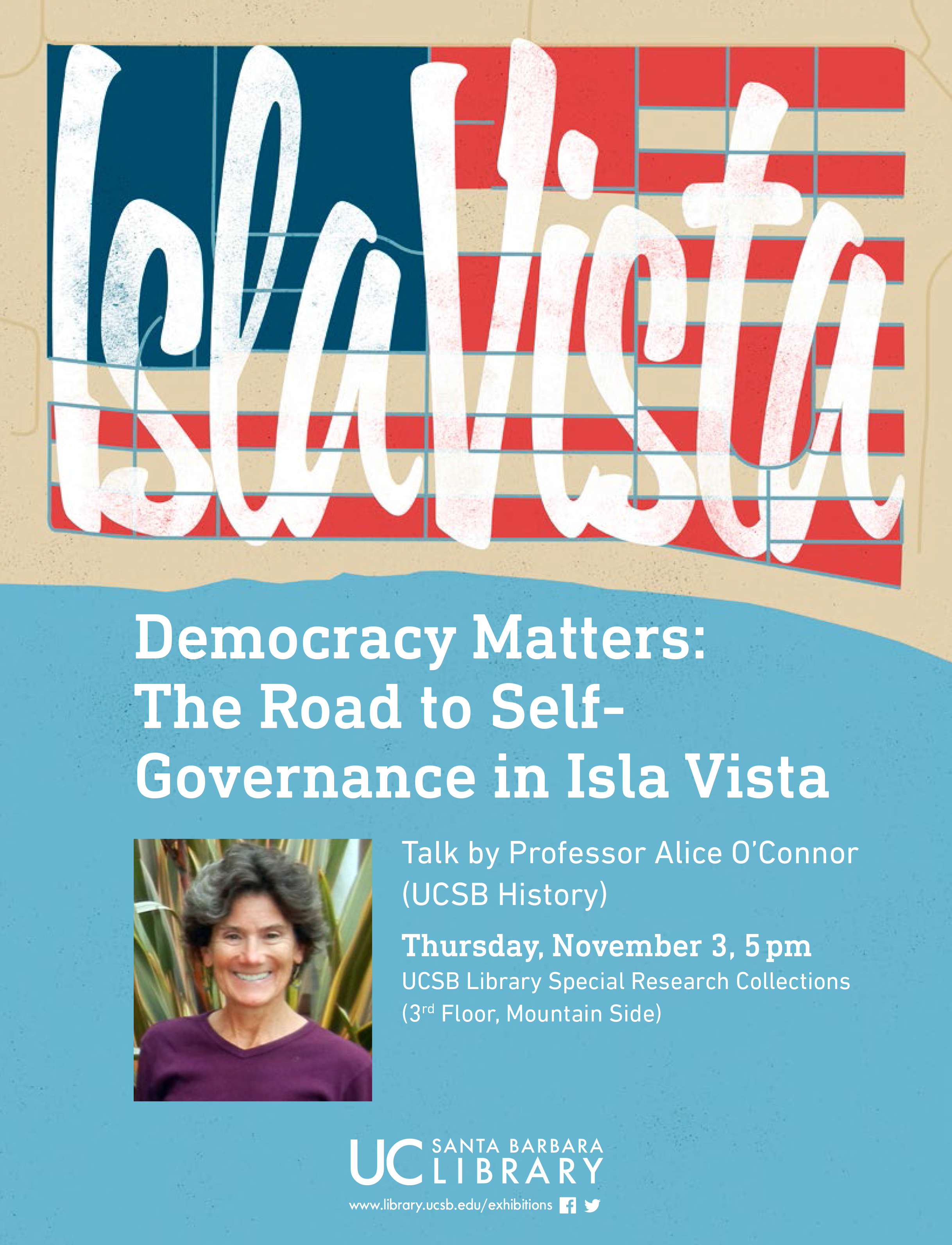 Alice O'Connor (History, UCSB)
Thursday, November 3, 2016 / 5:00 PM
UCSB Library, Special Research Collections
On November 8, Isla Vista residents will take part in an historic vote that will determine the future of self-governance in the community. With ballot initiatives E and F, they will weigh in on proposals to create a new Community Services District, with an elected board, and a utility tax to empower it to provide locally-controlled services. Drawing on the UCSB Library's extensive historical holdings as well as the contemporary scene, Professor of History Alice O'Connor will discuss the issues, debates, and traditions of community-based activism that have brought Isla Vista to this important point of decision-making about its political future, and what's at stake in the vote.
O'Connor's talk is in conjunction with "Isla Vista—Building a Community, 1970-2016," a new UCSB Library exhibit in its Special Research Collections exploring the political, cultural, and social struggles of Isla Vista to become an independent, cohesive community, from 1970 to the present day.  For more information, visit this page.
Alice O'Connor is Professor and Director of Graduate Studies in the Department of History at UCSB. She teaches and writes about poverty and wealth, social and urban policy, the politics of knowledge, and the history of organized philanthropy in the United States. Among her publications are Poverty Knowledge: Social Science, Social Policy, and the Poor in Twentieth-Century U.S. History; and Social Science for What? Philanthropy and the Social Question in a World Turned Rightside Up. Her current research focuses on wealth, inequality, and the politics of redistribution in the twentieth century U.S.
Sponsored by the UCSB Library and the IHC's Community Matters series.