15 May

Defending the Communications Commons: Hackers, Spies, and Internet Freedom in an Era of Twenty-first Century Statecraft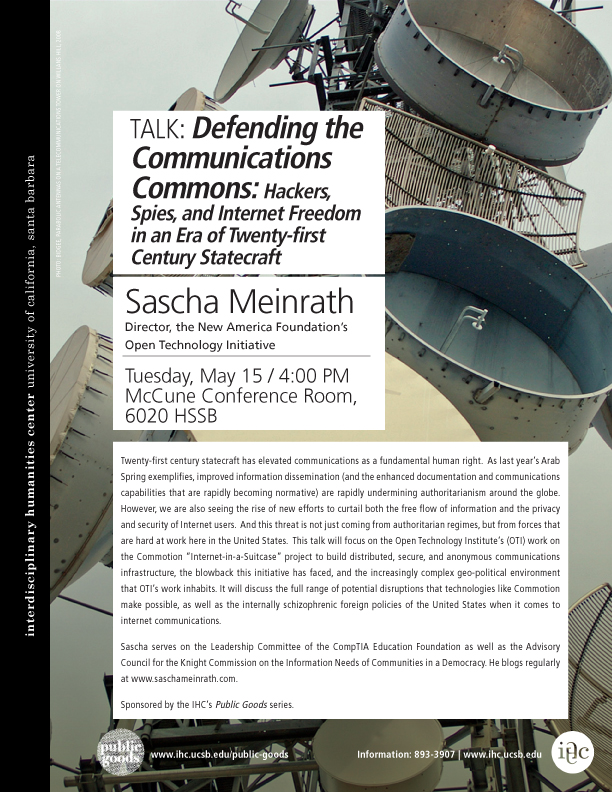 Sascha Meinrath (Director, the New America Foundation's Open Technology Initiative)
Tuesday, May 15, 2012 / 4:00 PM
McCune Conference Room, 6020 HSSB
Twenty-first century statecraft has elevated communications as a fundamental human right.  As last year's Arab Spring exemplifies, improved information dissemination (and the enhanced documentation and communications capabilities that are rapidly becoming normative) are rapidly undermining authoritarianism around the globe.  However, we are also seeing the rise of new efforts to curtail both the free flow of information and the privacy and security of Internet users.  And this threat is not just coming from authoritarian regimes, but from forces that are hard at work here in the United States.  This talk will focus on the Open Technology Institute's (OTI) work on the Commotion "Internet-in-a-Suitcase" project to build distributed, secure, and anonymous communications infrastructure, the blowback this initiative has faced, and the increasingly complex geo-political environment that OTI's work inhabits.  It will discuss the full range of potential disruptions that technologies like Commotion make possible , as well as the internally schizophrenic foreign policies of the United States when it comes to internet communications.
Sascha serves on the Leadership Committee of the CompTIA Education Foundation as well as the Advisory Council for the Knight Commission on the Information Needs of Communities in a Democracy. He blogs regularly at www.saschameinrath.com.
Sponsored by the IHC's Public Goods series.
Click here to listen to a recording of this talk from the IHC series Public Goods.