03 Mar

Creativity in Dementia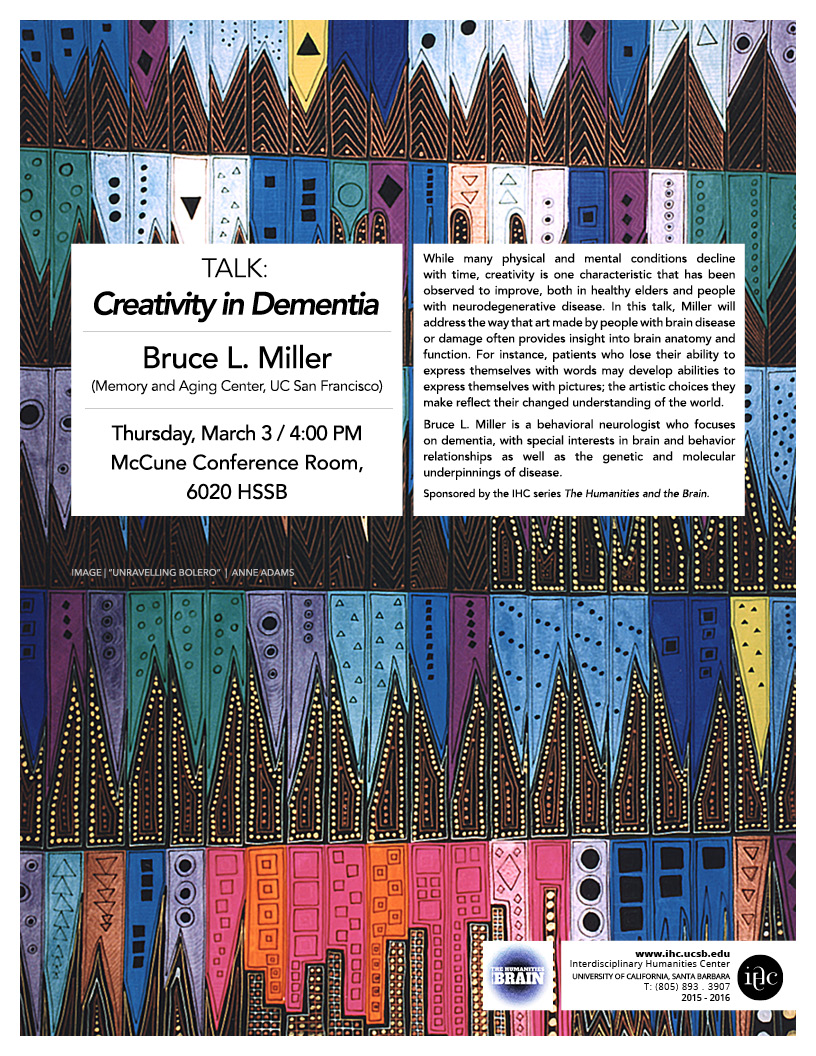 Bruce L. Miller (Memory and Aging Center, UC San Francisco)
Thursday, March 3, 2016 / 4:00 PM
McCune Conference Room, 6020 HSSB
While many physical and mental conditions decline with time, creativity is one characteristic that has been observed to improve, both in healthy elders and people with neurodegenerative disease. In this talk, Miller will address the way that art made by people with brain disease or damage often provides insight into brain anatomy and function. For instance, patients who lose their ability to express themselves with words may develop abilities to express themselves with pictures; the artistic choices they make reflect their changed understanding of the world.
Bruce L. Miller is a behavioral neurologist who focuses on dementia, with special interests in brain and behavior relationships as well as the genetic and molecular underpinnings of disease. His work in frontotemporal dementia (FTD) emphasizes both the behavioral and emotional deficits that characterize these patients, while simultaneously noting the visual creativity that can emerge in the setting of FTD. He is the principal investigator of the NIH-sponsored Alzheimer's Disease Research Center (ADRC) and of a program project on FTD called "Frontotemporal Dementia: Genes, Imaging and Emotions." He oversees a healthy aging program, which includes an artist in residence program. In addition, he helps lead two philanthropy-funded research consortia: the Tau Consortium and the Consortium for Frontotemporal Research, which focus on developing treatments for tau and progranulin disorders, respectively. He works with the National Football League to help with the education and assessment of players related to brain health.

Click here to listen to a recording of Bruce Miller's talk for the IHC series The Humanities and the Brain.
Sponsored by the IHC series The Humanities and the Brain.