06 Mar

Collective Intelligence: Early Human Narratives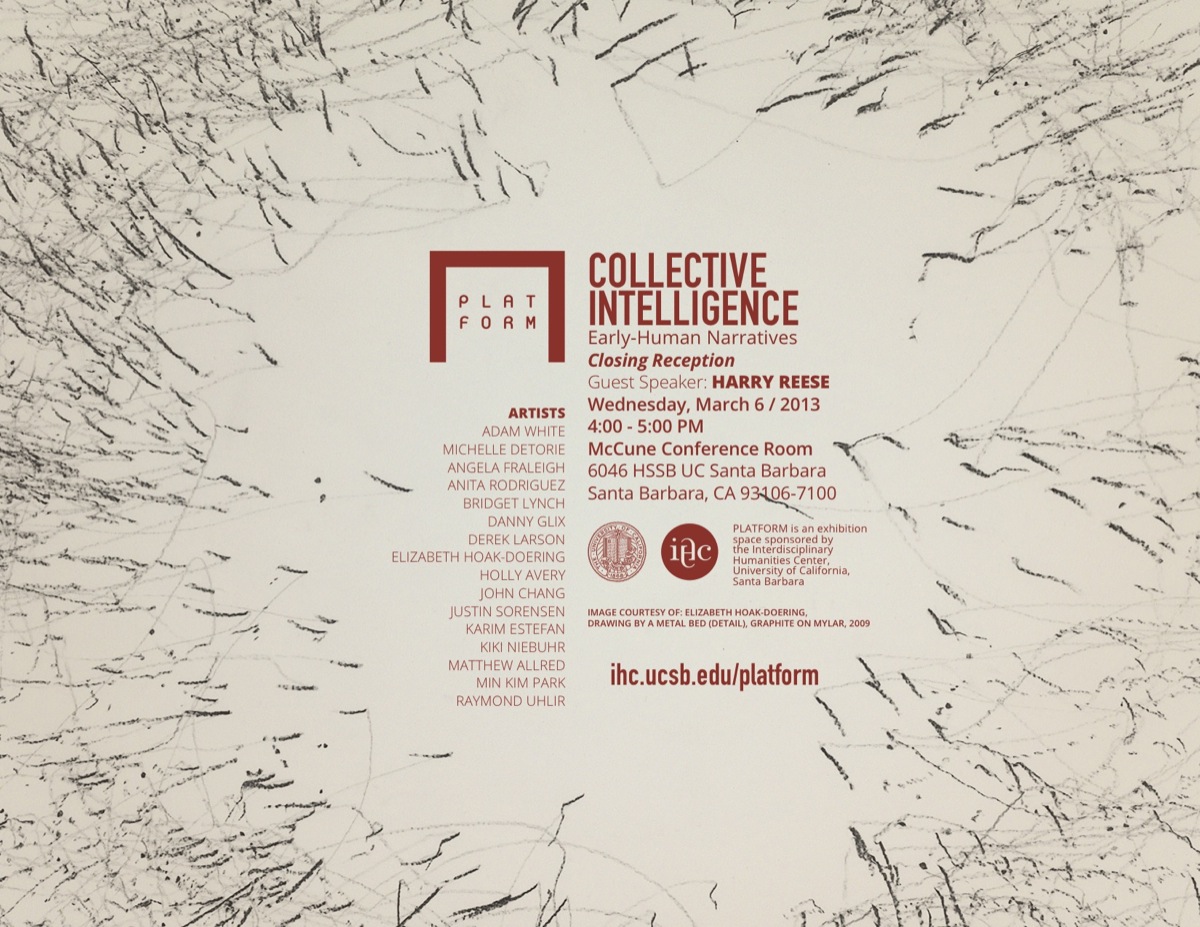 Please join the IHC's Platform Gallery at the closing reception for our latest exhibit, "Collective Intelligence: Early Human Narratives", as we prepare for our upcoming "Post-human Nature" exhibit.
For more information about Platform Gallery please visit: https://www.ihc.ucsb.edu/platform/
CLOSING RECEPTION: Collective Intelligence: Early Human Narratives
Harry Reese (Studio Art, UCSB)
Wednesday, March 6 / 4:00 – 5:00 PM
Platform Gallery (near the McCune Conference Room, 6020 HSSB)
Artist and Professor Harry Reese makes prints, artists' books, paintings, and public art installations. Reese's ongoing research in pattern recognition, the book form and the effects of the mediated environment inform the minimal immaculate and layered style of his work. Professor Reese's talk will focus on his essay "Stylus Becomes Electric," tracing a parallel with the work of the artists exhibiting in the show. This essay was written at the request of the artist Ann Hamilton, and selections appeared in a tabloid publication that was freely distributed within her massive installation, "the event of a thread," that closed last month at the Park Avenue Armory in New York.
In partnership with Sandra Liddell, Reese publishes limited edition prints and books for their Turkey Press imprint. Turkey Press publications are collected in major museums and libraries. Its archives were purchased by the Getty Center in 1992. Recent exhibitions include diverse venues such as Williamson Gallery, Art Center College of Design in Pasadena; Estación Indianilla, Mexico City; The Center for Book Arts, New York; Cantor Center for Visual Arts, Stanford University; the Minnesota Center for Book Arts, Minneapolis; Joshibi University, Tokyo, Japan; and the Pavilion for Artists' Books at the International Book Fair in Bogotá, Colombia.
More on Professor Reese:
http://www.editionreese.com/harry.html
http://artsite.arts.ucsb.edu/people/faculty/reese.html
More on Ann Hamilton, "the event of a thread", 2013
http://www.annhamiltonstudio.com/
http://www.nytimes.com/2012/12/07/arts/design/ann-hamilton-at-the-park-avenue-armory.html?_r=0
http://www.thisiscolossal.com/2013/01/the-event-of-a-thread/
Collective Intelligence Artists:
ADAM WHITE
MICHELLE DETORIE
ANGELA FRALEIGH
ANITA RODRIGUEZ
BRIDGET LYNCH
DANNY GLIX
DEREK LARSON
ELIZABETH HOAK-DOERING
HOLLY AVERY
JOHN CHANG
JUSTIN SORENSEN
KARIM ESTEFAN
KIKI NIEBUHR
MATTHEW ALLRED
MIN KIM PARK
RAYMOND UHLIR