14 Mar

Changing Societies, Changing Party Systems: Sephardi and Russian Immigration to Israel and African-American Enfranchisement in the United States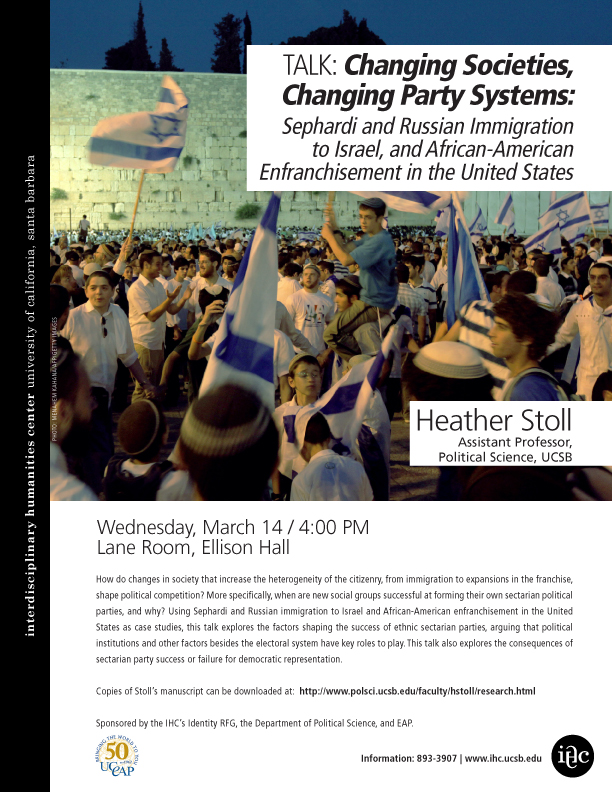 Heather Stoll (Political Science, UCSB)
Wednesday, March 14 / 4:00 PM
Lane Room, Ellison Hall

How do changes in society that increase the heterogeneity of the citizenry, from immigration to expansions in the franchise, shape political competition?  More specifically, when are new social groups successful at forming their own sectarian political parties, and why?  Using Sephardi and Russian immigration to Israel and African-American enfranchisement in the United States as case studies,  this talk explores the factors shaping the success of ethnic sectarian parties, arguing that political institutions and other factors besides the electoral system have key roles to play.  This talk also explores the consequences of sectarian party success or failure for democratic representation.
Copies of Stoll's manuscript can be downloaded at:  http://www.polsci.ucsb.edu/faculty/hstoll/research.html
Sponsored by the IHC's Identity RFG, the UC Education Abroad Program, and the Department of Political Science.