27 Apr

Ceramics as a Medium and Its Discontents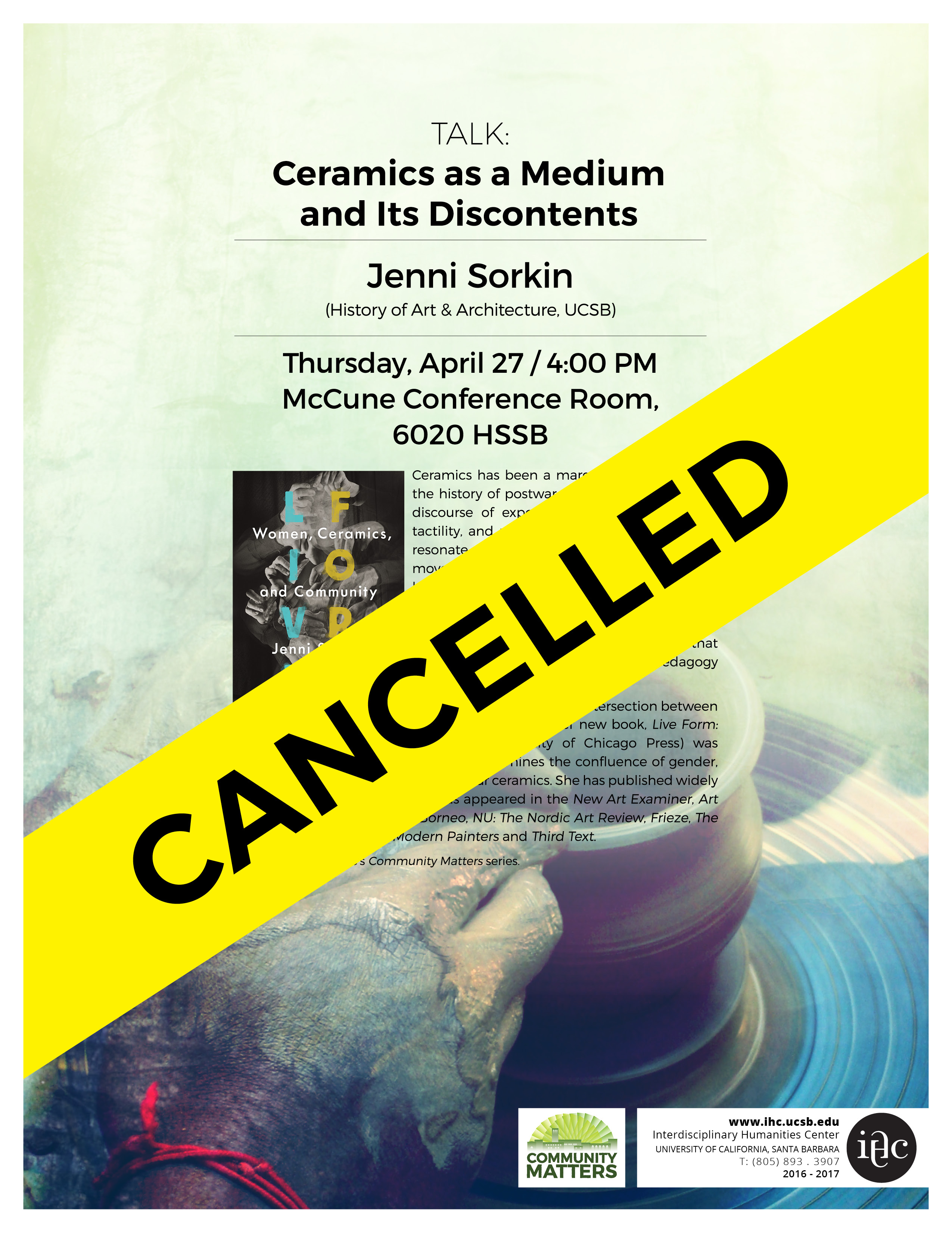 Jenni Sorkin (History of Art & Architecture, UCSB)*
Thursday, April 27, 2017 / 4:00 PM
McCune Conference Room, HSSB 6020
* This event has been cancelled.
Ceramics has been a marginal practice within the history of postwar art. But embedded in a discourse of experimentation with materials, tactility, and performance, its formal concerns resonate as a parallel medium to avant-garde movements of the 1950s and 1960s, including, but not limited to: Abstract Expressionism, happenings, experimental music, minimalism, and early video art. This talk argues that ceramics is a socially engaged artistic practice that integrates aesthetic concerns with pedagogy and affective discourses.
Jenni Sorkin writes on the intersection between gender, material culture, and contemporary art. Her new book, Live Form: Women, Ceramics and Community (University of Chicago Press) was published in July of 2016. This project examines the confluence of gender, artistic labor, and the history of post-war ceramics. She has published widely as an art critic, and her writing has appeared in the New Art Examiner, Art Journal, Art Monthly, East of Borneo, NU: The Nordic Art Review, Frieze, The Journal of Modern Craft, Modern Painters and Third Text. In 2004, she received the Art Journal Award. She has written numerous in-depth catalog essays on feminist art and material culture topics. She has been an invited lecturer at museums including Bellevue Art Museum, Dia Beacon, the ICA, Philadelphia, Menil Collection, Museum of Fine Arts, Houston, Museum of Contemporary Art, Miami, the Victoria & Albert Museum, and the Yale University Art Gallery. She has been a visiting critic at Cranbrook Academy of Art, The School of the Art Institute of Chicago, University of Illinois, Chicago, University of Wisconsin, Madison and the Yale School of Art. She sits on the Editorial Board of Textile: The Journal of Cloth and Culture and was a member of the Editorial Board of Art Journal from 2010-14. She is the recipient of fellowships from the American Council of Learned Societies (2014-15), the Center for Craft, Creativity, and Design (2012), the Getty Research Institute (2010-11), and the ACLS/Luce Fellowship in American Art (2008).
Sponsored by the IHC series Community Matters.